East Central, Lawrenceburg advanced to sectional finals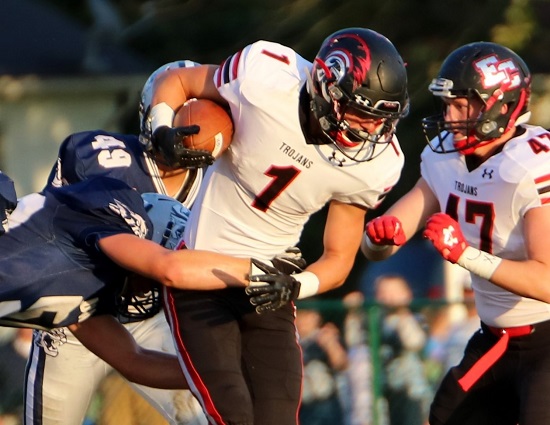 East Central RB Logan Storie (photo by Linda Lyness Maxwell)
When Friday began six of the eight Eastern Indiana Athletic Conference teams still remained in the playoffs. By night's end only two were left standing – East Central and Lawrenceburg. A pair of tough one-point losses by Batesville and Franklin County are the only thing keeping next Friday night's action from being all EAIC finals in Class 4A, Sectional 23 and Class 3A, Sectional 31.
Here is a look at how the EAIC teams fared in sectional semi-final play:
East Central 51, South Dearborn 0 – The weather may have been really bad but East Central running back Logan Storie was really good. The senior didn't let the elements slow him down rushing for 338 yards (Trojans finished with 414 yards of total offense) and five touchdowns on 25 carries in the victory over South Dearborn (3-8). East Central (8-3) will now play for the schools 19th sectional title and third in a row. The only other time the Trojans won three sectionals in a row was from 1992-94. The shutout by the East Central defense was its fourth in the last six games.
Silver Creek 7, Franklin County 6 – Silver Creek (9-2) was aided by Mother Nature in its slowing down of Franklin County standout running back, Mitchell Orschell. Rain led to a sloppy field as Orschell finished with just 146 yards and the Wildcats lone touchdown. He came into the contest averaging 251.2 yards per contest with 40 touchdowns. Franklin County ends the year at 6-5. The Dragons will travel to East Central for the Class 4A, Sectional 23 crown.
Lawrenceburg 43, Greensburg 14 – For the third straight season Lawrenceburg (10-1) takes out Greensburg (4-7) in the sectionals and collect a fifth straight win versus the Pirates. The Tigers raised their winning streak to 10 in a row. They will play for the programs 18th sectional title and second straight crown, a feat they haven't accomplished since 1997-98.
North Harrison 20, Batesville 19 – A heartbreaking loss ended a season that was looking so promising for Batesville down the stretch. The Bulldogs didn't take their first lead of the game until the fourth quarter only to see North Harrison (11-0) score a touchdown and steal the victory with under 30 seconds left in the game. The Cougars will host Lawrenceburg for the Class 3A, Sectional 31 title. North Harrison has never won a sectional championship. Their head coach Mark Williamson is very familiar with EIAC teams having been at the helm for Franklin County from 2009-11.