Preview: Colerain at Fairfield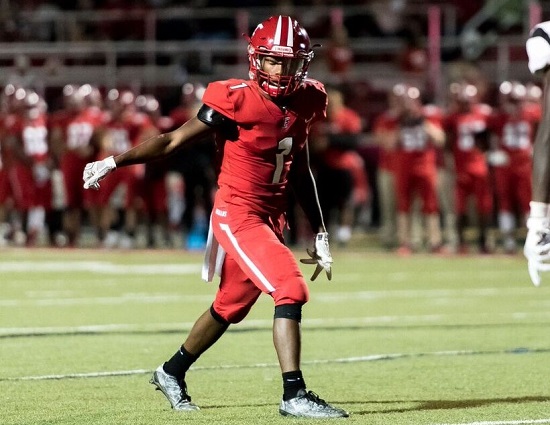 Fairfield WR Chico Robinson (photo by Justin Sheldon/TriStateFootball.com)
Before the season everyone circled this game on the calendar and now it has come to fruition. Colerain travels to Fairfield and the winner of this U.S. Marines Battle of the Gridiron Series clash will take over sole possession of first place in the Greater Miami Conference with just two regular season games left.
Colerain has owned the GMC winning the last 17 league titles. The Cardinals are 118-1 in conference play since 2000 including 64 wins in a row. The Indians are presented with this golden opportunity to dethrone Colerain. All Fairfield could ask was to be in this position. If they can pull out the victory it will go down as the biggest GMC game in the 21st century.
COLERAIN CARDINALS (5-2, 5-0) at FAIRFIELD INDIANS (5-2, 5-0)
Kickoff: 7:00 p.m., Fairfield Stadium
Follow on Twitter @TSFootball

PLAYERS TO WATCH: It has been junior FB/LB Ivan Pace, Jr. who has emerged as the go to option for the Colerain offense. He leads the squad with 490 yards rushing and nine touchdowns. He also has 29 total tackles on defense.  Senior QB Gunnar Leyendecker along with juniors RB Deante Smith-Moore, RB/DB Syncere Jones and RB JJ Davis gives the Cardinals backfield incredibly versatility. Jones has team bests with 11 receptions, 142 receiving yards and three touchdowns catches (tied with Hicks). Davis paces the Cardinals with 566 all-purpose yards.
The Colerain defense is all about speed and depth. They are led by cousins, LB Joe Bolden and LB Luke Bolden (coach's son). They lead the team in tackles (Joe-59, Luke-50), sacks (2.5 each) and have forced six fumbles.  A trio of players are tied for the team lead in takeaways with three – seniors WR/CB Ja'von Hicks (three INTs), DL Tre Harris (two FRs, one INT) and sophomore DB Deshawn Pace (two INTs, one FR).  Junior DB Jakari Patterson has returned two interceptions for touchdowns.
Fairfield has been very successful moving the ball on offense. Four Indians have run for at least 220 yards – sophomore RB Juthan McClain (577), junior QB Jeff Tyus (310) along with seniors RB Taimar Boykin (263) and WR Chico Robinson (222). Tyus has thrown for 883 yards with his top two targets being Robinson and TE Erick All who have 24 receptions each. It all gets started up front with senior OL Jack Carman and junior OL Jacob Hensley highlighting the o-line. Carman is one of the top offensive tackle prospects in America. Hensley already has offers and his stock is still rising.
On defense the Indians love to bring the heat registering 20.0 sacks on the season. Senior and UC commit FB/DL Malik Vann tops the team with four sacks. On offense, he also has become a short yardage touchdown machine, scoring four times on eight carries. Classmates LB Nashon Bell, LB Drew Bartolovich, DB Rudy Jones along with juniors LB Del Thomas and DL Greg Fitzpatrick are playing all-conference caliber football.
TEAM TRENDS: Both teams are riding five game winning streaks. They have done so by playing great defense. In those affairs, Fairfield is allowing just 6.2 points while Colerain is giving up just 7.4 points. Common foes in that span have been Lakota East and Sycamore who ironically are each 5-2.
Colerain has found its groove offensively averaging 39.0 points and having scored no less than 36 in its last five contests.
How close are these teams from being undefeated? Colerain started the year with a four-point loss to reigning Division II state champion, La Salle (5-2). The next week the Cardinals dropped a heart-breaker to reigning Division I state champion, St. Xavier (7-0) by three. Fairfield opened up with a pair of seven-point losses to Centrville (7-0) and Northmont (5-2).
COLERAIN'S KEYS TO VICTORY: One thing the Cardinals have done during their current winning streak is coming out of the gate tenaciously on both sides of the ball. They have shown those opponents no mercy outscoring them 124-3 in the first half. That kind of domination opens up so many options on both sides of the ball after intermission for the coaching staff. Making Fairfield play catch up really negates their options as the game wears on.
FAIRFIELD'S KEYS TO VICTORY: The Indians can't allow Pace, Jr. to work up a good lather running the football. Making him a non-factor only comes by getting off the field in as few plays as possible each drive. Robinson has to be effective both running and catching the ball for the Fairfield offense. Getting him 15-20 touches will keep that exceptional linebacking crew of Colerain's honest. That should also open up the running game behind Carman and Hensley. Eating up the clock with long drives will be the Indians friend.
Prediction: COLERAIN 20, FAIRFIELD 7