Centerville Cruises to Playoff Win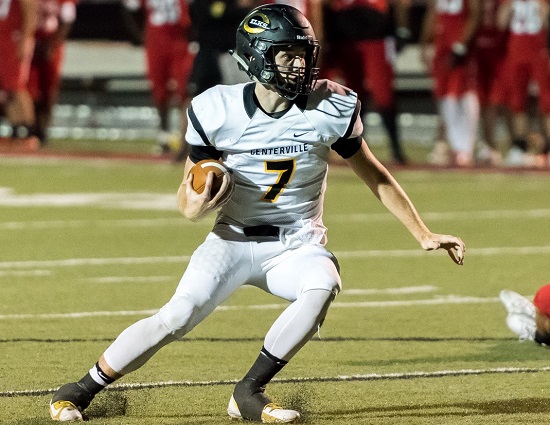 Centerville defeats Hilliard Darby, 35-0, in the OHSAA Regional Quarterfinals Friday night at home.
The top seed in Region 3 only led 7-0 at halftime, but the Elks offense came to life in the second half.
Centerville senior quarterback Alec Grandin contributed to three out of the four touchdowns in the second half. With just over four minutes in the second half, Grandin connected with Donovan Shelton on a 16-yard pass to extend the lead to 14-0.
Grandin followed that up with a 1-yard touchdown run on the next possession, and Ross Harmon contributed to the scoring with a 1-yard touchdown run to start the fourth quarter. The senior back rushed for 84 yards and two touchdowns.
Grandin capped off his performance with a 60-yard scoring connection to senior wide receiver Riley Poulton to give the Elks a five-touchdown lead.
The senior quarterback threw for 214 yards with his two passing touchdowns, and had 54 rushing yards with his solo scoring run. The Elks combined for 420 yards.
The Elks defense shutdown Hilliard Darby as they only recorded three first downs and 49 total yards. Hilliard Darby had 1 rushing yard on 29 attempts. Junior Maxx Wynn had seven tackles and forced two fumbles.
This is the first time Centerville was the top seed in the Division I state playoffs since 2014. That year the Elks lost to Lakota West in the first round.
Centerville advances to the Region 3 Regional Semifinal against the fifth seed Pickerington North next Friday night.  Pickerington North defeated Wayne on the road, and has reached the Regional Semifinals for the second straight season.