Mohawks magical season to continue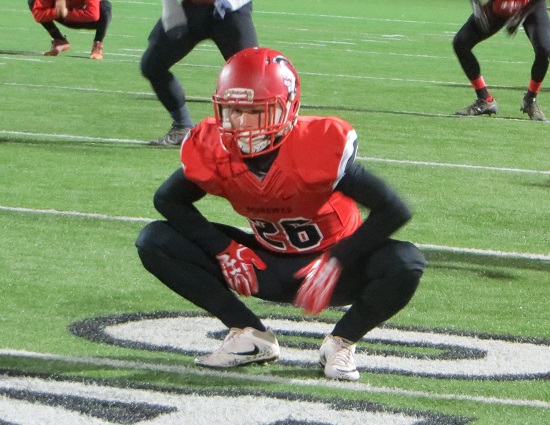 Madison Senior RB/DB Cameron Svarda (photo by Greg Shoemaker/TriStateFootball.com)
BEAVERCREEK, ohio – Southwestern Ohio's feel good football story of the year writes another fun-filled chapter. Madison Senior captures it's first-ever regional title taking advantage of numerous West Jefferson miscues, in a 42-7, rout. The Mohawks who had never been to the playoffs before this season now find themselves in the Division V final four after their 10th straight victory.
The boys from Middletown got off to a slow start but kicked into gear in the second quarter. Cameron Svarda got the party started with two touchdown runs. The junior ended the night with 195 of Madison Seniors 388 yards rushing. They did not have a yard passing in the game (for a second week in a row). Svarda now has 1,891 yards and 26 touchdowns rushing.
Svarda's classmate Mason Whiteman came up with a big effort on both sides of the ball. The quarterback ran for 81 yards with a touchdown. On defense, Whiteman snared a pair of interceptions including a 97-yard pick six. Madison Senior forced six Roughriders turnovers (four interceptions, two fumble recoveries). Three different players had interceptions and rushing touchdowns – Whiteman, Svarda and Jake Phelps.
Madison Senior 0-17-12-13-42
West Jefferson 0-7-0-0-7
M: Svarda 9 run (Reich kick)
M: Svarda 77 run (Reich kick)
M: Reich 22 FG
W: Jones 70 kickoff return (Stevenson kick)
M: Pelgen 3 run (kick failed)
M: Phelps 5 run (kick failed)
M: Whiteman 97 interception return (Reich kick)
M: Whiteman 2 run (kick failed)
RECORDS: Madison Senior (11-2); West Jefferson (11-1)
UP NEXT: Madison Senior vs. Wheelersburg (13-0), Friday, November 24th, 7:30 p.m. at Herrnstein Field, Chillicothe HS