Title hopes slip away for Colerain
SPRINGFIELD, ohio – The Colerain Cardinals saw their playoff aspirations slip right through their hands, literally. The Cardinals turned the ball over five times, including four fumbles, in a 41-28 loss to the Pickerington Central Tigers Friday night in Ohio Division state semi-final matchup.
Pickerington Central led 6-0 midway through the second quarter behind a pair of Cameron Cuba field goals and held Colerain scoreless for most of the first half.
J.J. Davis finally dented the scoreboard when he scampered for a 70-yard touchdown run with just over two minutes left in the second quarter. It would be the first of three scores in the game for the junior, who finished with 244 yards and nine carries.
JJ Davis 52 yard TD run! XP good. Cards 14 Tigers 13 7:53 3Q pic.twitter.com/dmB3yi8Les

— WeAreColerain.com (@WeAreColerain) November 25, 2017
While the Tigers' defense kept coming up with the football by making big plays, it was quarterback Demeatric Crenshaw that would drive the nail in Colerain's coffin.
The dual-threat playmaker ran for 117 yards and four touchdowns on 17 carries and threw for 86 yards on 8-of-17 passing. Gray Brancifort ran for another score for Pickerington Central in the win.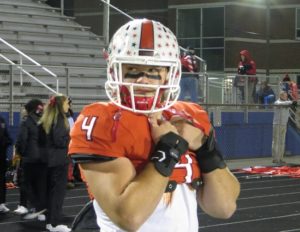 Luke Bolden had 15 tackles and Dan Bolden has 12 tackles to pace the Cardinals' defense.
Pickerington Central will move on the OHSAA Division I state championship game next Friday against Mentor (13-1) at 8:00 PM ET at Tom Benson Hall of Fame Stadium in Canton.
Pickerington Central 3-3-14-21—41
Colerain 0-7-14-7–28
SCORING SUMMARY
P: Cubra 31-yard FG
P: Cubra 27-yard FG
C: Davis 70-yard run (Mangold kick)
P: Crenshaw 45-yard run (Cubra kick)
C: Davis 52-yard run Mangold kick)
P: Crenshaw 13-yard run (Cubra kick)
C: Davis 68-yard run (Mangold kick)
P: Brancifort 7-yard run
P: Crenshaw 1-yard run (Cubra kick)
C: Jones 54-yard pass from Leyendecker (Mangold kick)
P: Crenshaw 3-yard run (Cubra kick)
RECORDS: Pickerington HS (13-1); Colerain (11-3)