Team of the Week: Week 3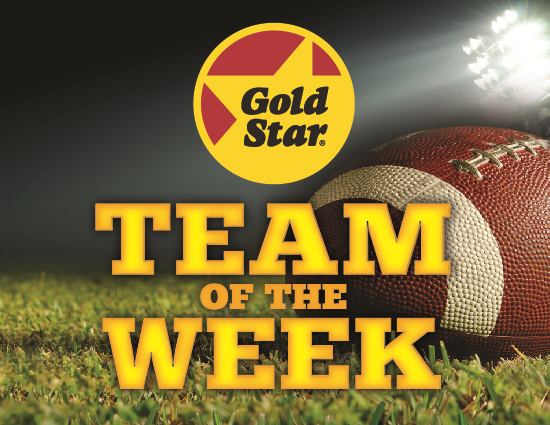 Gold Star Chili and TriStateFootball.com are partnering once this year to present the Gold Star Chili Team of the Week during the 2018 regular season. Each week 8-10 schools will be nominated from the Greater Cincinnati area to be included in an online voting poll to determine a winner.
The voting is open now until Wednesday afternoon at 12PM Eastern. Voters can vote once per hour, per IP address.
Once a team has won, they were ineligible to be nominated a second time. All of the winning teams will receive a trophy to be presented at their school by Gold Star Chili. Teams can only be nominated three times during the course of the season.
+++
Take advantage of the TSF-only deal at Gold Star this week:

Free Cheese Coney with the purchase of any regular 3,4 or 5-Way – PRINT COUPON
+++
Here are this week's nominations:
AIKEN (2-1)
The Falcons knocked off Indian Hill 26-17 in their home opener.
ANDERSON (3-0)
The Redskins moved to 3-0 with 35-3 victory over Harrison on a rain-soaked Friday night.
BATAVIA (3-0)
The Bulldogs took care of business against Clermont Northeastern, 26-7.
MARIMEONT (3-0)
The Warriors pitched a shutout versus Shroder 34-0 to move to 3-0 on the year.
MASON (2-1)
The Comets cruised past Oak Hills late 20-6 with a pair of fourth-quarter TD's.
MIAMISBURG (3-0)
The Vikings knocked off Loveland 49-14 and have now outscored their foes 122-35 through three weeks.
PURCELL MARIAN (3-0)
The Cavaliers remained unbeaten after taking down Bethel-Tate, 35-0.
SIMON KENTON (4-0)
The Pioneers moved to 4-0 by defeating their county rivals Dixie Heights, 55-20.
ROSS (2-1)
The Rams are 2-1 for the second time in three years after knocking off Western Brown, 13-7.