Campbell County cools Conner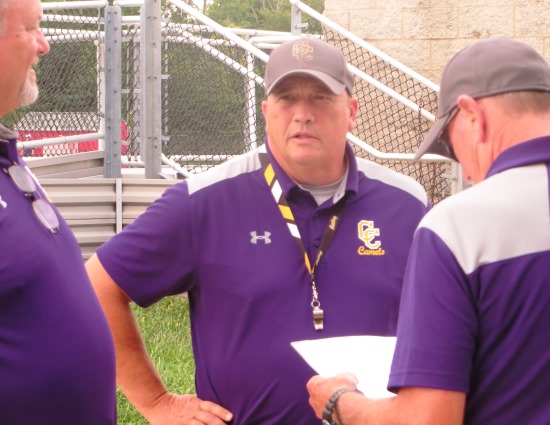 ALEXANDRIA, Kentucky – The Campbell County Camels won a key Class 6A matchup in waning moments against the Conner on Friday night, snapping the Cougars' four-game winning streak.
Senior quarterback Andrew Helton orchestrated a perfect 2-minute drive after Teddy Schul put Conner ahead 9-7 with 2:30 left in the game. Helton connected with classmate Reid Jolly three times on the drive and finished things off when he scored from five yards out on a quarterback keeper with 14 seconds left in the game.
Here is the winning TD run by senior quarterback Andrew Helton!#camelpride pic.twitter.com/PSwzzXt1Qt

— Camel Pride (@CamelPride) October 6, 2018
Both offenses moved the ball, but the defenses kept too many points from being put on the scoreboard.
Conner's only touchdown came of their first possession of the game as running back Christian Webster scored on a 12-yard run, but the PAT failed and the score stayed at 6-0.
Grant Jolly's 4-yard TD run late in the second quarter and the ensuing point after gave Campbell County a 7-6 edge the half. After a scoreless third quarter the stage was set for another thrilling finish.
Helton finished the night completing 14-of-27 passes for 194 yards and added 45 yards and a touchdown on 12 carries. Reid pulled in eight catches for 91 yards in the win.
Webster paced the Conner attack with 79 yards and a touchdown on 16 carries. Quarterback Jared Hicks completed 20 of 34 passes for 194 yards and one interception.
SCORING BY QUARTERS
Conner 6-0-0-3-9
Campbell County 0-7-0-6-13
SCORING PLAYS
CON: C. Webster 12-yard TD run (kick failed) – 1
CC: G. Jolly 4-yard TD run (P. Anderson KICK) – 2
CON: T. Schul 20-yard FG – 4
CC: A. Helton 5-yard TD run (conversion failed) -4
RECORDS: Conner 5-2; Campbell County 5-2
UP NEXT: Conner vs. Ryle (2-5); Campbell County vs. Simon Kenton (6-2)