NKY Round-Up: Simon Kenton soars in 6A clash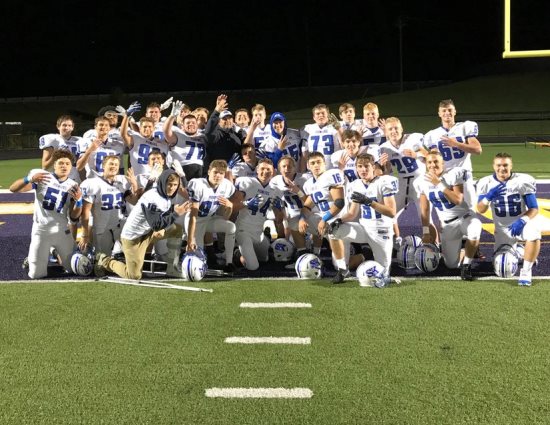 The weather is cooling down, but the action is heating up on the Northern Kentucky high school football gridiron. Week 8 brought some intriguing matchups as teams start to posture themselves for playoff pushes.
The game of the year in NKY took place in Fort Thomas where CovCath held on to beat Highlands in 21-14 win. Here's a rundown of some of the other key games:
Simon Kenton 27, Campbell County 7
The Pioneers and Camels combined for 105 points in their 2017 meeting, but defense was the story in this contest. Simon Kenton led 3-0 at the half but the third quarter saw four touchdowns get put on the board, including three by the home team, as the Pioneers put the game away. With the win SK secured their fourth straight district title.
.@SKHSFootball uses big second half to beat @CamelPride @SKHSAthletics @reidjolly3 @jon_sergent33 pic.twitter.com/0TE8j7X5n7

— Jeremy Rauch (@FOX19Jeremy) October 13, 2018
Proud of these seniors and this team. Could have taken the easy road but did not. Seniors putting the 4's up. DISTRICT CHAMPIONS! #4peat pic.twitter.com/Ta8rNmmcP1

— SK Football (@SKHSFootball) October 13, 2018
Conner 34, Ryle 17
The visiting Raiders opened up a 10-0 first quarter lead in our U.S. Marines Battle of the Gridiron Series matchup in Hebron, but the Cougars rallied back. Conner took a 21-17 lead into halftime and outscored their 6A rivals 13-0 after the break to put the game away. The Cougars finished the night with 409 yards of total offense. Quarterback Jared Hicks passed for 236 yards and a two scores and wide receiver Tate Niederman led all receivers with 145 yards and a touchdown on four receptions.
Newport Central Catholic 26, Lloyd 8
The Thoroughbreds won their second straight game after a 1-5 start by knocking off Lloyd on the road in key 2A district matchup. The Juggernauts were only trailing 14-8 at the half, but NewCath scored 12 unanswered second-half points to pull away in the victory.
Beechwood 62, Ludlow 13
Sophomore quarterback Cameron Hergott led the Tigers in 1A victory over the Panthers as he completed 7 of 10 passes for 140 yards and two touchdowns. He added another 47 yards and score on the ground. Senior John Odom contributed a pair of TD's too, including