Player of the Week: Week 8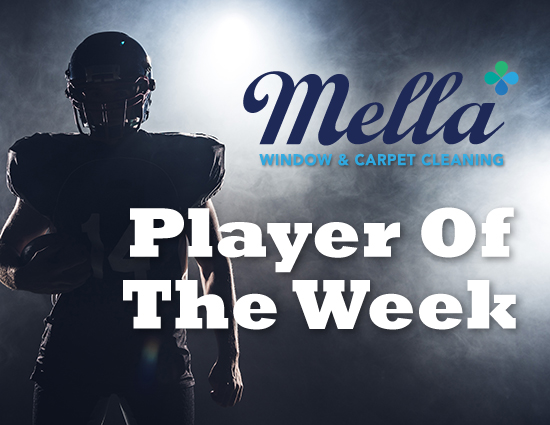 TriStateFootball.com is proud to present the Mella Window & Carpet Cleaning Player of the Week for the 2018 regular season. Players will be nominated from the Cincinnati, Dayton, Northern Kentucky and Eastern Indiana areas.
Each week a small group of nominees will be selected from a large list of some of the area's top performances and will be included in an online voting poll to determine a winner. The poll will launch weekly on Sundays. Voters can vote once per hour, per IP address through Wednesday at 12:00 PM Eastern weekly.
Once a player has won, they were ineligible to be nominated a second time. Players can only be nominated three times during the course of the season.
All of the season winners will be recognized and receive a plaque at the TriStateFootball.com Year in Review Show in February (more details announced during postseason).
+++
Take advantage of this internet special at Mella Window & Carpet Cleaning:

Whole house window cleaning $179 – COMPLETE DETAILS
+++
Here are this week's nominations…
Charlie Cowart, Mariemont, Sr, WR/LB – Four of his seven receptions (88 yards) went for touchdowns and also had two sacks as the Warriors trounced Taylor.
Jason Griffin, Batavia, Sr, RB – Racked up 311 yards rushing on 25 totes with five touchdowns also had two receptions for 83 yards in a score in the Bulldogs wild 64-49 win over Wilmington.
Owen Koelle, Anderson, Jr, RB – Became the first Redskins back to run for more than 100 yards this season after gaining 214 yards with a touchdown as Anderson took down Turpin.
Casey McGinness, Covington Catholic, Sr, RB – motored his way to 203 yards with two touchdowns rushing as the Colonels outdueled their rival Highlands, 21-14.
Denarius McKenzie, Woodward, So, RB – Ran for 238 yards on 19 carries with three scores as the Bulldogs bounced Hughes, 32-6.
Lee Megois, Madeira, Jr, WR/DB – Was a one-man wrecking crew with five receptions for 154 yards, two touchdown catches, four solo tackles and two interceptions as the Mustangs squeaked by Deer Park, 31-28.
Tate Niederman, Conner, Sr, WR/LB – Caught four passes for 143 including a 93-yard touchdown and had three solo tackles as the Cougars doubled up Ryle, 34-17.
Quincy Perrin, Scott, Jr, RB – Carried the ball 21 times for 119 yards and scored all five of the Eagles touchdowns including game winning 28-yard run with :12 seconds left to beat Bourbon County.
Wade Phillips, Edgewood, Sr, RB – Went for 229 yards on nine carries with four rushing touchdowns and also took a kickoff 98-yards to the house in the Cougars win over Talawanda.
Eric Rosemeyer, East Central, Sr, RB – Had 253 yards rushing on 21 totes with three touchdowns as the Trojans beat Beech Grove.
JJ Ross, Lakota West, Sr, DB – Intercepted two passes including a pick six as the Firebirds held off Princeton, 16-13.
Vuk Sajlovic, Simon Kenton, Jr, DL – Recorded four sacks and eight total tackles as the Pioneers warded off Campbell County, 27-7.
Josh Taylor, Western Brown, Sr, QB – Amassed 468 yards of total offense (232 pass, 236 rush) with three touchdown passes as the Broncos upset, New Richmond, 22-14.
Miyan Williams, Winton Woods, Jr, RB – Led the way for Winton Woods with 25 carries for 231 yards and two scores in the Warriors huge 28-10 victory at Elder,
Nak'emon Williams, Kings, Sr, RB – Churned out 238 yards on 32 carries and found the end zone four times as the Knights win a 64-40 shootout over Milford.