Colerain returns to the state championship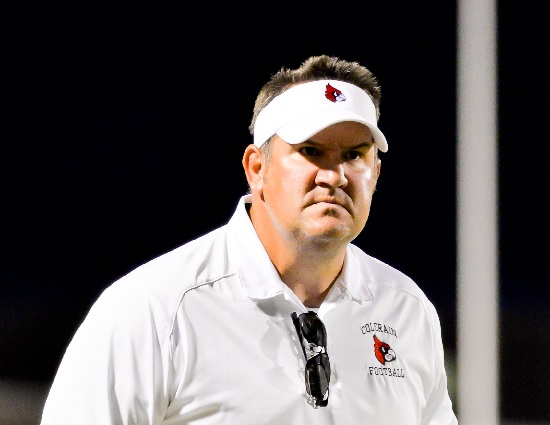 PIQUA, Ohio – In a rematch of last year's Division I Semifinals, Colerain avenged last season's defeat to Pickerington Central with 28-14 win and trip to the state final next Friday.
Colerain took an early lead in the first quarter when Ivan Pace Jr. capped off an 11 play, 52-yard drive with a two-yard run. The Cardinals scored in the second quarter to extend the lead to 14-0 when Deante Smith-Moore scored on a four-yard quarterback keeper.
After Colerain took a 14-0 lead at halftime, Jamir Jackson of Pickerington Central scored on a two-yard run to narrow the deficit to 14-7. Jackson finished with 10 carries for 40 yards.
In the fourth quarter, Pace found the end zone again to give Colerain's two-touchdown lead again when he scored on a three-yard run. Pace led the game with 118 yards on 25 carries to go along with his two touchdowns.
Deameatric Crenshaw tried to keep Pickerington Central in the game when he found Lorenzo Styles with just over six minutes left in the game.
The Pickerington Central defense was not able to get the offense off the field as Colerain ate five minutes off the clock and Smith-Moore scored on a one-yard touchdown to take a two-touchdown lead with just over a minute left in the game.
Smith-Moore gained 64 yards on 22 carries.
Smith-Moore one yard TD and Colerain leads 28-14 with a minute left

The CARDINALS ARE GOING TO STATE IN CANTON NEXT WEEK @WLWT pic.twitter.com/31EujZVrFu

— Mark Slaughter (@MarkVSlaughter) November 24, 2018
The Colerain defense allowed only 212 yards and continued to shutdown some of the top offenses in the state.
Colerain will play against St. Edward next Friday at Tom Benson Hal of Fame Stadium in Canton. St. Edward defeated Powell Olentangy Liberty, 42-16. The Cardinals are looking for their first state championship since 2004.
Combined, they account for 85 all-time playoff wins, 17 final fours & seven title game appearances.

The Div. I state final features powerhouse programs representing their corners of the state!

#9 Lakewood St. Edward (10-3) vs. #1 Cin. Colerain (14-0)
Friday, Nov. 30 at 8 p.m. pic.twitter.com/nssVCFgkQy

— OHSAA Sports (@OHSAASports) November 24, 2018
SCORE BY QUARTERS
Colerain 7-7-0-14-28
Pickerington Central 0-0-7-7-14
SCORING SUMMARY
C: Pace Jr. 2-yd run (Mangold KICK)
C: Smith-Moore 4-yd run (Mangold KICK)
P: Jackson 2-yd run (Bookman KICK)
C: Pace Jr. 3-yd run (Mangold KICK)
P: Crenshaw to Styles Jr (Bookman KICK)
C: Smith-Moore 1-yd run (Mangold KICK)
RECORDS: Colerain (14-0), Pickerington Central (11-3)
NEXT WEEK: Colerain vs. Lakewood St. Edward (10-3) 11/30 at 8PM – Tom Benson Hall of Fame Stadium