Preview: St. Edward vs. Colerain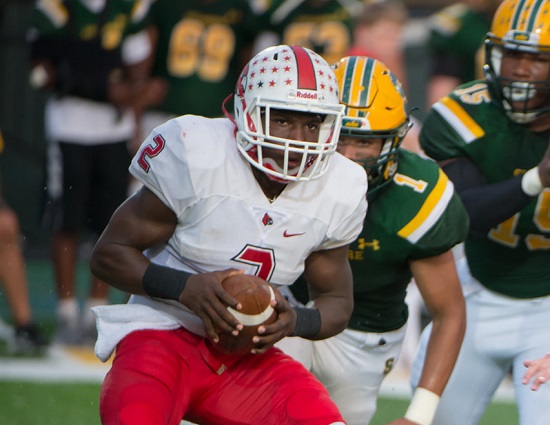 Colerain QB Deante Smith-Moore (photo courtesy MACooke Foto)
It only seems fitting that it is a Cleveland Catholic school versus a Cincinnati public school in the Division I final. The great debates begin. Who is better, private or public? Do the private schools have an advantage being able to recruit kids?
Colerain and St. Edward may be Buckeye state polar-opposites as far as their school identities are concerned, but on the field, the story is entirely different. Both teams are loaded with explosive athletes, capable of changing a game in a matter of seconds. This could be one of the highest scoring contests in state championship history.
Defense wins title's and this affair is set up to negate that theory. It could very easily come down to the last possession. Getting that one last stop could be the difference in the outcome. Make no doubt about it, there is going to be a ton of nail-biting in this one.
ST. EDWARD EAGLES (10-3) vs. COLERAIN CARDINALS (14-0)
Friday, November 30th, 2018
Kickoff: 8:00 p.m. at Tom Benson Hall of Fame Stadium (Canton, OH)
Follow on Twitter @TSFootball
PLAYOFF HISTORY
St. Edward: (24th appearance, 43-20) – 2018 (Regional Champions), 2017, 2016, 2015 (State Champions), 2014 (State Champions), 2013 (Regional Champions), 2012, 2011, 2010 (State Champions), 2008, 2006, 2005 (Regional Champions), 2004, 2003 (State Runner-up), 2002, 2001, 2000, 1996, 1987, 1986 (State Runner-up), 1985, 1984, 1976, 1975 (State Runner-up)
Colerain: (21st appearance, 39-18) – 2018 (Regional Champions), 2017 (Regional Champions), 2016 2015, 2014, 2013, 2012, 2011, 2010, 2008, 2007, 2006 (Regional Champions), 2005, 2004 (State Champions), 2003, 2002, 2001, 2000 (Regional Champions), 1998, 1995, 1994 (Regional Champions)
HEAD COACHES
Tom Lombardo, St. Edward – (43-9 at St. Edward, fourth season; 132-46, 15th season overall)
Tom Bolden, Colerain – (132-20 at Colerain, 12th season; 132-20 overall)
PLAYERS TO WATCH: The St. Edward offense loves to pound the ball on the ground. Seniors, RB Jordan Castleberry and QB Garrett Dzuro have both run for more than 1,000 yards. Castleberry, a West Virginia commit has a team high 1,458 yards and 18 touchdowns rushing. Dzuro has amassed 2,851 yards of total offense (1,767 pass, 1,084 rush) and accounted for 31 touchdowns. (20 pass, 11 rush). Defensively, WR/DB Quintel Kent and First Team All-Ohio selection DB Caden Kolesar must keep the ball in front of them. Kent, a Second Team All-Ohio honoree at receiver has committed to Michigan.
For Colerain it all starts with RB/LB Ivan Pace Jr., the 2018 Ohio Division I Defensive Player of the Year. Pace Jr. has run for 1,364 yards with 22 rushing touchdowns. Defensively, he has been a one-man wrecking crew with 72 total tackles (38 solo), six sacks, four forced fumbles, two fumble recoveries, an interception, with a scoop and score and a pick six. Third Team All-Ohio selection QB Deante Smith-Moore has amassed 2,300 yards of total offense (998 pass, 1,202 rush) and accounted for 35 touchdowns (18 pass, 17 rush). He only has three interceptions while completing 61.5% of his passes. Senior classmate RB/WR/KR JJ Davis is as product and efficient as any player in Ohio. Davis has accrued 1,424 all-purpose yards on 103 touches with 15 total touchdowns (nine rush, six rec). He averages 10.6 yards per carry and 25.6 yards per reception (17).
On defense, seniors LB Luke Bolden, DB Jakari Patterson, RB/DB Syncere Jones, a Third Team All-Ohio selection and junior DB Deshawn Pace have combined for 15 takeaways. Bolden, a Miami (OH) commit has 35 total tackles in four playoff games.
TEAM TRENDS: St. Edward was the #7 seed in Region 1. The Eagles lost to St. Ignatius and Mentor during the regular season but beat them in the playoffs. They also had wins over Moeller and Elder during the regular season. St. Edward averages 40.6 points per game and have scored 35 or more on eight occasions. The Eagles are giving up 19.9 points per contest. This the third trip to the state finals in the last five years for St. Edward.
Colerain is averaging 40.1 points per game and giving up just 7.9 points per contest (that includes the 47-19 victory over Princeton). The Cardinals have scored 42 points or more 10 times in their last 12 tilts. They have scored 35 and 28 in the other two games (that includes the 47-19 victory over Princeton). The Colerain defense has 32 takeaways (15 fumble recoveries, 17 interceptions). They have returned seven of those takeaways for scores (three FRs, four IRs) with 405 interception return yards.
ST. EDWARD'S KEYS TO VICTORY: Taking care of the football will be a top priority for the Eagles. Colerain is adept at scoring unconventional touchdowns and can do it in a hurry. Shortening the amount of possessions that the Colerain offense gets will keep St. Edward in the game longer. This will also keep their defense fresh and off the field.
COLERAIN'S KEYS TO VICTORY:  A fast start will help the Cardinals get rid of the jitters and raise their confidence. Putting pressure on the St. Edward backfield and forcing them to be uncomfortable in passing situations will lead to takeaways. Colerain should have no problem scoring points but they don't want to get into a shootout with the Eagles. The Cardinals must get some distance between themselves and St. Edward on the scoreboard, then maintain it.
Prediction: COLERAIN 35, ST, EDWARD 20