Momentum carries Wyoming to win in state semis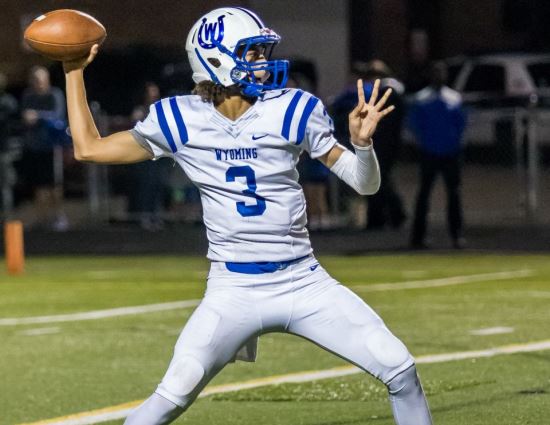 PIQUA, Ohio – After a nearly even two quarters of football, the Wyoming Cowboys scored two touchdowns in less than 20 seconds to pull away from St. Mary's Memorial in an Ohio Division IV semi-final on Saturday night at Piqua High School.
Wyoming took the a 14-7 lead in the contest with 38 second left in the first half when quarterback Evan Prater connected with Joey Edmonds on a 6-yard TD pass.
The Cowboys caught the Roughriders sleeping on the ensuing kickoff as they sputtered one down the right sideline and Wyoming recovered at the 40-yard line. Prater then connected with Pete McMichen deep to give the Cowboys the ball at the 1-yard line. On the next play Prater ran if for another score and
Wyoming took a 21-7 lead to the locker room.
St. Mary's never seemed to recover.
The Cowboys capped off a 10-play, 81-yard drive to start the third quarter as Prater connected with Edmonds for a score for a third time on the day, this time from 24 yards out to put Wyoming up 28-7.
Watch this amazing strike from @evan_prater to @joeyedmonds5 for the 24 yard touchdown, their third TD connection of the night and what I think was the DAGGER in St. Mary's @WyomingSports @HasanBlack13 @CoachHancock @wilking_j @PiersonRogers22 @WLWT pic.twitter.com/csnUhbFCyt

— Mark Slaughter (@MarkVSlaughter) November 25, 2018
Later in the quarter the Roughriders made a push for a comeback. After recovering a fumble at the Cowboys' 11-yard line, Sean Perry punched in an 11-yard run for a score to cut the lead to 28-14. St. Mary's then recovered the ensuing onside kick and appeared to be in a good spot for a comeback.
However, the Cowboys' defense would keep things in check and Prater would put things away for a good with a 34-yard TD run in the fourth quarter. The 35 points scored against the Roughriders was the most they've allowed all season.
Wyoming held St. Mary's to just 151 total yards of offense, including only 113 yards on the ground, and had six quarterback sacks.
Prater rushed for 149 yards and two scores and tallied another 181 yards and two touchdowns through the air. Edmonds led all receivers with seven catches for 93 yards and three TD's.
Up next, the Cowboys will play the Girard Indians, who beat Newark Licking Valley 53-48 on Saturday, in the Ohio Division IV state championship game next Saturday night at 8PM at Tom Benson Hall of Fame Stadium in Canton.
The Div. IV AP poll champion, back in the state final for the first time since winning a ring in 1977, will take on a team making its first football state championship game appearance in school history!

#1 Cincinnati Wyoming (14-0) vs. Girard (13-1)

Saturday, Dec. 1 at 8 p.m. pic.twitter.com/KAeP7xdvL0

— OHSAA Sports (@OHSAASports) November 25, 2018
RECAP
Wyoming 7-14-7-7-35
St. Mary's Memorial 7-0-7-0-14
SCORING SUMMARY
S: T. Schlosser 7-yard run (Vandever kick)
W: J. Edmonds 15-yard pass from Prater (Washienko kick)
W: J. Edmonds 6-yard pass from Prater (Washienko kick)
W: E. Prater 1-yard run (Washienko kick)
W: J. Edmonds 24-yard pass from Prater (Washienko kick)
M: S. Perry 11-yard run (Vandever kick)
W: E. Prater 34-yard run (Vandever kick)
RECORDS: Wyoming (14-0); St. Mary's (12-2)
UP NEXT: Wyoming vs. Girard (13-1) in the Ohio Division IV State Championship
*Image from ScoutingOhio.com