NKY Round-Up: Highlands rolls by Simon Kenton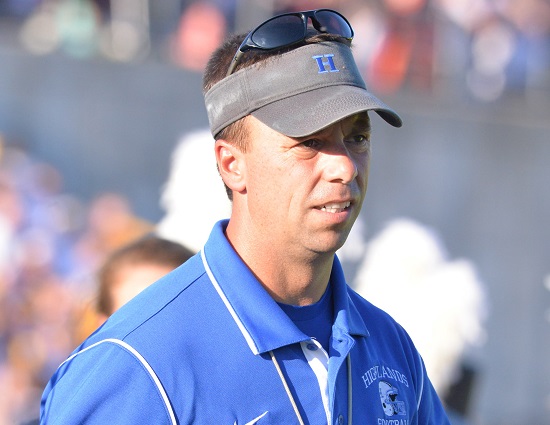 The first half of the Highlands and Simon Kenton was pretty close, with the Bluebirds holding a 14-7 lead at the break. However, it was all Bluebirds in the second half. Their defense came up with timely plays and the offense capitalized when it was needed most.
Collin Hollingsworth paced the offense with a pair of first-half TD passes, including a beautiful leaping catch by Hunter Ahlfeld on 34-yard scoring catch in the second quarter.
The game was up for grabs early in the fourth quarter when Jacob Brass returned an interception 49 yards for Highlands, setting up a Tyler Brune TD run. Hollingsworth added one more TD, this time on a 9-yard run to cap off the scoring as the Bluebirds move to 3-1. Simon Kenton falls to 2-2.
No. 7 Covington Catholic 45, Dixie Heights 0
Covington Catholic raced out to a 17-point lead in the opening quarter and never looked back as they breezed past their Dixie Highway rivals, Dixie Heights.
Daniel Felix came through for the second straight week, scoring a pair of touchdowns and 55 yards rushing on just four carries in limited action. CovCath finished with 403 yard of total offense in the win. The Blue Colonels moved to 4-0 with the win, while Dixie drops to 1-3.
No. 23 Ryle 46, Boone County 0
Kyle England continued his hot start to the 2019 campaign as Ryle rolled by Boone County. The senior finished with 145 yards and four touchdowns on 13 carries and now has rushed for 11 scores through the Raiders' first four contests.
Quarterback Brandon Lyons also got in on the fun for the home team, completing 8-of-12 passes for 143 yards, including a 48-yard scoring strike to wide receiver Connor Lee.
Here are some other scores from NKY teams in action on Friday night:
Cincinnati Country Day 38, Holy Cross 20
Bethel-Tate 38, Scott 33
St. Bernard 42, Bellevue 28
Newport 63, Bracken County 8
Cooper 36, Campbell County 0
NewCath 10, Walton-Verona 7
Beechwood 26, Corbin 10
Dayton 49, Gallatin County 14
Louisville Holy Cross 21, Holmes 14
Mason County 33, Grant County 8
*Stay updated on high school football updates by following @TSFootball on Twitter.