CovCath's defense foils La Salle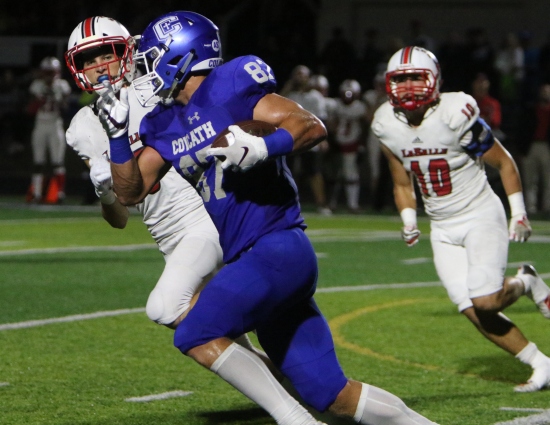 PARK HILLS, Kentucky – In a game between two unbeatens who were looking for a signature win and respect, it was Covington Catholic that made a statement, shutting down a potent La Salle offense. The victory was the 28th consecutive in the regular season for the Colonels. The Colonels are 37-1 in their last 38 contests overall.
The CovCath defense was sensational allowing just 114 total yards and forcing three turnovers. The Lancers came into the game having scored at least 31 points in every contest. They had put points on the board in the first three quarters in each of those victories. The Colonels held La Salle scoreless through the first three stanzas. Covington Catholic has now held seven foes to nine points or less.
Michael Mayer starred on both sides of the ball for the winners. The Notre Dame commit had six solo tackles and a 45-yard pick six that took the wind out of the Lancers sail. On offense, Mayer reeled in six receptions for 97 yards. Classmate Daniel Felix also caused havoc with two short rushing touchdowns and eight total tackles. Felix and Mayer are now tied for the team lead with 11 touchdowns.
La Salle quarterback Zach Branam came into the game as the second leading rusher in the GCL South averaging 95.5 yards per game. The Colonels held him to just 27 yards on nine carries. He was also held to less than 100 yards passing for the third time in four weeks.
Covington Catholic has won five in a row against Ohio teams and seven of its last eight dating back to 2016. It was just the seventh loss to a Kentucky school in the history of La Salle football.
SCORING BY QUARTERS
La Salle 0-0-0-7-7
Covington Catholic 7-7-13-0-27
SCORING PLAYS
C: Caleb Jacob (Trey Gronotte kick)
C: Felix 22 run (Gronotte kick)
C: Michael Mayer 45 interception return (kick blocked)
C: Felix 3 run (Gronotte kick)
L: Gi'Bran Payne 4 run (Jake Seibert kick)
RECORDS: LaSalle (6-1); Covington Catholic (8-0)
UP NEXT: La Salle at St. Xavier (6-1, 1-1); Covington Catholic hosts Boone County (2-6, 0-3)
*Stay updated on high school football updates by following @TSFootball on Twitter.
+++
Check out these great photos from TSF Senior Photographer Dan Beineke: