Dayton Round-Up: Springfield defense demeans Springboro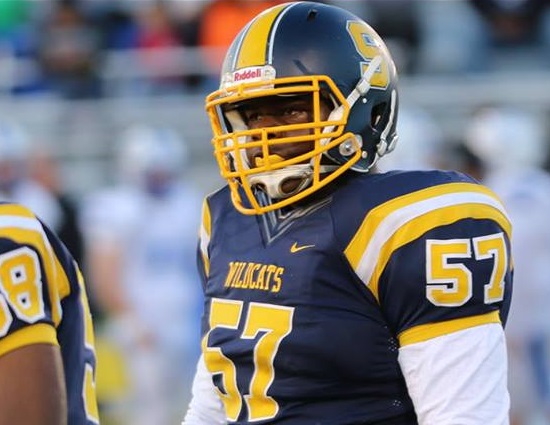 It was a night of utter dominance for the Springfield (6-1, 2-0) defense as they overwhelmed previously unbeaten Springboro (6-1, 2-0), 23-0. An explosive Panthers offense came into the contest averaging 38.3 points per game only to be blanked by the harassing Wildcats. It is the first time that the 'Boro has posted a goose egg on the scoreboard since losing 7-0 to Lakota East in the 2014 playoffs.
This was the second straight shutout for Springfield. Wildcats defense hasn't been scored upon in the last 10 quarters. They haven't given up more than 17 points in a game. Springfield held the Panthers to 100 yards of total offense, had six sacks and forced six turnovers. Sophomores Delian Bradley and Jokell Brown paced the tenacious Wildcats. Bradley had a fumble recovery and an interception. Brown recorded two-and-a-half sacks
Brown and Bradley's classmate, Te'Sean Smoot led the Springfield offense. He threw for a career high 283 yards. Smoot also tossed a touchdown pass for the seventh straight week.

FENWICK 26, ALTER 14
It was sweet revenge for the Fenwick (4-3, 2-0) seniors as they knocked off Alter (4-3, 0-2) for the first time in their careers. The Falcons had lost their previous three contests to the Knights by an average margin of 32.7 points. Alter has now lost three of its last four tilts after starting the year 3-0. The Knights had not lost more than one GCL game in season, let alone two dating back to 2004.
Senior quarterback David Schuh ran for a career high 98 yards and a pair of scores for the victors. Sophomore running back Colt Bradshaw added 94 yards and a par of scores on the ground. Logan Miller paced the Falcons defense with 15 total tackles. Up next for Fenwick is a trip to Badin (4-3, 1-1). Alter looks to rebound as Carroll (3-4, 1-1) comes calling.

FRANKLIN 23, VALLEY VIEW 20
Surviving and learning how to win close games usually leads to good things and Franklin (6-1, 3-0) is starting to find that out. The Wildcats won their third straight game by seven points or fewer, getting by SWBL Southwestern rival Valley View (5-2, 2-2) in a nail-biter. Late in the fourth quarter, Franklin senior Gage Johnson found the end zone for a second time from 5-yards out. It was the games seventh and final scoring change. Classmate Braden Woods kept the chains moving for Johnson to finish off those Wildcats drives. Woods finished the night, 13-17 for 170 yards with a touchdown pass. Dylan Dirks got it done in all phases of the game with that touchdown reception from Woods, an interception for the defense and a blocked punt on special teams. It was the third straight game that Dirks has had a touchdown catch.
Lucas Lynch racked up 134 all-purpose yards on 12 touches with a pair of scores rushing for Valley View. Lynch has two touchdowns in four of his last five games. The Vikings have dropped their last two contests after starting 5-0 with average margin of victory of 27. 4 points.
FAIRMONT 28, CENTERVILLE 20
Reigning GWOC National East Defensive Player of the Year, Trey Baker of Fairmont (2-5, 1-1) showed Centerville (5-2, 1-1) why he is worthy of that title. The senior caused all kinds of havoc as the Firebirds upset the Elks. Baker was in on 14 total tackles (five solo) and had two of the teams three takeaways (one fumble recovery, one interception). It was a game of patience and perseverance for Fairmont quarterback Male'k Hillon. The sophomore went 4-4 for 115 yards (all career bests), ran for a team high 79 yards. Hillon electrified the crowd with a 58-yard touchdown pass to Garrett Baker and a 46-yard fourth quarter scoring scamper to seal the game for the Firebirds.
On paper, Centerville dominate the game except for the three turnovers. Elks senior Bryce McMahon ran for a game high 146 yards and had a touchdown. It was his fifth straight game of 100 yards or more on the ground.
Here are some other scores from Dayton area teams in action on Friday night:
GWOC
Wayne 63, Beavercreek 20
Fairmont 28, Centerville 20
Trotwood-Madison 26, Miamisburg 6
Northmont 49, Lebanon 26 – NMT: Keaton Kesling third time in last six games with four passing touchdowns.

GCLC
Chaminade Julienne 17, Badin 3
Carroll 28, McNicholas 0
MVL
Greenville 7, West Carrollton 0
Troy 19, Sidney 7
Tippecanoe 28, Stebbins 19
Fairborn 39, Butler 0 – FB: Hunter Warner four straight games with 129-plus yards rushing.
Xenia 21, Piqua 7 – XEN: Bucs have gone 5-18 for just 66 yards with one touchdown passing during their current six game winning streak.
DPL
Roger Bacon 32, Meadowdale 8
Columbus St. Francis De Sales 28, Belmont 7
Thurgood Marshall 20, Woodward 8
SWBL
Milton-Union 18, Preble Shawnee 13
Bellbrook 31, Eaton 7
Waynesville 70, Dixie 14 – WAY: Four different Spartans score their first touchdowns of the season in this win.
Brookville 31, Monroe 21
Northridge 12, Oakwood 6 – PS: Third straight loss by seven points or less to teams that area combined 18-3 on the season.
Madison Senior 26, Carlisle 16