Cincinnati Round-Up: Lakota West stifles Mason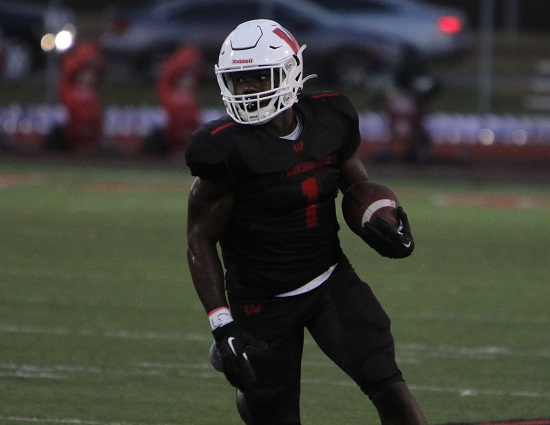 One of the true coin flips of Week 7, this matchup lived up the billing, especially on defense. The Firebirds suffocated the Comets holding them to 127 total yards on their way to a 14-6 victory.
Lakota West generated 100 percent of their yards on the ground, gaining 189 yards total. Mason had ample opportunities to score and take advantage in this game. They dominated time of possession 28-19 minutes, while also having six less penalties. The Comets had excellent third-down defense, forcing West to an unimpressive 1-of-9 on the big plays.
David Afari was the star yet again for Lakota West, rushing for 183 yards on 27 attempts. Lakota West moves to 5-2 with the big matchup coming up against Lakota East next week.
Mason's three-game winning streak comes to an abrupt end. It doesn't get any easier for the Comets with a trip to Colerain next week.
No. 3 Colerain 17, No. 18 Hamilton 3
It wasn't pretty for the Cardinals, but the kings of the GMC continued their winning ways. The offense wasn't at its best, but Colerain's defense stifled the Big Blue, with multiple key stops down the stretch en route to a 17-3 victory.
The Cards held Hamilton's offense to 174 total yards and 2-of-10 on third downs. Keyshawn Stevens was the lone bright spot for Hamilton, rushing for 106 yards on 17 carries. It was all about the running game for Colerain. The only attempted one pass, and every one of their 309 total yards came on the ground.
Hamza Abdul- Waheed had a 10-yard score, and Deshawn Pace had an electrifying 43-yard TD as well. Hamilton has now lost two in a row, and four of their last five.
No. 4 Fairfield 37, No. 12 Princeton 13
The Indians quickly put a subpar Week 6 performance behind them, and dominated a very talented Princeton team from start to finish.
Jutahn McClain was special yet again, running for 197 yards and 3 TDs. Week after week, the senior continues to put up video game type of numbers, and if Fairfield is to make a deep playoff run, it will be on the back of McClain.
Princeton had a couple bright spots in an overall disappointing performance. MyJaden Horton found Deangelo Foster for a 47-yard TD pass. On defense, Jaeden Scarborough had a 48-yard pick 6.
Fairfield is now 7-0 for the first time in their 85-year program history.
No. 10 Harrison 36, No. 23 Little Miami 13
The Wildcats solidified themselves as the cream of the crop in the SWOC. Harrison was dominant on both sides of the ball, and dismissed the number two team by a score of 36-13
The streak of Harrison's defense giving up 10 or less points came to end, as they allowed 13. Regardless, this team is playing as good as anyone right now. Levi Tidwell and CJ young both had over 100 receiving yards, with Tidwell adding 2 TDs.
Cam Hering had 146 yards and two touchdowns on 20 attempts. The Wildcats outgained Little Miami 484-201. The Panthers came into this game having scoring 30 or more points in every game this season, which came to a screeching halt. Harrison heads to Indiana next week to take on Franklin County.
Here are some other scores from Cincinnati teams ranked inside our Blitz 5 Top 25:
#1 Elder 42, Moeller 6
#2 St Xavier 44, Clarkson North (ON) 6
#5 Covington Catholic 27, #6 La Salle 7 (COMPLETE RECAP)
#7 Winton Woods 55, Edgewood 20
#11 Turpin 48, Loveland 12
#13 Lakota East 41 Oak Hills 0
#15 Sycamore 15, Middletown 0
#16 Anderson 34, West Clermont 23
#17 Wyoming 42, Deer Park 10
#22 Ross 41, Northwest 10
#24 Clinton-Massie 49 Western Brown 0
#25 Franklin 23, Valley View 20
*Stay updated on high school football updates by following @TSFootball on Twitter.