NKY Round-Up: Conner wins sixth straight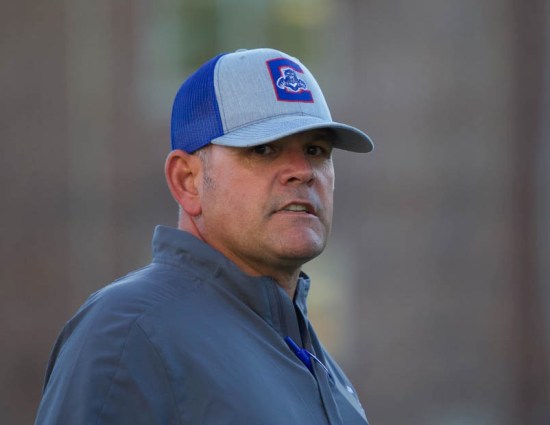 Conner head coach Dave Trosper (photo by Rocio Fores-Walls)
It was an instant classic in the Boone County rivalry between the Conner Cougars and Cooper Jaguars on Friday night in Hebron. In the end, it would be the Cougars that prevailed, 35-29.
Senior quarterback Jared Hicks continued his marvelous 2019 campaign with another stellar performance. He completed 14-of-24 passes for 284 yards and two touchdowns, adding 52 yards and two more scores on 13 carries in the win. Conner tallied 405 total yards of offense on the evening.
The Cougars have won six straight games and now hit their bye week before welcoming CovCath in Week 9 with the Class 5A District title on the line.
No. 20 Highlands 49, Boone County 0
For the third straight week the Highlands Bluebirds took the field searching for an epic 900th win. This time they reached the milestone as the breezed past Boone County, 49-0.
Highlands got out of the gate fast by building a 14-0 first quarter lead and followed that up with 28-point second quarter to lead 42-0 at the half.
Colling Hollingsworth threw for three touchdowns and Sawyer Depp added two scores on the ground to pace the Bluebirds in the victory.
Highlands becomes the second high school football program in America to reach 900 wins, trailing only Valdosta (GA) High School (923).
It was a special night for Boone County as well as the school celebrated the 25th anniversary of the state runner-up team for 1994.
Lloyd 26, Newport 7
The Lloyd Juggernauts picked up a key win as they opened Class 2A, District 6 play with a 26-7 victory at Newport versus the Wildcats.
Newport got on the board first as both defenses controlled things early. The contest was 7-0 at halftime. Lloyd got a touchdown of their own and added a two-point conversion to take a 8-7 lead into the fourth quarter.
The final frame belonged to the Juggernauts as they outscored Newport 18-0 in the final, finishing the second half with 26 unanswered points.
Jacob Davidson led the way in the victory as he rushed for 101 yards, three touchdowns and a 2-point conversion.
The win, coupled with Beechwood's win over Holy Cross, sets up a district title matchup between the Tigers and Juggernauts next weekend at Lloyd.
Here are some other scores from NKY teams in action on Friday night:
#5 CovCath 27, #6 La Salle 7 (COMPLETE RECAP)
Ryle 41, Campbell County 0
Simon Kenton 43, Dixie Heights 27
Holmes 33, Boyd County 0
Beechwood 68, Holy Cross 6
Walton-Verona 49, Owen County 19
Gallatin County 46, Shawnee 8
Newport Central Catholic 49, Ludlow 10
Bellevue 21, Dayton 12
Brossart 41, Bracken County 0
*Stay updated on high school football updates by following @TSFootball on Twitter.