Simon Kenton holds off Dixie Heights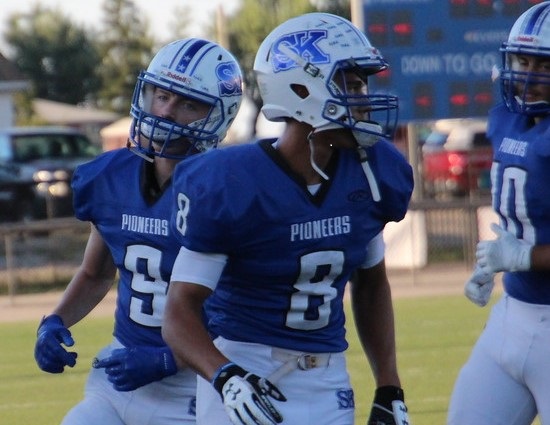 INDEPENDENCE, Kentucky – Kenton County rivals clashed in a Class 6A, District 6 matchup on a rare Thursday night tilt on the high school gridiron as the Simon Kenton Pioneers down the Dixie Heights Colonels, 43-27.
The Pioneers came out strong off their bye week and after dropping two of their last three games that was a good sign for head coach Jeff Marksberry and his crew. They put the game away with a 14-0 second quarter and led 29-10 at the break.
Quarterback Chase Crone threw for three first-half touchdowns and added a rushing score later in the contest to lead the way for Simon Kenton. The freshman completed 19-of-34 passes for 240 yards and added 71 yards rushing on 16 carries.
Austin Hammack also had a strong night, rushing for 91 yards and a score on 15 attempts and Erik Brown led all receivers with 103 yards on eight catches. Isaac Bleier led the defense with a pair of interceptions and four total tackles.
Dixie Heights has now dropped five straight games in the series, with their last win coming in a 2014 playoff matchup.
SCORING BY QUARTERS
Dixie Heights 10-0-7-10-27
Simon Kenton 15-14-7-7-43
SCORING PLAYS
D: Sansone 39-yard FG
S: Livers 8-yard pass from Crone (Seger kick)
S: Livers 14-yard pass from Crone (Brown pass from Scott)
D: Jacobs interception for TD (Sansone kick)
S: Hammack 34-yard pass from Crone (Seger kick)
S: North 1-yard run (Seger kick)
S: Hammack 4-yard run (Seger kick)
D: DeZarn 22-yard pass from Landers (Sansone kick)
D: Sansone 35-yard FG
S: Crone 3-yard run  (Seger kick)
D: Fumble return (Sansone kick)

RECORDS: Dixie Heights (2-5, 0-1); Simon Kenton (4-3, 1-0)
UP NEXT: Dixie Heights vs. Ryle; Simon Kenton vs. Campbell County
*Stay updated on high school football updates by following @TSFootball on Twitter.