Cincinnati Best Bets: Week 11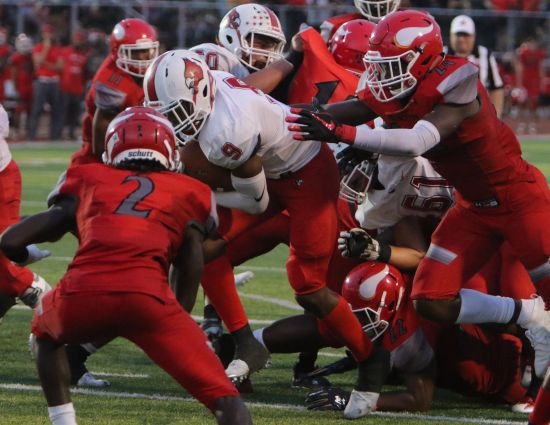 "Playoffs, are you kidding me… Playoffs!?" Yes, we are just as surprised that the regular season has come to an end, and it's time to gear up for postseason play. The cream of the crop has risen, and they are comprised of a lot of familiar faces. The Tri-State area is represented well, as a plethora of top conferences have multiple teams playing for a chance at a state title. It's about that time folks; here are the games to look out for in this postseason edition of the Cincinnati Best Bets.
No. 6 Princeton (6-4) at No. 3 Colerain (9-1)
Ohio DI – Region 4 / Friday – 7:00
The Cardinals are back after winning a record 20th straight GMC Championship. Colerain defeated Fairfield in an overtime thriller to extend their conference winning streak to 83, and will host their first postseason game again. This is a rematch of the Week 5 game that took place at Princeton. The Cards won that game 23-14, behind MJ Flowers 110 rushing yards and 2 TDs. Colerain also was +2 in the turnover battle in that matchup, and dominated time of possession 31-16. The Vikings have been a curious case to say the least. The Vikings are one of the more talented teams in the entire state of Ohio, yet they finished 5th in the GMC, and a disappointing 6-4 in the regular season. Whenever we thought this team was finally putting it all together, there would be a bad loss to leave you wondering what happened. Regardless, they still did their job and are playing November football. They are familiar with the Cardinals, and have the bodies to beat anyone in their region. Expect a similar grinded-out type of game like we saw earlier in the season, but this time with the season on the line.
No. 8 Mason (5-5) at No. 1 St. Xavier (8-2)
Ohio DI – Region 4 / Friday – 7:00
Remember when Mason lost their first three games, and the season was over? The last seven weeks of the season the Comets looked and played like a different team. Winners of five of those last seven games, including laying the hammer on Princeton in the regular-season finale. The St. Xavier Bombers had a very good regular season. Sure they didn't win the GCL South, but they reeled off an 8-2 overall record just like the other top teams in the conference. The offense has been excellent all year, and this team can stretch anyone down the field with Liam Clifford and Marshall Lang at the helm. Matthew Rueve led the league with over 2,600 passing yards, 25 touchdowns and only four interceptions. The defense has questions in the back end, but the front seven has played well. Giovanni Albanese and TJ O'Malley lead the league with 7 sacks each. If Mason wants any chance to win, they have to gash the Bombers through the air. Collin Brown must have a performance similar to Week 10, where he tossed four TDs and no picks. Alec Dardis and Nick Molinari must win their one-on-one matchups. This game should be fairly high scoring, and we know the Bombers are going to get theirs. The main question is if the Comets can keep up.
No. 8 Little Miami (8-2) at No. 1 La Salle (8-2)
Ohio DII – Region 8 / Friday – 7:00
Jumping into Division II, it doesn't get much better than this showdown. The Lancers are riding high after defeating Elder for their first GCL South title since 2016. La Salle is one of the most balanced squads in the Tri-State area. With many teams, it's quick to point out a weakness, the Lancers, not so much. They can beat you running or passing the football. They are solid in the trenches, and their secondary can go toe-to-toe with any receiving corps. In terms of the Panthers they are also coming off an excellent regular season, specifically on the offensive side of the ball. They have scored 30 or more in eight of their 10 games this season. That includes four games when they tallied over 40 points. Brody Reder has been incredible all year, totaling over 2,000 passing yards, 23 TDs and only four interceptions. If it wasn't for Connor Kinnett putting up historically good numbers, we would be talking a lot more about the young gunslinger. La Salle is right at the top as the best team Little Miami has played, with Harrison holding that claim previously. When the Panthers played the Wildcats, it was ugly. The Lancers played excellent teams week in and week out to end the season; which could ultimately be the difference in deciding this first-round matchup.
No. 5 Ross (8-2) at No. 4 Badin (7-3)
Ohio DIII – Region 12 / Friday – 7:00
This is a rematch going all the way back to Week 1, a game in which Ross won 20-19 in overtime thanks to a failed PAT for Badin. Ross did the same thing in that matchup as they did all season long, which has lead them to their first playoff appearance in years, run the ball. Ross did not have a game all year where they attempted more than five passes. They were one dimensional, but if it's not broke, don't fix it. In the first matchup, Badin attempted to go head-to-head with pounding the ball 30 times, but it yielded no success. They had a total of 62 rushing yards and averaged two yards per carry. Badin has to prioritize passing the ball against the Rams. In their two losses to Harrison and Little Miami, they allowed 349 and 203 yards through the air. Trying to beat a team in an aspect of the game they mastered is not a good idea. Still, this game will be won in the trenches, because if Badin wants to air it out, they still have to protect the quarterback. We will see if they come ready to battle with the season hanging in the balance.
+++
Here are the rest of the playoff games on tap for Cincinnati teams this weekend:
FRIDAY
(all games 7PM kickoff)
Division I – Region 4
7 Hamilton (5-5) at 2 Fairfield (9-1)
5 Lakota West (7-3) at 4 Elder (8-2)
Division II – Region 8
7 Columbus St. Francis DeSales (8-2) at 2 Turpin (10-0)
6 Canal Winchester (9-1) at 3 Harrison (9-1)
Division III – Region 12
5 Ross (8-2) at 4 Badin (7-3)
SATURDAY
(all games 7PM kickoff)
Division IV – Region 16
8 Milton-Union (8-2) at 1 Wyoming (10-0)
7 Valley View (8-2) at 2 Clinton-Massie (9-1)
6 Roger Bacon (9-1) at 3 Waynesville (9-1)
5 Indian Hill (8-2) at 4 Kenton (8-2)
Division V – Region 20
8 Blanchester (6-4) at 1 Taft (9-1)
7 Summit Country Day (7-2) at 2 West Jefferson (9-1)
6 CHCA (8-2) at 3 Shawnee (8-2)
5 Madeira (8-2) at 4 West Liberty-Salem (9-1)
Division VII – Region 28
8 New Bremen (7-3) at 1 New Miami (9-0)
Be sure to follow @TSFootball & catch Blitz 5 Friday nights at 11PM on WLWT-TV Channel 5 of the best high school football playoff coverage in the city!