NKY Best Bets: Week 11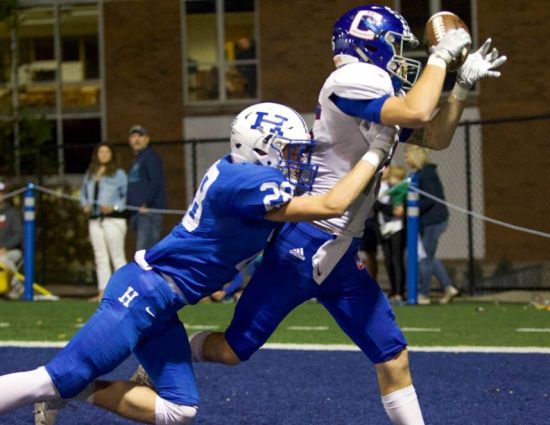 The road to Lexington starts this week for Kentucky teams looking to make a run at a state championship. Unlike Ohio, most teams in the Bluegrass State make it into the postseason which leads to some lopsided opening-round matchups. However, there are still some good games on tap. We look at some of them in this week's Northern Kentucky Best Bets.
No. 3 Highlands (6-4) at No. 2 Conner (7-3)
Kentucky Class 5A – District 5
Conner rallied from a 14-0 deficit to win 20-17 when these two teams met in Week 6 in Ft. Thomas and that earned the Cougars a first-round playoff home game here. Quarterback Jared Hicks is the catalyst of Dave Trosper's offense . The senior finished the regular season by throwing for 2,358 yards and 19 touchdowns while rushing for an additional 255 yards and 10 scores. His favorite target is wide receiver Colton Roy, who led all Cougars with 56 catches and 746 receiving yards. Highlands had a tough time containing Hicks in the first meeting, but did force Conner into turnovers. Winning the turnover battle will be key in this matchup. The Bluebirds' D will need to step up and they've shown their capable of delivering big performances already this year. They've held opponents to just 27 total points in their six wins. However, in the team's four losses the Bluebirds allowed 23.5 points per contest.
No. 4 Cooper (5-5) at No. 1 Covington Catholic (10-0)
Kentucky Class 5A – District 5
The Colonels finished the regular season atop our Blitz 5 Top 25 team rankings and have handled every challenge thrown their way in 2019. They've held every opponent they faced except one to seven points or less, including pitching five shutouts. All-American Michael Mayer sets the tone on both sides of the ball and quarterback Caleb Jacob has averaged 203.4 passing yards and 2.4 passing touchdowns per contest despite playing just a handful of complete games. It's been an up-and-down year for the Jaguars, who enter the contest having dropped four of their last six games. CovCath dominated the Week 5 matchup 45-6 and have outscored Cooper over the last three games dating back to 2017 by 140 to 13 margin.
No. 3 Dixie Heights (4-6) at No. 2 Ryle (5-5)
Kentucky Class 6A – District 6
It was just three weeks ago when Ryle and Dixie Heights last met and that one went down to the wire with Ryle pulling out a 13-8 victory. That win gave the Raiders the right to host the rematch. Look for the home team to lean on running back Kyle England, who ended the regular season with 1,036 yards and 19 touchdowns on 170 rushing attempts. The Colonels did a good job of containing him last time out though, holding the senior to just 47 yards on 15 carries. After winning just one game a year ago, Dixie Heights showed vast improvement in 2019 as they won four games, including their last two to close out the regular season. The Colonels have a stud running back of their own in Leon Marshall. The senior rushed for 12 touchdowns during the regular season.
No. 3 Newport (6-4) at No. 2 Lloyd (7-3), 7:30 p.m.
Kentucky Class 2A – District 6
Both of the teams appear to be heading in the right direction. First-year head coach Kevin Niederman led the Juggernauts to seven wins in the regular season, including a 26-7 victory over Newport in Week 7. That game was close until the fourth quarter and the Wildcats started to fall apart. Putting four good quarters of football together will be a must for Newport here if they are going to pull off the road upset. Lloyd is led by dual-threat quarterback Jacob Davidson. He killed Newport on the ground in the previous meeting and he finished with 111 yards and three touchdowns on 20 carries.Newport quarterback Kaleal Davis is capable of making big plays of his own. He leads the Wildcats with 742 rushing yards and ran for 10 scores to go along with his 1,004 passing yards and nine passing touchdowns. After a 5-0 start to the season, the Wildcats have dropped three of their last five games. They will need to find that early-season form if they want to move on to Round 2.
Here are the rest of the playoff games on tap for Northern Kentucky teams this week:
FRIDAY
(all games 7PM kickoff unless otherwise noted)
Class 6A – District 6
4 Campbell County (1-9) at 1 Simon Kenton (6-4), 7:30 p.m.
Class 4A – District 6
4 Harrison County (4-6) at 1 Holmes (7-3), 7:30 p.m.
3 Rowan County (6-4) at 2 Scott (6-4), 7:30 p.m.
Class 2A – District 6
4 Holy Cross (2-8) at 1 Beechwood (5-5), 7:30 p.m.
Class 2A – District 5
4 Gallatin County (1-9) at 1 Walton-Verona (6-4), 7:30 p.m.
3 Owen County (3-7) at 2 Carroll County (7-3), 7:30 p.m.
Class 1A – District 4
4 Dayton (4-6) vs. 1 Newport Central Catholic (8-2) at Newport High School
3 Bellevue (2-8) at 2 Ludlow (7-3), 7:30 p.m.
Class 1A – District 5
4 Bracken County (0-10) at 1 Nicholas County (7-3), 7:30 p.m.
3 Paris (2-8) at 2 Bishop Brossart (6-4), 7:30 p.m.
Be sure to follow @TSFootball & catch Blitz 5 Friday nights at 11PM on WLWT-TV Channel 5 of the best high school football playoff coverage in the city!