RSVP 2019 TSF Year In Review Show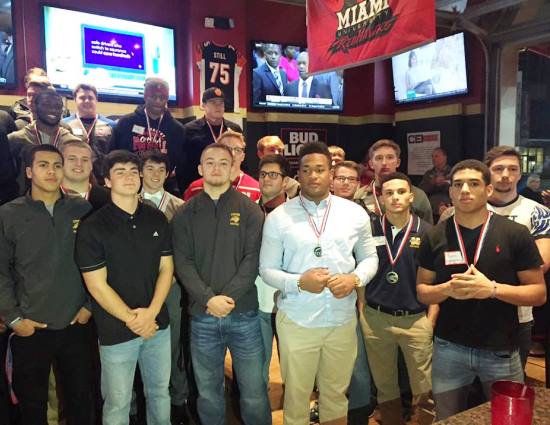 All members of the 2019 Postseason All-TSF Team in attendance will be recognized and presented an award at our 2019 TSF Year in Review Show at Holy Grail Banks.
Holy Grail will be closed for just our event during this time. The show is scheduled for Monday, February 17 and starts at 6:30 PM with seating beginning at 6PM.
The award ceremony will end at approximately 8:30 PM. It will be a standing-only crowd so we strongly encourage you to RSVP for your group for the event by making your reservation now at TriStateFootball.com:
First, Second and Third-Team selections will be presented a medal and all Honorable Mentions will be recognized with a certificate. Our Team of the Year and Player of the Year trophies will also be awarded.
In addition, we will present all of the Mella Window & Carpert Cleaning Player of the Week winners with a plaque. It is going to be a special night of celebrating the very best in high school football.
Register for the event and reserve your FREE tickets by visiting our OFFICIAL EVENT PAGE at EventBrite.