2020 Snapshot: East Clinton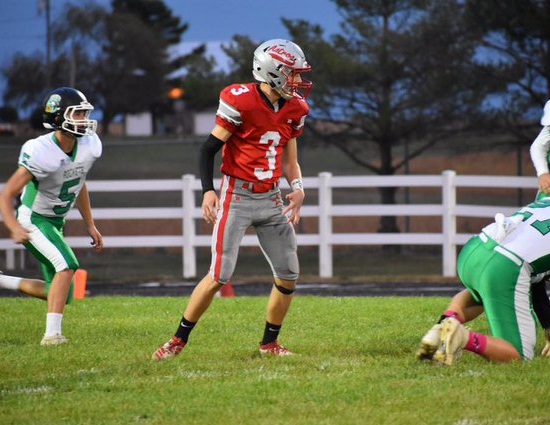 East Clinton WR/DB Branson Smith (photo from Twitter:_smitty_41)
From 0-10 to 4-6, not a bad turnaround for East Clinton under first year head coach Steven Olds in 2019. With confidence oozing, the Astros have their goals set on making the playoff for the first time in a decade.
What a difference a year made for East Clinton under Olds' guidance. The Astros went from scoring 67 points in 2018 to 192 points in 2019. The defense gave up 420 points in '18 and cut that down to 277 points in '19. East Clinton found the end zone 28 times on offense in '19 which was up from six in '18.
"We hope to improve upon our 2019 season and keep building our program towards sustained success," Olds states. "We return 13 lettermen and the core of our team will be sophomores and juniors. We have three offensive linemen back from last year and it should be a strength. Our quarterback and skill positions have size and speed."
The foundation is at East Clinton. This fall could be the start of good run for the program. "We are bigger and more athletic than we have been in past seasons. We have an experienced group of players, who I expect to only get better. They play hard and aggressive and embrace the physicality it takes to play this game," Olds says.
That aggressiveness nature from the Astros has, at times led to "silly penalties and mistakes," Olds laments. "We have to cut down on that kind of stuff to accomplish our goals." Discipline is an intangible that makes playoff teams. East Clinton now gets to show if can take the next step.


Division V, Region 20
2019 RECORD: 4-6, 2-3 SBAAC National
COACH: Steven Olds (4-6 at East Clinton, one year; 4-6 overall)
HONOR ROLL
Branson Smith, Sr, WR/DB – The two-time First Team All-SBAAC National selection was also named OPSWA Division V Second Team All-Southwest District (WR) in 2019. Smith has 1,116 all-purpose yards, 55 receptions, 796 receiving yards, eight touchdowns catches, a fumble recovery and eight interceptions in his career.
Jared Smith, Jr, QB – Should really flourish this season with a year under his belt at quarterback. Smith amassed 1,268 yards of total offense (779 pass, 489 rush) and accounted for 18 touchdowns (14 pass, four pass) as a sophomore. His leg earned him OPSWA Division V Second Team All-Southwest District (P) honors with a 37.9-yard average on 29 punts.
Phillip Davis, Jr, OL/ DL – Was recognized as an OPSWA Division V Honorable Mention All-Southwest District (OL) member as a sophomore. On defense, Davis had 42 total tackles, two sacks, forced three fumbles and recovered two fumbles.
Chris Norman, Jr, OL/DL – Started to emerge as a sophomore. Norman looks to build upon his Honorable Mention All-SBAAC National accolades of a year ago.
OTHER RETURNEES
Ethan Kessler, So, TE/LB – Returns as a starter at linebacker. Three good years lie ahead for Kessler.
Jeff Zimmerman, Sr, OL/DL – One of the returning three o-lineman, Zimmerman provides the senior leadership the Astros need in the trenches.
Kaleb Kingery, Sr, RB/LB – back for his fourth season as a starter at linebacker. Kingery is a leader of the defense. He has all-district level abilities.
Jaden Singleton, Jr, WR – Came up big with five touchdowns on 10 catches for 211 yards as a sophomore.
NEWCOMERS
Seniors RB/DB Brett Eury, TE/LB Brandon Zimmerman and freshman OL/DL Denver Day are expected to contribute immediately on Friday nights. Zimmerman bolsters an already solid group of receivers.

PLAYOFF HISTORY
(five appearances, 2-5) – 2010, 2008, 2005, 2004, 2002
2020 SCHEDULE
Fri – 08/28/20 – CLINTON-MASSIE – 7:00 PM
Fri – 09/04/20 –at Cedarville – 7:00 PM
Fri – 09/11/20 – at Hillsboro – 7:00 PM
Fri – 09/18/20 – McCLAIN – 7:00 PM
Fri – 09/25/20 – at Minford – 7:00 PM
Fri – 10/02/20 – BETHEL-TATE – 7:00 PM
Fri – 10/09/20 – at Fayetteville-Perry – 7:00 PM
Fri – 10/16/20 – at Williamsburg – 7:00 PM
Fri – 10/23/20 – CLERMONT NORTHEASTERN – 7:00 PM
Fri – 10/30/20 – BLANCHESTER – 7:00 PM