By The Numbers: Trey Gronotte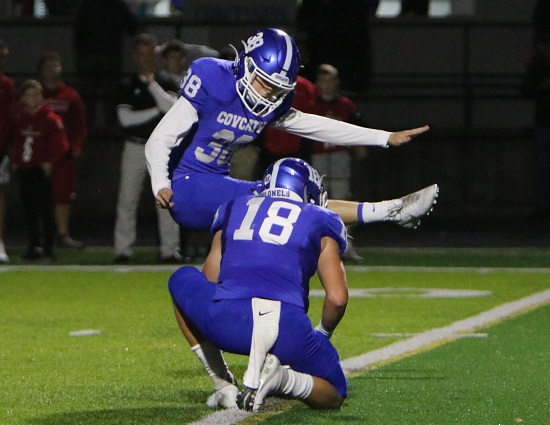 Covington Catholic K Trey Gronotte (photo by Dan Bieneke/TriStateFootball.com)
A model of consistency, Covington Catholic kicker Trey Gronotte heads into his senior year having scored at least two points in 45 consecutive game (think about that). Gronotte has become one of the most prolific kickers in Kentucky history.
Last season Gronotte was named Courier Journal Third Team All-Kentucky, Second Team All-TriState Football and First Team All-NKY after tallying 95 points including nine field goals.
According to the Kentucky High School Athletic Association (KHSAA) football records, Gronotte and his 222 extra points made are 3rd most all-time in the Bluegrass state. He needs 76 extra points as a senior to become the all-time leader. Gronotte's 83 extra points as a freshman was the 12th most in a season in Kentucky history.
Gronotte is also tied for 16th place all-time in Kentucky with 15 career field made. Here is a look at Gronotte, By The Numbers.
  2 – Field goals made as a freshman
4 – Field goals made as a sophomore
9 – Field goals made as a junior
11 – Most points in a game (vs. Henry Clay 09/24/18)
15 – Field goals made in his career
16 – Games in which he has scored more points than Covington Catholic's opponent
21 – Games in which he has scored as many or more points than Covington Catholic's opponent
25 – Games in which he has scored six or more points in his career
34 – Games in which he has scored five or more points in his career
45 – Consecutive games with 2 or more points scored (and counting)
68 – Extra points made as a junior
71 – Extra points made as a sophomore
83 – Extra points made as a freshman
83 – Points scored as a sophomore
89 – Points scored as a freshman
95 – Points scored as a junior
222 – Extra points made in his career
267 – Points scored in his career