2020 Snapshot: Mariemont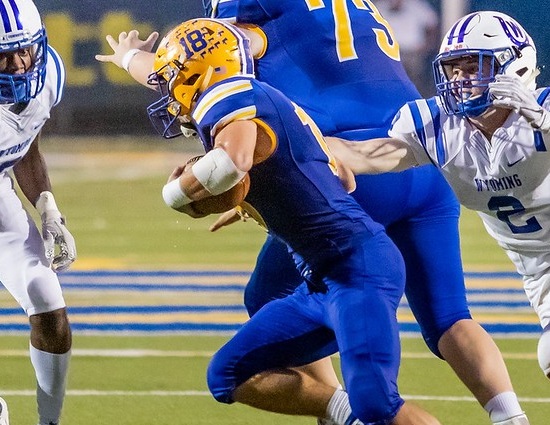 Mariemont RB/DB Seth Greene (photo from wyomingathletics.org/sports/football)
Former assistant Nick Leone takes over as head coach at Mariemont. The timing of his arrival, could become a perfect storm. Leone inherits a talented squad with a chip on its shoulder, that is looking for some vengeance.
"We are ready for a new season to begin. There is a bad taste in our kids mouths after going 7-3 and missing the playoffs by a one-point loss," Leone exclaims. In what would prove to be an elimination game, the Warriors fell, 21-20 to Madeira, in last year's regular season finale. It left Mariemont on the outside looking in at Madeira, as one of the eight teams in the Region 20 postseason battle.
As good as this team looks on paper, the Warriors will have to dig down deeper and start beating the upper echelon in the CHL, if they want to become a perennial postseason presence. Mariemont is a combined 5-25 versus league rivals Wyoming, Indian Hill and Madeira over the last 10 years.
How the Warriors perform in the trenches will determine much about the success of this squad. Mariemont has the skills players and length on the edges, on both sides of the ball to match up with the best in the CHL. The guys on the line are an unknown. They must make a difference. Winning the war up front will make for a special campaign.
Division V, Region 20
2019 RECORD: 7-3, 4-3 CHL
COACH: Nick Leone (0-0 at Mariemont, first year; 0-0 overall)
TOP RETURNEES
Seth Greene, Sr, RB/DB – A great athlete, Greene is poised to have a super season after being named OPSWA Division V Honorable Mention All-Ohio (RB) and First Team All-Southwest District as a junior. Greene ran for 968 yards, amassed 1,375 all-purpose yards, reeled 13 receptions for 193 yards, found the end zone 16 times (15 rush), was in 49 total tackles and had two interceptions.
Max Megowen, Sr, WR/LB – Came back last season after a year off due to injury. He was an immediate impact player. Megowen is a great one-on-one matchup for the Warriors offense. On defense, his size and speed makes him tough for opposing offenses to handle. The 6-foot-4, McGowen had 25 receptions, 441 receiving yards, six touchdown catches, 33 total tackles, two sacks and five takeaways (three FRs, two INTs) to earn OPSWA Division V Second Team All-Southwest District (LB) honors as a junior.
Andrew Glassmeyer, Sr, QB – A good leader, Glassmeyer fared very well in his first year as a full-time starter in 2019.  He threw for 1,521 yards, had 12 touchdown passes and ran for 165 yards with two touchdowns rushing. Glassmeyer was named Second Team All-CHL for the work.
Jack Borgerding, Sr, TE/LB – An under-valued cog on both sides of the ball for the Warriors. The 6-foot-4, 195-pound Borgerding had 43 total tackles, three sack, forced two fumbles and recovered a fumble for the Warriors defense a year ago. On offense, he had 11 receptions for 184 yards and two touchdowns. Borgerdering was named Honorable Mention All-CHL for his efforts.
Max Tepe, Jr, WR/DB – An Honorable Mention All-CHL selection as a sophomore. Tepe has 35 receptions, 463 receiving yards, two touchdown catches, 18 total tackles and two interceptions in Warriors uniform.
Jack Mileham, Jr, LB – A selfless team player, Mileham offered to play offensive and defensive line to help the team last year. He ended up staring every game at a different position. Mileham had 57 total tackles, a sack and forced two fumbles on his way to Honorable Mention All-CHL as a sophomore.
NEWCOMERS
Timmy Stewart, So, WR/LB – This will be Stewart's first year at the varsity level in football. He earned a varsity letter in basketball as a freshman.
Ethan Malafa, Jr, TE/LB – Back in the program after a year hiatus. The 6-foot-6 Malafa will play a big role for the Warriors this year.
PLAYOFF HISTORY
(12 appearances, 8-12) – 2014, 2013, 2005, 2003, 1996, 1995 (State Runner-up), 1994, 1991, 1990, 1984, 1980 (State Runner-up), 1974
2020 SCHEDULE
Fri – 08/28/20 – at Oakwood – 7:00 PM
Fri – 09/04/20 – WESTERN HILLS – 7:00 PM
Fri – 09/11/20 – WILLIAMSBURG – 7:00 PM
Fri – 09/18/20 – TAYLOR – 7:00 PM
Fri – 09/25/20 – at Wyoming – 7:00 PM
Fri – 10/02/20 – INDIAN HILL – 7:00 PM
Fri – 10/09/20 – at Finneytown – 7:00 PM
Fri – 10/16/20 – at Reading – 7:00 PM
Fri – 10/23/20 – DEER PARK – 7:00 PM
Fri – 10/30/20 – MADEIRA – 7:00 PM