2020 Snapshot: Tippecanoe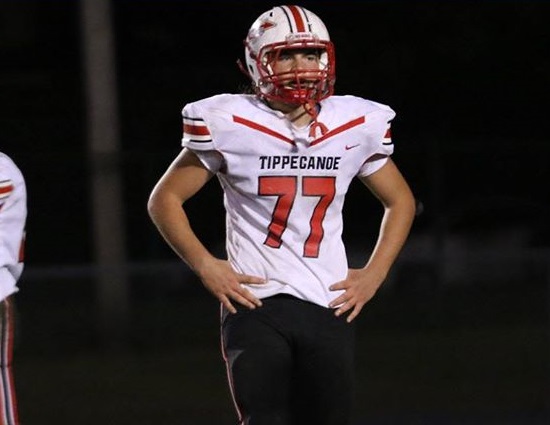 Tippecanoe OL/DL Chad Dettwiller (photo courtesy of ScoutingOhio.com)
It is year two for the Tippecanoe players under former alum Matt Burgbacher and his grand plan. Burgbacher could not be more pleased with the direction the program is headed in. The Red Devils are on pace to get back to the playoffs for the 13th time in the last 16 seasons.
"We are very excited to get year number two started at Tipp. Our kids are buying into our system more and more every day. They are understanding what the expectation is," Burgbacher states. "Our biggest strength is our players and coaches being in the system for a year."
There are still concerns for Burgbacher, like "our guys learning what it takes to win."  Tippecanoe's six losses in 2019 were by an average of 16.8 points per contest. Five of those six defeats were by 13 points or more.
That obstacle could be and easy hurdle. "Our leadership will be strong with our seniors. We return 25 lettermen with a lot of Friday night experience. We have created more depth, which brings more competition to the practice field, which will push guys to be their best day-in and day-out.  Our numbers are increasing from 82 players last year to up in the 90's this year.
The Red Devils appear to be on the cusp of becoming a perennial playoff power once again. Now it is all about the players digging down deep and getting it done on the field.
Division III, Region 12
2019 RECORD: 4-6, 1-3 MVL Miami; 4-4 MVL
COACH: Matt Burgbacher (4-6 at Tippecanoe, one year; 85-39 overall, 11 years)
HONOR ROLL
Tyler Carlson, Sr, LB – Led the Tippecanoe defense with 79 total tackles and had two sacks in 2019. Carlson parlayed that hard work into being a OPSWA Division III Honorable Mention All-Ohio and First Team All-Southwest District selection. The coaching staff looks for Carlson to pick up the load at running back.
Nick Robbins, Sr, slot/DB – A good football IQ guy. Robbins started every game at safety last fall and recorded 48 total tackles. That earned him Second Team All-MVL honors. Robbins will team up with Carlson to be the Red Devils "QB's" of the defense.
Braden Swank, Sr, OL – a two-year starter at right tackle and a captain of the Tipp team. The 6-foot-2, 281-pound Swank earned Second Team All-MVL accolades as a junior.
Davis Featherstone, Jr, OL/DL – One of the smartest kids in the state, literally, Featherstone started all 10 games at left tackle in 2019. He garnered Honorable Mention All-MVL acclaim for his accomplishments.
Lawson Cook, Jr, OL/DL – A breakout sophomore campaign saw Cook get in on 61 total tackles with seven tackles for losses and three sacks. Cook was named Honorable Mention All-MVL for the effort. He also started a few games on the o-line.
Kevin Thompson, Sr, TE/OLB – Led the team with 15 tackles for losses, had 50 total tackles, one-and-a-half sacks and a fumble recovery as a junior. He was named Honorable Mention All-MVL for his work.
Nick Shirley, Sr, slot/DB  – Started every game at safety and played quite a bit of slot receiver for the Red Devils in 2019. Shirley will contribute more on offense as well as doing some long snapping along with returning punts and kickoffs on special teams. He was named Honorable Mention All-MVL as a junior after recording 33 total tackles, recovering a fumble and catching 12 passes for 101 yards.
OTHER RETURNEES
Troy Taylor, Sr, QB/DB – Played quite a bit of defensive back for the Red Devils last year, tallying 24 total tackles with an interception. Taylor will battle to win the quarterback position this season. His eight career touchdown passes are more than any other returning quarterback in the MVL. He has 730 yards passing at the varsity level.
Yisihak Tadesse, Sr, WR – Should see his role at receiver be more productive as a senior. Tadesse had three receptions for 22 yards a year ago.
Griffin Caldwell, Jr, ATH/DB – A versatile player, Caldwell can fill voids at multiple positions on offense, defense and special teams. With a year under his belt, Burgbacher is looking for great things from Caldwell, in all three facets of the game. Caldwell had 422 all-purpose yards, found the end zone twice, recorded 11 total tackles and snared an interception as a sophomore.
Camden Swartout, Sr, WR/DB – Injured all of 2019, Swartout will be a great addition to this year's squad.
Gavin Garlitz, Jr, ATH/DB – A great athlete, very smooth and natural, Garlitz started the last six games for Tipp at cornerback last fall. He finished the year with 15 total tackles.
Zach Butera, Jr, WR – Look for Butera's workload to increase this season as the Tippecanoe offense spreads it out more.
Cayd Everhart, Jr, RB/LB – Missed first half of last season recovering from an ACL. Played well at the JV level after that. With a whole offseason of training, the coaching staff expects Everhart to contribute immensely at both running back and linebacker.
Jason Rindler, Jr, Slot/DB – Dangerous with the ball in his hands. Rindler caught six passes for 78 yards in his varsity debut. He will play more defensive back as well this fall.
Isaiah Hoover, Sr, slot – A great route runner who catches the ball well. Hoover had seven receptions for 45 yards as a junior.
Alex Burkey, Jr, HBack/OLB – Will see his role expand quite a bit this year. Burkey played special teams as a sophomore.
Caye Carmack, Sr, DB – Has had a great offseason and totally transformed his body. Carmack recorded 31 total tackles in 2019.
Chad Dettwiller, Sr, OL/DL – A returning starter at offensive guard, Dettwiller also played quite a bit as a defensive lineman. Expect more of the same this fall.
Ayden Poland, Sr, OL/DE – Started a few games on the o-line for the Red Devils in 2019. Poland can play multiple positions across the front.NEWCOMERS
There are spots to be filled in the trenches. Juniors DL David Chavez, OL Jackson Blaul-Green, OL/DL Ethan Biggs, OL/DL Ethan Royse and senior OL/DL Pierce Patterson will get a fair shot at cracking the starting lineup.
Chavez is undersized but has a motor and strength. Blaul-Green has had a great offseason and will compete for a position on the offensive line. Patterson, one of the strongest guys in the program, along with Biggs and Royse will battle for spots on both sides of the line.
Senior OL/LB Noah Minneman and junior OL/LB Sam Fout gives Tippecanoe good depth on the offensive line and at the linebacker positions.
PLAYOFF HISTORY
(13 appearances, 6-13) – 2016, 2015, 2014, 2013, 2012, 2011, 2010, 2009, 2008, 2007, 2006, 2005, 2002
2020 SCHEDULE
Fri – 08/28/20 – MOUNT HEALTHY – 7:00 PM
Th – 09/03/20 – at Sidney – 7:00 PM
Fri – 09/11/20 – at West Carrollton – 7:00 PM
Fri – 09/18/20 – STEBBINS – 7:00 PM
Fri – 09/25/20 – at Xenia – 7:00 PM
Fri – 10/02/20 – at Troy – 7:00 PM
Fri – 10/09/20 – PIQUA – 7:00 PM
Fri – 10/16/20 – FAIRBORN – 7:00 PM
Fri – 10/23/20 – at Greenville – 7:00 PM
Fri – 10/30/20 – BUTLER – 7:00 PM