2020 Snapshot: Badin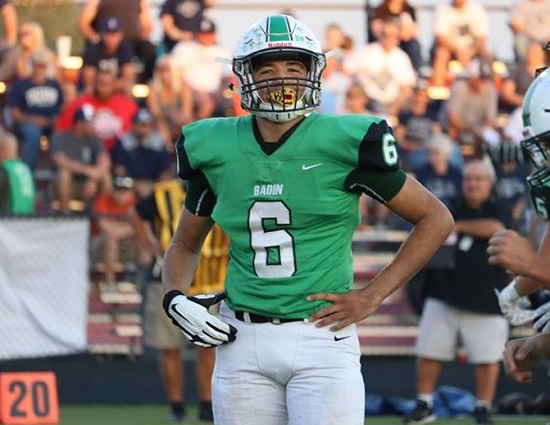 Badin DE Jayden Carter (photo from Facebook: Badin Rams Football/Pics by Berger)
The 2019 season was a good one for Badin. The Rams beat Alter twice, won a share of GCL Co-eds title and made it to the Region 12 championship game before falling to eventual state champion, Trotwood-Madison. The bar has been raised and this group of Rams wants to take things to the next level.
"The strength of this team will be our defense. We have seven returning starters and the defense was outstanding last year. We held opponents to 10.6 points per game," head coach Nick Yordy states.
The other side of the ball is a different story for Badin. "We will be replacing seven starters on offense. The younger players have the ability to make plays. It is going to be a matter of how fast they can get comfortable in new roles," Yordy says. "Making the switch to a spread offense really changed our season. After starting 0-2 last fall, we were able to make it to the regional finals. The kids have embraced the change and hopefully success continues."
The Badin program has had a winning culture for decades. They expect to make the playoffs every year. Having that postseason run last fall, you can count on this Rams squad putting in the extra effort to build upon that success.
Division III, Region 12
2019 RECORD: 9-4, 4-1 GCL Co-eds
COACH: Nick Yordy (22-13 at Badin, two years; 22-13 overall)
TOP RETURNEES
Jayden Carter, Sr, DE – An OPSWA Division III Honorable Mention All-Ohio and First Team All-Southwest District selection as a junior, Carter is the Rams playmaker on defense. He heads into his final campaign with 70 total tackles, six-and-a-half sacks, two fumble recoveries and three interceptions (all returned for touchdowns) in his career.
Bobby Young, Sr, DB – After two years as a starter in the Rams secondary, Young will get a shot at winning the quarterback job. He was in of 53 total tackles and had four interceptions to earn Second Team All-GCL Co-eds honors in 2019.
Connor Young, Sr, C – A three-year starter and leader of the offensive line, Young was a Second Team All-GCL Co-eds selection as a junior.
Hunter Harrison, Jr, DT – A nice varsity debut saw Harrison garner Second Team All-GCL Co-eds accolades. He was in on 37 total tackles and had one-and-a-half sacks.
Dane Lauer, Sr, DT – A Second Team All-GCL Co-eds selection as a junior. Lauer is an anchor on the d-line.
David Schweinefuss, Sr, WR/OLB – A major contributor on both sides of the ball. Schweinefuss had 17 receptions for 246 yards, two touchdown catches, 50 total tackles and an interception to earn Honorable Mention All-GCL Co-eds acclaims as a junior.
Michael Schweinefuss, Sr, OLB/K – A returning starter Schweinefuss was in on 51 total tackles on his way to being named Honorable Mention All-GCL Co-eds in 2019. He also hit on 40/27 extra points and 8/13 field goals for 64 points as the team's kicker.
Max Lauer, Sr, WR – Should play a more prominent part in the offense after catching eight balls for 36 yards a year ago.
Henry Birchwell, Jr, OG – Handled himself quite well in his first season as a starter last season. Birchwell will be thrust into a bigger leadership role in 2020.
Logan Neu, Jr, DE – Will see extended playing time and add depth to the defensive line this fall.
NEWCOMERS
Opportunity knocks in the Badin backfield. Juniors QB Landyn Vidourek, RB Jeff Mata, RB Jack Welch and senior RB/DB Dallas Rawlings will get their shot to shine. Senior DB Andrew Hegemann will slide into the rotation in the secondary.
PLAYOFF HISTORY
(24 appearances, 25-23) – 2019, 2018, 2015, 2014, 2013, 2010, 2009, 2008, 2002, 2001, 2000, 1999, 1998 (Regional Champion), 1995 (Regional Champion), 1994, 1993, 1990 (State Champion), 1989 (Regional Champion), 1987, 1982, 1981 (Regional Champion), 1980 (State Runner-Up), 1979 (Regional Champion), 1978 (Regional Champion)

2020 SCHEDULE
Fri – 08/28/20 – at Ross – 7:00 PM
Fri – 09/04/20 – BELLBROOK – 7:00 PM*
Fri – 09/11/20 – at Northwest – 7:00 PM
Fri – 09/18/20 – at Roger Bacon – 7:00 PM
Fri – 09/25/20 – PURCELL MARIAN  – 7:00 PM**
Fri – 10/02/20 – at Alter – 7:00 PM***
Fri – 10/09/20 – CHAMINADE JULIENNE – 7:00 PM**
Fri – 10/16/20 – at Fenwick – 7:00 PM
Sat – 10/24/20 –CARROLL – 7:00 PM**
Fri – 10/30/20 – McNICHOLAS – 7:00 PM*
*At Virgil Schwarm Stadium, Hamilton H.S.
**At Alumni Stadium, Fairfield H.S.
***At Roush Stadium, Fairmont H.S.