2020 Snapshot: Lawrenceburg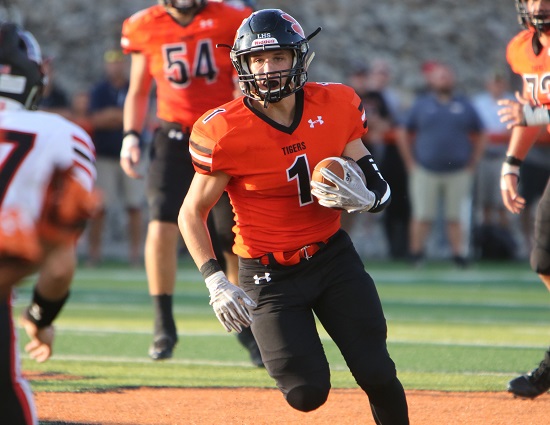 Lawrenceburg WR/DB Dakota Roth (photo by Dan Bieneke/TriStateFootball.com)
When you look at them on paper, there are several teams that have the potential to win state titles in 2020. Lawrenceburg is in that group. The Tigers return a core of player that are battle tested and hungry for a taste of glory.
"This team has a great chance to add to our Tiger football tradition. Our kids know you are remembered by championships and we want to add to our tradition," states head coach Ryan Knigga. "Our kids know what it takes to be successful. They show up and work. They know everything must be earned. We just have to find a way, to get better every week that we are together, so we can accomplish all the goals we have set."
This squad will light up the scoreboard. Lawrenceburg had an 11-game winning streak last year. During that run, the Tigers scored 40 or more points on nine occasions. Returning players accounted for 72% of the Tigers touchdown production (rushing and receiving, 68 TDs), 97% of their rushing yards, 63% of their receptions and 56% of their receiving yards in 2019.
"We are very athletic, fast, strong and have a ton of playmakers. Our offensive and defensive line are area's that we feel are very strong. We have skills players who will be good in space and can make plays" Knigga quips.
The Lawrenceburg defense will be no slouch, either. The Tigers held opponents to 16.75 points and just 109 rushing yards per game, in 2019. "We have guys who can tackle and guys who can cover. That will allow us to get creative with some of our packages."
An offense that can put points on the board in bucket loads and defense that can get off the field in a hurry will be a lethal combination for Lawrenceburg foes. The Tigers will have so many things going in their favor every Friday night.
Knigga closes, "there is no doubt we will be a fun team to watch. We have explosive playmakers and guys who get after you on defense. If we stay healthy, it should be another good year for our fan base and the Tigers.
Class 3A, Sectional 31
2019 RECORD: 11-2, 3-0 EIAC 3A
COACH: Ryan Knigga (77-31 at Lawrenceburg, nine years; 77-31 overall)
TOP RETURNEES
Garrett Yoon, Jr, QB – A dual threat quarterback, Yoon amassed 3,336 yards of total offense (2,332 pass, 1,004 rush) and accounted for 40 touchdowns (28 pass, 12 rush) in 2019. He was named EIAC Class 3A OPOY and TriState Football Indiana Offensive Player of the Year (the first sophomore to ever claim the honor) for his work. Yoon heads into his junior year with 4,470 yards passing, 1,698 yards on the ground, 42 touchdown tosses and 24 rushing scores.
Ethan Parris, Sr, OL/DL – A gifted two-way player, Parris was named IFCA Class 3A Junior All-State Team (DL) and Class 3A All-EIAC (OL) as a junior. The four-year starter has 64 total tackles, seven sacks and 20 tackles for losses at the varsity level.
Adam Burd, Sr, RB – A four-year starter who is shifty in space. Burd ran for 1,732 yards, had 20 receptions for 240 yards, racked up 2,187 all-purpose yards and found the end zone 26 times (23 rush, three rec) as a junior. He was named Class 3A All-EIAC for the efforts. In his career, Burd has thrown for 258 yards, ran for 2,858 yards, caught 30 balls for 346 yards amassed 3,419 all-purpose yards, with two passing touchdowns, four touchdown catches and 36 rushing scores.
Brayden York, Sr, TE/DL – The 6-foot-4, 265-pound York is a big and athletic player. He had six receptions for 177 yards, with one touchdown catch, 13 total tackles and two sacks to garner all Class 3A All-EIAC accolades in 2019.
Dahya Patel, Jr, WR – A breakout performer in 2019, Patel is a dynamic playmaker. He finished the year with 24 receptions for 376 yards and seven touchdown catches. He will get the chance to play at the next level.
Ashton Craig, Jr, OL/DE – A strong and athletic big man who plays a major role on both sides of the line. Craig was a Class 3A All-EIAC selection in 2019.
Aiden Gilmour, Jr, DB – A lockdown cover guy. Gilmour recorded 21 total tackles and snared five interceptions on his way to being named Class 3A All-EIAC as a sophomore.
Jayce Bohan, Jr, WR/DB – Was a Class 3A All-EIAC selection after getting in on 50 total tackles with two sacks and an interception a year ago.
Dakota Roth, Sr, WR/DB – Came into his own as a junior. Roth amassed 723 all-purpose yards, had 21 receptions for 381 yards, averaged 24.1 on kickoff returns and accounted for seven touchdowns (five rec, one pass, one KR) last fall.
Noah Rowlett, Sr, TE/LB – Has good instincts on defense and gets to the ball. Rowlett had 34 total tackles as a junior.
Wyatt Hartman, Sr, DE – An experienced d-lineman, Hartman was in on 34 total tackles as a junior.
NEWCOMERS
Senior LB Trevor Jones, juniors DL Micah Foster, RB/DB Lucas Pierce, OL Braydon Watkins, TE Lance Bates along with sophomores WR Solomon Fisher, DB Brennan Bushman, H-back/ LB Jacob Pierce, OL/DL Colton Roth, OL Logan Lange and OL Waylon Lambert will get the opportunity to crack the rotation. "We have to develop some kids who can play if there is an injury. At schools our size, depth will always be an issue," Knigga states.
PLAYOFF HISTORY
(73-40)
Sectional Champion (19) – 2019, 2017, 2016, 2012, 2005, 1999, 1998, 1992, 1991, 1988, 1986, 1985, 1984, 1981, 1980, 1979, 1978, 1976 & 1975.
Regional Champion (five) – 2016, 1985, 1984, 1978 & 1975.
Semi-State Champion (two) – 2016 & 1985.
State Champion (two) – 1978 & 1975.
2020 SCHEDULE
Fri – 08/21/20 – @East Central – 7:30 PM
Fri – 08/28/20 – TAYLOR – 7:00 PM
Fri – 09/04/20 – MILAN – 7:00 PM
Fri – 09/11/20 – GREENSBURG – 7:00 PM
Fri – 09/18/20 – at Franklin County – 7:00 PM
Fri – 09/25/20 – at Batesville – 7:00 PM
Fri – 10/02/20 – RUSHVILLE – 7:00 PM
Fri – 10/09/20 – CONNERSVILLE – 7:00 PM
Fri – 10/16/20 – at South Dearborn – 7:30 PM
Fri – 10/23/20 – TBD: IHSAA Sectional 31 Playoffs