2020 Snapshot: Walnut Hills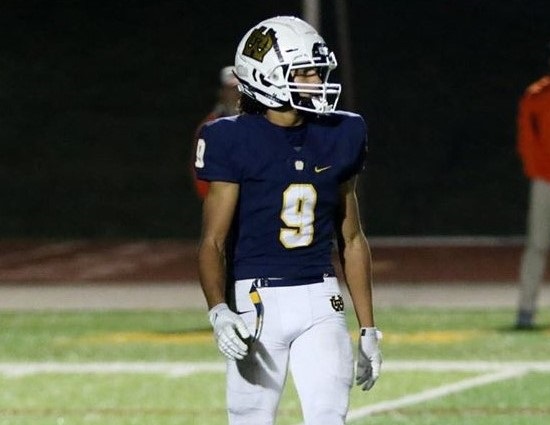 Walnut Hills WR Nick Presley (photo courtesy of ScoutingOhio.com)
It has been a decade since Walnut Hills made its only playoff appearance. With some great pieces in place the Eagles are set up to return to the promise land.
"This should be our best returning group going into my fourth season at Walnut Hills. We expect to have a really good season if we stay healthy," states head coach Gerry Beauchamp.
The Eagles offense should be exciting to watch with outstanding skills positions players and a great decision maker at quarterback. They will be following the lead of an offensive line that has three members with multiple FBS Division I offers. "We averaged 225.8 rushing yards per game and had four players who averaged seven yards or better per carry, last season," Beuachamp laments.
The defense must tighten up. Walnut Hills gave up 30 points or more four times in the last five weeks, a year ago.
Getting off to a fast start is imperative. Going 3-0 is very feasible versus this schedule. The slate gets much tougher after that. If the Eagles can get to seven wins their chances of grabbing one of the eight Region 4 playoff berths is probably a lock.
Division I, Region 4
2019 RECORD: 5-5, 3-4 ECC
COACH: Gerry Beauchamp (12-18 at Walnut Hills, three years; 12-18 overall)
HONOR ROLL
Mao Glynn, Sr, OL – The 6-foot-3, 289-pound Glynn, was named OPSWA Division I Third Team All-Ohio as a junior. He is the anchor of a very good offensive line. Glynn has verbally committed to Cincinnati.
Eric Meeks, Sr, OL – Named OPSWA Division I Second Team All-Southwest District as a junior. The 6-foot-3, 282-pound Meeks, has offers from Marshall and Central Michigan.
Nick Presley, Sr, WR – One of the best-kept secrets in Region 4. Presley amassed 1,179 all-purpose yards (337 rush, 547 rec, 295 ret) and found the end zone eight times (three rush, four rec, on ret) on his way to OPSWA Division I Honorable Mention All-Southwest District accolades in 2019. He has offers from Central Michigan, Eastern Michigan, Coastal Carolina and Ball State.
Hank Perry, Sr, OL – The 6-foot-5, 275-pound Perry, is another staple up front. A Second Team All-ECC selection as a junior, Perry has offers from Toledo, Kent State, Ball State and Akron.
Sereno Winn, Sr, CB – A lockdown corner, Winn had no completed passes against him when he played man coverage last season. Winn had two interceptions as well, earning Second Team All-ECC honors for his play. He is getting Division I interest.
OTHER RETURNEES
Jack Reuter, So, QB – Started all 10 games as a freshman. Reuter is an intelligent player who makes good decisions with the ball in his hands. He threw for 1,079 yards and accounted for 12 touchdowns (eight pass, four run) in his varsity debut.
Tyrese Thacker, Sr, DE – A strong and athletic presence on the d-line.
Drew Petersen, Sr, K/P – A big leg, Petersen is a special team's asset. He averaged 34.3 on 22 punts with a long of 60-yards, a year ago.
Ayoub Adil, Sr, OL – The unheralded stud on the Eagles o-line. Adil started all 10 games at left guard as a junior.
Xander Wynn, Jr, RB/DB – Added 20 pounds this offseason, to push him over the 200-pound mark. Wynn is strong and athletic and should get ample carries out of the backfield.
Jonathan Brooks, Sr, ATH – A big bodied kid who played multiple positions in 2019. The Eagles coaching staff is trying to find the best home for him.
John Jamison, Jr, OL/DL – A seasoned veteran, Jamison played a lot on the d-line last fall.
NEWCOMERS
Javion Bostic, So, WR – This could be a breakout campaign for Bostic who has unbelievable skills at the receiver position.
Kenny Gaines, Jr, WR – Would have started last season, but injuries prevented that from happening. Gaines will be a nice compliment to Bostic and Presley.
Isaiah Birl, So, RB/DB – A great athlete, Birl will be a factor on both sides of the ball.
Kayden Sawyer, Sr, RB – Had a lot of playing time last year. Sawyer will be looked on to fill a bigger role this fall.
PLAYOFF HISTORY
 (one appearance, 0-1) – 2010
2020 SCHEDULE
Fri – 08/28/20 – at Western Hills – 7:00 PM
Fri – 09/04/20 – at Withrow – 7:00 PM
Fri – 09/11/20 – at Milford – 7:00 PM
Fri – 09/18/20 – LITTLE MIAMI– 7:00 PM
Fri – 09/25/20 – KINGS – 7:00 PM
Fri – 10/02/20 – at Turpin – 7:00 PM
Fri – 10/09/20 – LOVELAND – 7:00 PM
Fri – 10/16/20 – at West Clermont – 7:00 PM
Fri – 10/23/20 – WINTON WOODS – 7:00 PM
Fri – 10/30/20 – LEBANON – 7:00 PM