2020 Snapshot: Aiken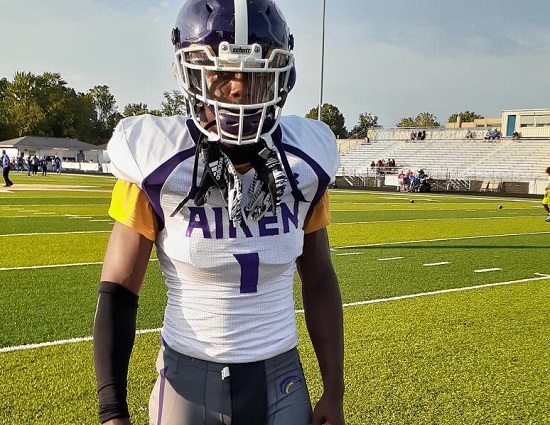 Aiken RB/LB Don'yae Freeman (photo from Twitter: @CoachDuka)
What a transformation the Aiken football program has made. The Falcons have had five consecutive seasons of .500 or better. The six years before that, Aiken was combined 6-54. With momentum on their side the Falcons have lofty goals for 2020.
As good as things have been on the field with a .627 winning percentage (32-19) over the past five campaigns, head coach Harry McCall is just as proud of what is going on in the classroom. Aiken looks to improve on its overall team grade point average from 2.78 in 2019. Last year 19 of the 45 players had a GPA of 3.0 or higher. That success is leading to more opportunities for Falcons to play in college.
"We need to get off to a quick start. The first three weeks are challenges with McNicholas, Lima Senior and New Richmond. If we are going to be a playoff team, we must get off to a fast start against these non-conference opponents," McCall states.
Line play on both sides of the ball will be a strength for Aiken. The defensive line will have plenty of depth. It will allow the Falcons to rotate in fresh players to stuff the run and make plays in the backfield more frequently. This squad will strive for more consistency after allowing 37.8 points in its five 2019 losses.
Offensively, the o-line is loaded with experience. That should translate into some big numbers for the skills players. Aiken averaged just 6.0 points in its five losses a year ago. They averaged 29.8 points in their five wins.
Getting to the postseason will be no easy chore. Region 12 is loaded with talented teams. There will be little margin for error but don't count the Falcons out. The program has become accustomed to winning and that is a huge intangible in their favor.
Division III, Region 12
2019 RECORD: 5-5, 4-2 CMAC
COACH: Harry McCall (11-9 at Aiken, two years; 11-9 overall)
HONOR ROLL
Ahmad Goss, Sr, DE/LB – The heart and soul of the Aiken defense. Goss had 28 tackles for losses, seven sacks, seven blocked kicks, two fumble recoveries and a pick six as a junior. He was named First Team All-CMAC for the effort.
Koraun Perdue, Sr, TE/OLB – A transfer from Colerain, Perdue is the Falcons most versatile player. The 6-foot-5, 200-pound Perdue will serve as TE/WR on offense and play all three levels on defense. He was a Second Team All-CMAC selection in 2019. He has an offer from Lake Erie College.
Derrick Williams, Sr, RB/DL – Will be a big contributor on both sides of the ball. Williams was a Second Team All-CMAC honoree as a junior.
Jayshawn Fread, Sr, DB – Was in in on 42 total tackles, with a sack and three fumble recoveries last season. Fread's work earned him Honorable Mention All-CMAC accolades.
Isaiah Lyles, Jr, RB – A Second Team All-CMAC selection in 2019, Lyles is a threat to score whenever the ball is in his hands as a runner, receiver and return man. He ran for 462 yards and found the end zone four times (three rush, one KR) as a sophomore.
OTHER RETURNEES
Don'yae Freeman, Jr, RB/LB – Tallied 28 total tackles and had a sack as a sophomore. Freeman is getting early interest from Big Ten schools as a linebacker.
Anthony Mason, Jr, OL – The anchor of the offensive line. Mason has started all 20 of his varsity games.        
Troy Harris, Jr, OL – A durable commodity in the trenches. Like classmate Mason, Harris has started all 20 games in his varsity career.                                           
Aquan Evans, Sr, OL – Will be penciled in as a full-time starter on the o-line. Evans started five games in 2019.
Logan Mathis, Jr, QB – Looks to make an impact as the leader in the passing game. He threw for 515 yards and six touchdowns before a shoulder injury cut his season short last fall.
NEWCOMERS
The coaching staff is high on junior DL Keylan Holt and sophomore WR/DB Artist Hardy. Holt is a rush end who has been putting on weight to get more explosive off the line of scrimmage. The 6-foot-2, 180-pound Hardy has a 79-inch wingspan and excellent leaping ability making him a premiere red zone threat.

A pair of transfers, WR/DB Kionte Friend from North College Hill and DL Shallum True (DL) from LaSalle are also expected to contribute right away.

PLAYOFF HISTORY
(one appearance, 0-1) – 2016
2020 SCHEDULE
Fri – 08/28/20 – at Deer Park – 7:00 PM
Fri – 09/04/20 – LIMA SENIOR – 7:00 PM
Fri – 09/11/20 – at New Richmond – 7:00 PM
Fri – 09/18/20 – SHRODER – 7:00 PM
Fri – 09/25/20 – NORTHWEST – 7:00 PM
Fri – 10/02/20 – at Taft – 7:30 PM
Fri – 10/09/20 – at Western Hills – 7:00 PM
Fri – 10/16/20 – WOODWARD – 7:00 PM
Sat – 10/24/20 – at Purcell Marian – 1:00 PM (@Walnut Hills HS, Marx Stadium)
Fri – 10/30/20 – WITHROW – 7:00 PM