2020 Snapshot: Clermont Northeastern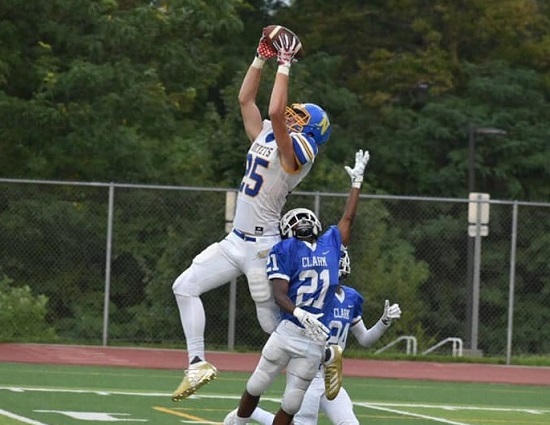 Clermont Northeastern TE/DE Skyler Schmidt (photo from Facebook: CNE Rockets Football)
Tucked away on their own little cove of the Tri-State, Clermont Northeastern has quietly built a winner. The next peak to conquer is the schools first-ever playoff appearance. This Rockets squad may be just the ones to achieve that goal.
"The 2020 Rockets will be fast on both sides of the ball. We will have some serious speed at the skills positions," new head coach Steve Thompson states. "This group of seniors is the winningest class to come through the halls of Clermont Northeastern in the past two decades." The program is 20-10 since they arrived on campus.
The table was set by those who preceded this senior class and their hard work has not gone unappreciated. "We lost a great group of young men last year. Their leadership, athletic ability and toughness comes along only so often. They had three-to-four years of varsity experience under their belts. We have a lot of guys who will be getting their baptism by fire the year," Thompson says.
For Clermont Northeastern to take the next step, they must start winning games against upper tier competition. The Rockets have not beaten a team that has finished the season with a record over .500 in the 21st century. They will have plenty of opportunities to rectify that situation with a schedule that includes six contests versus their Region 20 peers. Three of those tilts are against teams that made the playoffs and beat Clermont Northeastern, a year ago.


Division V, Region 20
2019 RECORD: 6-4, 3-2 SBAAC National
COACH: Steve Thompson (0-0 at Clermont Northeastern, first year; 0-0 overall)
TOP RETURNEES
Skyler Schmidt, Sr, WR/DE – The reigning SBAAC National Defensive Player of the Year, Schmidt has "unimaginable talent and athletic ability," Thompson sings. He is dominant on both sides of the ball. Opponents will build their game plans around Schmidt. The 6-foot-7, 235-pound stud had 159 yards rushing, 15 receptions for 274 yards, found the end zone seven times (three rush, three rec, one IR), had 10.0 sacks, recovered two fumbles and snared five interceptions including a pick six as a junior.
Landen Amann, Sr, QB/DB – A two-year captain, Amann has the uncanny ability to read defenses and see the field. He brings a methodical approach to the quarterback position and calls his own plays. Defensively, he is a three-year starter and has been a shutdown corner in the secondary. Amann threw for 843 yards with 11 touchdown passes as a junior. He also has four career interceptions. Amann was named Second Team All-SBAAC National in 2019.
Logan Pottorf, Sr, WR/LB – A playmaker in the middle of the field, Pottorf shows no fear when going after the ball in traffic. As a linebacker, Pottorf makes impeccable reads and has a nose for the ball. He has seven career sacks.
Steven Norton, Sr, OL/DL – A two-time Honorable Mention All-SBAAC National selection. Norton brings a veteran presence to both sides of the line.
Hayden Mattes, Sr, OT/MLB – Leadership, work ethic and tenacity are unmatched with Mattes. An injury sidelined him for half of last season. He will lead a defense that has consistently been in the top of the SBAAC National the past two campaigns.  Mattes will enlist in the United States Marine Corps after graduation.
JJ Stricker, Sr, OT/DL – A four-year starter, Stricker will help Mattes lead the defense. His explosiveness and speed will be a factor. Stricker's great work ethic, attitude and athletic ability have enabled him to be second on the team in tackles for losses, the past three seasons.
Kris Jenkins, Jr, WR/QB/DB – An explosive, talented athlete that has ability to change a Rockets defense that has held opponents to just 16.1 points per game over the last two years.
Damien Kistler, Jr, WR/DB – A new offensive coordinator for the Rockets is going to benefit Kistler immensely. His Speed, agility and hands are going to be put on display this fall. Kistler is expected to be a big playmaker down the field.
PLAYOFF HISTORY
(0 appearances, 0-0)
2020 SCHEDULE
Fri – 08/28/20 – CLARK MONTESSORI – 7:00 PM
Fri – 09/04/20 –at Madeira – 7:00 PM
Fri – 09/11/20 – at Batavia – 7:00 PM
Fri – 09/18/20 – SUMMIT COUNTRY DAY – 7:00 PM
Fri – 09/25/20 – at Hillsboro – 7:00 PM
Fri – 10/02/20 – BLANCHESTER– 7:00 PM
Fri – 10/09/20 – BETHEL-TATE – 7:00 PM
Fri – 10/16/20 – at Fayetteville-Perry – 7:00 PM
Fri – 10/23/20 – at East Clinton – 7:00 PM
Fri – 10/30/20 – WILLIAMSBURG – 7:00 PM