2020 Snapshot: La Salle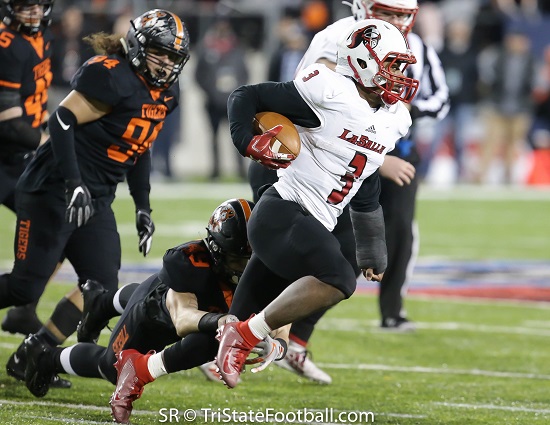 La Salle RB/LB Gi'Bran Payne (photo by Scott Reed)
No one expected La Salle to do what they did last season. The Lancers swept through the GCL South schedule, then rolled through the playoffs on the way to the program's fourth state title (all in the last six years). Now La Salle is wearing a big bullseye on its back in 2020.
The Lancers are loaded with experience. The offense is big across the line and the skills position players are potent. On defense, La Salle has a secondary with four Division I recruits, including two Ohio State commits. The front seven isn't flashy but gets the job done. This should be a well-oiled machine from the opening kickoff in Game 1.
There are very few flaws with this squad. Head coach Pat McLaughlin knows there are some concerns. "We need to create more depth," McLaughlin states. Expect most of the star players to play on both sides of the ball, especially at crucial times in big games.
The Lancers have the advantage of hosting six home games and the farthest road trip is just up I-75 to play Dayton Dunbar at Welcome Stadium. La Salle has two state champions (Trotwood-Madison – Ohio Division III; Covington Catholic – Kentucky Class 5A) and one state runner-up (Elder – Ohio Division I) from 2019, on the schedule. Also, on the slate are Lakota West, Winton Woods, St. Xavier and Moeller.
The quest to repeat, will not be easy. La Salle will be targeted every week. Everyone wants to put that feather in their cap by beating Lancers. The good news is that the Lancers have the intangible of, having been there, done that. They know the effort it will take to get back to the promise land.
Division II, Region 8
2019 RECORD: 13-2, 3-0 GCL South
COACH: Pat McLaughlin (27-10 at La Salle, three years; 46-22 overall, six years)
HONOR ROLL
Jaylen Johnson, Sr, DB – Teams avoided Johnson's side of the field like he was the plague in 2019. He still managed to register 61 total tackles on his way to OPSWA Division II Second Team All-Ohio accolades. Johnson has verbally committed to Ohio State.
Zach Branam, Sr, QB – Took to the starting job at quarterback for the Lancers in 2019, like a duck to water. Branam accepted what opposing defenses gave him, amassing 3,070 yards (1,676 pass, 1,394 rush) of total offense while accounting for 35 total touchdowns (21 pass, 14 rush). He was named OPSWA Division II Third Team All-Ohio for his efforts.
Devonta "Tay" Smith, Sr, WR/DB – A difference-maker on both sides of the ball as a junior. Smith was in on 38 total tackles and had four takeaways (three INTs, one FR) on his way to OPSWA Division II Third Team (DB) All-Ohio honors. On offense, he averaged 24.6 yards on 11 receptions of which five went for touchdowns. Smith has verbally committed to Ohio State.
Jaymar Hargrove-Mundy, Sr, DB – Led La Salle with six interceptions and had 50 total tackles (32 solo) as a junior. He was named OPSWA Division II Third Team All-Ohio for his efforts. Hargrove-Mundy has offers from Akron, Ball State, Bowling Green, Buffalo, Miami (OH), Toledo and Western Michigan.
Paul Haywood, Jr, OL – In his first year as a starter, the 6-foot-4, 315-pound Haywood was a force up front for the Lancers. Haywood was named OPSWA Division II Honorable Mention All-Ohio and First Team All-Southwest District for his work.
Iesa Jarmon, Sr, DB – Named Second Team All-GCL South after getting in on 31 total tackles with two fumble recoveries and two interceptions in 2019. Jarmon has verbally committed to Cincinnati.
Gi'Bran Payne, Jr, RB – No matter where he was on the field, Payne had that "WOW" factor as a sophomore. He was named OPSWA Division II Second Team All-Southwest District after racking up 1,316 all-purpose yards (790 rush, 141 rec, 385 ret), finding the end zone 13 times (nine rush, three rec, one IR), recording 41 total tackles, registering  four sacks, forcing three fumbles and snaring two interceptions including a pick six. Payne has offers that include Akron, Boston College, Cincinnati, Kentucky, Iowa State, Indiana, Louisville, Michigan, Minnesota, Northwestern, Penn State, Pitt and Purdue.
Daylon Fischer, Sr, OL – Helped pave the way for a La Salle offense that averaged 350.6 yards of offense per contest. Fischer garnered Second Team All-GCL South accolades as a junior.
Austin Rack, Jr, OL – Pushed around a lot of poundage for a Lancers rushing attacked that churned out 236.8 yards per game. In his first season as a starter, Rack was a Second Team All-GCL South selection, last fall.
OTHER RETURNEES
Gavin Robbins, Sr, OL – The 6-foot-3, 274-pound Robbins is a leader of a very good o-line.
Jaylen Norwood, Sr, WR/DB – The Lancers top returning receiver. Norwood had 20 receptions for 323 yards and four touchdowns in 2019.
Max Roberto-Bailey, Sr, LB – A returning starter, Roberto-Bailey tallied 62 total tackles and recovered a fumble as a junior.
Aden Seger, Sr, DL – Was key member in the rotation on the d-line in 2019. Seger was in on 28 total tackles and had one-and-a-half sacks.
Aaron Byrd, Sr, LB – Recorded 27 total tackles and had a sack as a junior. Byrd will play an even bigger role at linebacker this fall.
NEWCOMERS
A pair of transfers bring varsity experience to the table. Senior LB Will Heffner tallied 22 total tackles in Centerville's last four games in 2019. Junior WR/DB Ben Schleiff has 42 receptions, 605 receiving yards and six touchdowns in two years as a letter winner at Loyola Blakefield (MD).
There are opportunities in the middle of the defense junior LB JD Wallace, LB Chase Stein and OLB JJ Ruffin all have the chance to crack the starting lineup. On offense, juniors OL Max Lyendecker and OL Ryan Reynolds should join the rotation on the o-line. Adding depth on the outside will be senior WR Joe Marshall as wells juniors WR Shawn Taylor and WR Jaden Troehler.
PLAYOFF HISTORY
(nine appearances, 22-5) – 2019 (State Champion), 2017, 2016 (State Champion), 2015 (State Champion), 2014 (State Champion), 2010, 2004, 2002,1985
2020 SCHEDULE
Fri – 08/28/20 – at Lakota West – 7:00 PM
Fri – 09/04/20 – at Winton Woods – 7:00 PM
Fri – 09/11/20 – RIVERSIDE ACADEMY (LA) – 7:00 PM
Fri – 09/18/20 – at Dunbar – 7:00 PM
Fri – 09/25/20 – BUFFALO ST. JOSEPH'S COLLEGIATE INST. (NY) – 7:00 PM
Fri – 10/02/20 – MOELLER – 7:00 PM
Fri – 10/09/20 – COVINGTON CATHOLIC (KY) – 7:00 PM
Fri – 10/16/20 – ST. XAVIER – 7:00 PM
Fri – 10/23/20 – TROTWOOD-MADISON – 7:00 PM
Fri – 10/30/20 – at Elder – 7:00 PM