2020 Snapshot: Walton-Verona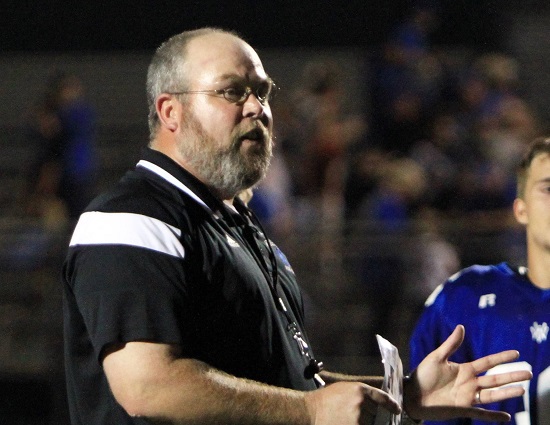 Walton-Verona head coach Jeff Barth (photo by Carla Martin)
This will be the 13th season of football at Walton-Verona. The program has been a model of consistency. They have not had a losing season in the last decade and won at least eight games in eight of those years (86 victories in all). This Bearcats squad isn't about to rest on those laurels, they want more.
"I sense a real hunger after coming up short in the region, last season. We are very excited about this group. We return 11 guys who started last year on one side of the ball and several of those guys are two-way players," head coach Jeff Barth states.
Walton-Verona will have an athletic and experienced core on both sides of the line. The defense also has veterans that have produced at linebacker and in the secondary.
The Bearcats must do a better job against their upper echelon opponents. In its five losses, a year ago, to teams that were a combined 48-15 (.762%), Walton-Verona allowed 36.0 points per defeat.
The offense will be fueled by the ground game, especially early on. The Bearcats will have a new quarterback. He will be aided by a strong supporting cast of skills players that is deep in talent. Some of them are still unproven on Friday nights. "We have another 8-10 guys who played a lot of varsity minutes last year while excelling at the junior varsity level," Barth says.
In Class 2A, Beechwood, Mayfield, Somerset, Lexington Christian and Owensboro Catholic are the elite. Walton-Verona is getting close to joining that group. To win a state title the Bearcats are probably going to need to beat two of those schools along the way (year-in and year-out). That is a tall order but this a Walton-Verona program that appears ready to validate its place amongst the best and join Class 2A royalty.
Class 2A, District 5
2019 RECORD: 8-5, 4-0 Class 2A, District 5
COACH:  Jeff Barth (88-45 at Walton-Verona, 11 years; 88-45 overall)
TOP RETURNEES
Dawson Catlett, Sr, OL/DE – One of the best defensive linemen in the 12-year history of the Walton-Verona program. Despite missing three games as a junior, Catlett still led the team with 55 total tackles with 11.0 tackles for losses and a pair of sacks. On offense, in 2019, he moved from fullback to tackle out of necessity and performed very well. Catlett has 129 total tackles and seven-and-a-half sacks in his career.
Jacob Gaines, Jr, RB/DB – Becomes the focal point of the offense. All signs point to a monster season from Gaines. As a sophomore he led the Bearcats with 756 yards rushing. Gaines who has phenomenal speed and instincts also caught 13 balls for 228 yards and found the end zone seven times (five rush, two rec).
Colton Shawver, Sr, TE/DL – Has excellent size, speed, hands and the motor to complement those gifts. Barth call Shawver, "the best wide receiver we've had in program history." Shawver is also an effective d-lineman who should play at the next level. He averaged 21.1 yards on 20 receptions, had five touchdown catches, 28 total tackles, had eight-and-a-half tackles for losses and a sack as a junior.
Gavin Knight, Sr, OL/LB – Started at middle linebacker as a sophomore, was injured in the first game of his junior campaign but returned for the last regular season contest and the playoffs. Knight is serious run stuffer between the tackles who should also help on the offensive line.
Robert Streine, Sr, RB/DB – Has a very good nose for the ball. Streine is excellent in run support and over the top help in the passing game where he had three interceptions a year ago. He has an opportunity to earn snaps in the offensive backfield.
Justin Brooks, Sr, DB – In his first year as a starter, Brooks was in on 40 total tackles, had 3 interceptions and returned a kickoff for a touchdown as a junior. Will join Streine to form a rock-solid nucleus in the secondary.
Zach Watson, Jr, OL/LB – Great worker who is an extremely intelligent player and leader. Watson started at offensive guard and inside linebacker last season. He finished with 38 total tackles.
Nolan Art, Jr, RB/DL – Played significant snaps on the defensive line as the season progressed last fall. Art will be a solid defender and will compete for starting fullback position on offense. He has two-and-a-half sacks in his career.
Carter Burch, Jr, OL/DL – Started at offensive guard and on the defensive line as a sophomore. Burch showed great improvement throughout the year and had a fantastic offseason. He has strong leadership qualities and gives maximum overall effort. Burch finished with 31 total tackles and a sack in 2019.
Ethan Art, Jr, OL/DL – Overcame a horrific freshman injury to start every game at offensive tackle as a sophomore. Art has had an excellent offseason. He will be a very key ingredient to offensive success.
Trey Hatmaker, Jr, QB/DB – Started at wide receiver and saw snaps at linebacker last year. Hatmaker gained some experience late in the year at quarterback for the JV squad. He will compete for the starting job under center. Defensively, Hatmaker has great hands and nose for the ball. He will make major contributions this fall.
Trey Ferguson, Jr, WR/DB – Has very good size, speed, and agility at the wide receiver position. Ferguson is also a strong blocker on the edge and gives the offense another weapon.
PLAYOFF HISTORY (13-10 overall)
District Champion (1) – 2018
2020 SCHEDULE
Fri – 08/21/20 – at Lloyd Memorial – 7:00 PM
Fri – 08/28/20 – HOLY CROSS (Covington) – 7:30 PM
Fri – 09/04/20 – at North Laurel – 7:30 PM
Fri – 09/11/20 – at Newport Central Catholic – 7:00 PM
Fri – 09/18/20 – CHCA (OH) – 7:30 PM
Fri – 09/25/20 – GALLATIN COUNTY – 7:30 PM
Fri – 10/02/20 – at Carroll County – 7:30 PM
Fri – 10/09/20 – at Owen County – 7:30 PM
Fri – 10/16/20 – SHAWNEE – 7:30 PM
Fri – 10/23/20 – BYE – 7:00 PM
Fri – 10/30/20 – HOLY CROSS (Louisville) – 7:30 PM
DISTRICT DOMINANCE
Walton-Verona is a combined 30-1 in Class 2A, District 5 play over the past eight regular seasons. The Bearcats have won 24 of those games by 27 points or more. They have lifetime winning records against all-district foes: Gallatin County (11-1), Carroll County (9-2), Owen County (8-1), Trimble County (7-2) and Shawnee (1-0).
COACH ON CORONA
"Prior to the lockdown we had an excellent offseason, guys are doing what they can on their own, and chomping at the bit to get back," Barth on the distraction that the virus has brought about.