2020 Snapshot: Middletown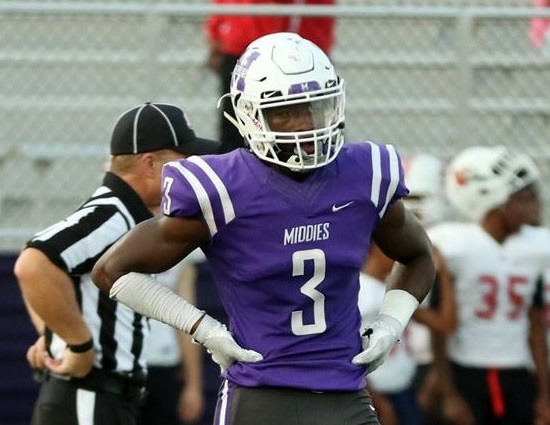 Middletown LB Cam Junior (photo courtesy of ScoutingOhio.com)
It has been a while but Middletown should be far more competitive than they have been in recent years. Figuring out how to win will be the Middies biggest obstacle.
Middletown is a combined 4-36 (2-29 in GMC games) over the last four seasons. The Middies have not had a winning season since 2011. All of that may be about to change.
"This is a very talented senior class. A lot of these guys played as sophomores, so they have a lot of varsity football experience," states head coach Don Simpson. "Our offense will be the strength of our team. We are returning eight  of our 11 starters from last season."
Simpson and his staff will have to manage youth of defense. Six times in the last eight games a year ago, Middletown gave up 41 points or more. The past must be forgotten. The Middies youngsters on this side of the ball need to develop their own personality and show fortitude in the face of adversity. That will go a long way in changing the current culture of the program.
Division I, Region 4
2019 RECORD: 1-9, 0-8 GMC
COACH: Don Simpson (3-17 at Middletown, two years; 3-17 overall)
TOP PLAYERS
Cameron Junior, Sr, OLB – A dominant force for the Middletown defense. Junior had 88 total tackles, four sacks, forced five fumbles and recovered three fumbles on his way to OPSWA Division I Second Team All-Ohio honors in 2019. Junior has offers from Air Force, Akron, Army, Ball State, Bowling Green, Cincinnati, Eastern Michigan, Kent State, Miami (OH), Pitt, Toledo and West Virginia.
Josh Bryant, Sr, RB – An outstanding player who does not get near the recognition that he deserves. Bryant ran for 1,062 yards, amassed 1,738 all-purpose yards, had 21 receptions for 312 yards and found the end zone 11 times (nine rush, two rec) as a junior. He was named OPSWA Division I Second Team All-Southwest District and First Team All-GMC (for a second straight year) for the effort. He looks to become the first Middie since Jalin Marshall (2010-'12) to run for more than 1,000 yards three consecutive seasons. Bryant has offers from Akron, Ball State, Bowling Green, Georgia State, Kent State, Liberty, Marshall, Miami (OH) and Toledo.
Kamari Fuller, Sr, QB – Back for his third year as a starter, Fuller has all-conference abilities. He has thrown for 1,965 yards and 17 touchdowns in a Middies uniform.
Terrecc Richardson Sr, S – A returning starter in the secondary. Richardson tallied 42 total tackles and had an interception last fall.
Mason Dearth, Sr, K – Was a blessing in the kicking game for the Middies last season. Dearth connected on 15/16 extra points, 6/9 field goal attempts with a long of 42-yards for 33 kicking points. He also had 10 touchbacks on 29 kickoffs.

PLAYOFF HISTORY
(six appearances, 5-6) – 2011, 2010, 2009, 1990, 1989, 1987
2020 SCHEDULE
Fri – 08/28/20 – MOELLER – 7:00 PM
Fri – 09/04/20 – at Springboro – 7:00 PM
Fri – 09/11/20 – OAK HILLS – 7:00 PM
Fri – 09/18/20 – at Fairfield – 7:00 PM
Fri – 09/25/20 – LAKOTA EAST – 7:00 PM
Fri – 10/02/20 – at Colerain – 7:00 PM
Fri – 10/09/20 – at Princeton – 7:00 PM
Fri – 10/16/20 – SYCAMORE – 7:00 PM
Fri – 10/23/20 – at Hamilton – 7:00 PM
Fri – 10/30/20 – MASON – 7:00 PM