2020 Snapshot: Colerain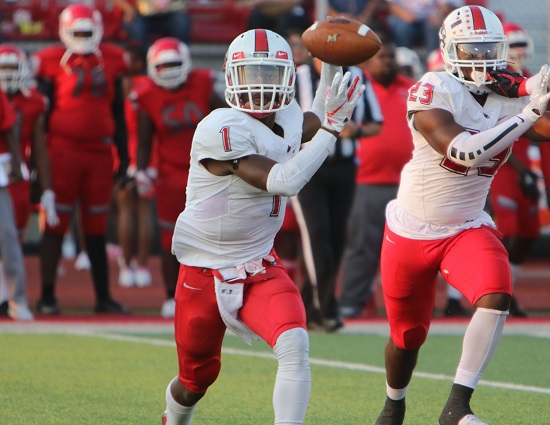 Colerain QB Freddie Johnson (photo by Dan Bieneke/TriStateFootball.com)
The faces may change but the results remain the same at Colerain. The Cardinals won their 20th consecutive GMC title and made the Regional Finals for the fourth time in the last five seasons under first year head coach Shawn Cutright, in 2019. Considering what the program lost from the 2018 state runner-up squad it was a very successful inaugural campaign under Cutright.
This season Colerain will once again have challenges to conquer. "We need to replace the entire offensive line, the Defensive Player of the Year in Ohio, DeShawn Pace and our leading scorer, Jaylen Thomas," Cutright states.
The o-line is a concern. Getting a cohesive unit is imperative to the triple-option offense. The Cardinals could look a bit out of sync early on. There is enough experience returning in the backfield that the offense should still be able to put points on the board.
Colerain returns the bulk of a defense that held nine of 13 foes to two touchdowns or less in 2019. The Cardinals front seven is outstanding. They are strong and fast. This group will put lots of pressure on the opposition and that should lead to loads of takeaway opportunities.
Until proven otherwise on the field, Colerain is still the best public big school program in Southwest Ohio and arguably the state. The birds are still going to be flying high in 2020. This senior class has been a part of 25 victories over the past two seasons. The Cardinals know how to win, it is what they do best, year in and year out.
Division I, Region 4
2019 RECORD: 11-2, 8-0 GMC
COACH: Shawn Cutright (11-2 at Colerain, one year; 11-2 overall)
HONOR ROLL
Dontay Corleone, Jr, DL – The "Godfather" dominated foes in the trenches for a defense that gave up just 13.2 points per game in 2019. Corleone was named OPSWA Division I Second Team All-Ohio, First Team All-TriState Football and TriState Football Cincinnati Defensive Player of the Year finalist, after getting in on 54 total tackles, recording nine-and-a-half sacks with a forced fumble and a fumble recovery as a junior. He has verbally committed to the University of Cincinnati. Corleone heads into his senior year with 12.5 career sacks.
Xander Kendall, Sr, LB – Will be looked upon as a leader for the defense. Kendall was named OPSWA Division I Honorable Mention All-Southwest District after tallying 85 total tackles, a sack, a fumble recovery and two interceptions last fall.
Sean Williamson, Sr, DB – The top returning player in the Colerain secondary. Williamson was in on 70 total tackles and had three interceptions a year ago. He was named Second Team All-GMC for his efforts.
Freddie Johnson, Sr, QB – A two-time Second Team All-GMC selection, Johnson is the leader of the Cardinals offense. He amassed 1,242 yards of total offense (652, rush 590 pass), accounted for 17 touchdowns (11 rush, six pass) and did not throw an interception as a junior.

OTHER RETURNEES
Michael Bess, Sr, LB – A two-year starter at middle linebacker, Bess is looking to bounce back after ACL surgery ended his 2019 season in Week 5. He would have FBS scholarship offers if the injury had not occurred. Bess has 102 total tackles, two sacks, two fumble recoveries and an interception at the varsity level.
Isaiah Myers, Jr, WR – A big time playmaker who at 6-foot-4 and 175-pounds should become a red zone threat this season. In six games as a sophomore, Myers averaged 25.2 yards on seven receptions, of which four went for touchdowns.
Lavert Jarmon, Jr, LB – Looks like the next star at "Linebacker High." Jarmon played well in his varsity debut with 32 total tackles in nine games as sophomore.
MJ Flowers, Jr, RB – Do not be surprised if Flowers churns out 1,000 yards on the ground this fall. He finished 2019 with 475 yards and five touchdowns rushing, in basically seven games.

PLAYOFF HISTORY
(22 appearances, 44-23) – 2019, 2018 (State Runner-up), 2017 (Regional Champion), 2016, 2015 (Regional Champion), 2014, 2013, 2012, 2011, 2010, 2008, 2007, 2006 (Regional Champion), 2005, 2004 (State Champion), 2003, 2002, 2001, 2000 (Regional Champion), 1998, 1995 (2 wins forfeited), 1994 (Regional Champion)
**Colerain has never lost a first round playoff game.
2020 SCHEDULE
Fri – 08/28/20 – WAYNE – 7:00 PM
Fri – 09/04/20 – at St. Xavier – 7:00 PM
Fri – 09/11/20 – LAKOTA WEST – 7:00 PM
Fri – 09/18/20 – at Oak Hills – 7:00 PM
Fri – 09/25/20 – PRINCETON – 7:00 PM
Fri – 10/02/20 – MIDDLETOWN – 7:00 PM
Fri – 10/09/20 – at Sycamore – 7:00 PM
Fri – 10/16/20 – HAMILTON – 7:00 PM
Fri – 10/23/20 – at Mason – 7:00 PM
Fri – 10/30/20 – at Lakota East – 7:00 PM
HOME SWEET HOME
Since the state championship year of 2004, Colerain has gone a combined 83-4 at home.
KINGS OF THE GMC
Colerain has won 20 consecutive titles. The Cardinals currently have a 76-game winning streak against their GMC league rivals. The last time they lost a conference affair was on October 3rd, 2008 at Middletown, 42-39.