2020 Snapshot: Mount Healthy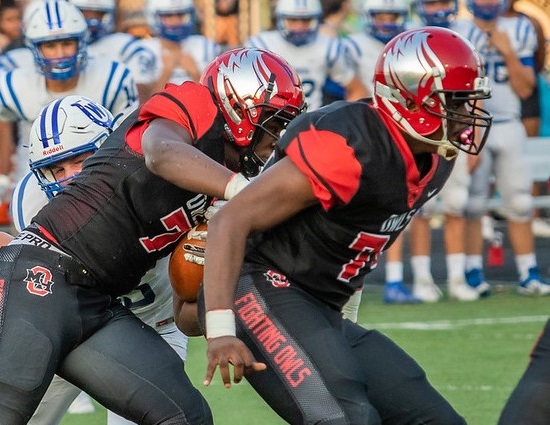 Mount Healthy OL/DL Aries Lamb (photo from: https://wyomingathletics.org/sports/football)
After winning the first four SWOC championships, Mount Healthy has fallen back into the pack amongst its league peers. It has been five years since the Owls last SWOC title. This team has the size and strength to break that recent trend.
"We are very excited about this team. The potential is off the charts, but we have to mature quickly," Mount Healthy head coach Arvie Crouch states.
The Owls are a combined 14-17 over the past three campaigns. They were 64-17 the seven seasons preceding that. Mount Healthy has the physical strength and speed that could bring unyielding success. The downside is that this squad lacks Friday night lights experience.
The schedule is daunting with six road tilts including long trips to Tippecanoe and Division VI powerhouse Coldwater, who handed the Owls a 30-point loss a year ago. The team will travel more than 650 miles in 2020.
Learning how to win is tough but doing it on the road with a young, untested group is going to be even tougher. If Mount Healthy can figure how out to sneak out of those hostile territories with four victories or more, then the Owls are going to be dangerous come November.
Division III, Region 12
2019 RECORD: 5-5, 3-3 SWOC
COACH: Arvie Crouch (86-37 at Mount Healthy, 11 years; 86-37 overall, 11 years)
HONOR ROLL
Sean Harkness, Sr, LB – Mount Healthy's best defensive player. Harkness was OPSWA Division III Honorable Mention All-Southwest District selection as a junior. He has 115 total tackles, a sack, a fumble recovery and an interception in an Owls uniform.
Aries Lamb, Sr, OL/DL – The 6-foot-7, 280-pound Lamb is one of the best kept secrets in Southwest Ohio. He has offers from offers from Ball State, Cincinnati, Ohio, Toledo and West Virginia.
OTHER RETURNEES
Isaiah Daniels, Jr, RB – Will be a focal point of the Owls offense. Daniels ran for 393 yards and four touchdowns as a sophomore.

Aries Lindsey, Sr, LB – Is a great complement to Harkness at linebacker. Lindsey has 95 total tackles, a sack and an interception at the varsity level.
Keion Blankumsee, Sr, WR – The Owls most experienced receiver. Blankumsee has averaged 20.1 yards on 16 career catches.
Randy Howard, Sr, LB – The Mount Healthy coaching staff is looking for big things out of Howard as a senior.
Aaron Hodge, Sr, slot – An explosive presence, Hodge amassed 164 yards from scrimmage on just five offensive touches with a rushing and a receiving touchdown in 2019. He also averaged 29.3 yards and found the end zone twice on 10 kickoff returns.
NEWCOMERS
The Mount Healthy offense has opportunities for underclassmen to crack the starting lineup. Sophomores QB Troy Montgomery, RB Trey Cornist along with juniors, slot Montana Waller, QB/LB Kyonte Green and WR/DB Christian Jackson will get long looks in the preseason. Cornist had 16 total tackles, a sack and an interception while playing in all 10 games as a freshman.
Seniors LB Jahair Frierson and FS I'rel Casey will fill voids on the defensive side of the ball. Casey saw valuable playing time during the back half of last season.
PLAYOFF HISTORY
(13 appearances, 6-13) – 2018, 2016, 2015, 2014, 2013, 2012, 2010, 2009, 2005, 2004, 2003, 2002, 2001
2020 SCHEDULE
Fri – 08/28/20 – at Tippecanoe – 7:00 PM
Fri – 09/04/20 – at Coldwater – 7:30 PM
Fri – 09/11/20 – WILMINGTON – 7:00 PM
Fri – 09/18/20 – COLUMBUS NORTHLAND – 7:00 PM
Fri – 09/25/20 – at Ross – 7:00 PM
Fri – 10/02/20 – at Edgewood – 7:00 PM
Fri – 10/09/20 – at Harrison – 7:00 PM
Fri – 10/16/20 – NORTHWEST – 7:00 PM
Fri – 10/23/20 – TALAWANDA – 7:00 PM
Fri – 10/30/20 – at Frankfort (KY) – 7:00 PM