2020 Snapshot: Wyoming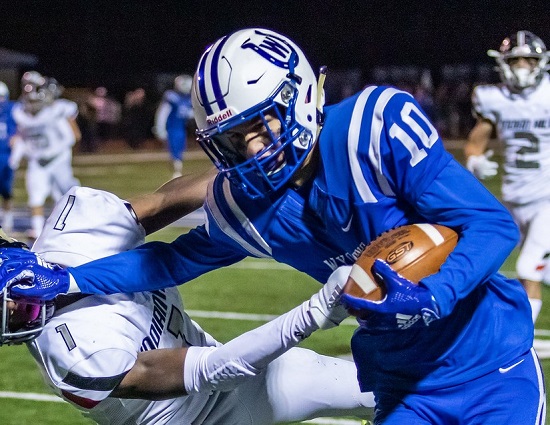 Wyoming WR/DB Joop Mitchell (photo from: https://wyomingathletics.org/sports/football)
There are big shoes to fill and high expectations looking to be kept at Wyoming this fall. The Cowboys continued to set the bar high with their second straight regional championship and…..(see below), in 2019. The most successful program in Ohio now looks to reload and add another chapter to its rich tradition.
Despite losing the best player in Ohio (Evan Prater) and the Division IV Defensive Player of the Year (Cam O'Gara), Wyoming brings back seven starters on offense and seven on defense. "We return a large number of players who contributed last season. This incoming senior class is 40-2 in their first three years," head coach Aaron Hancock states. "We lost a number of starters in key positions. We are looking for players in our program to step up and earn their spot on the field. We want them to lead this program and to continue on to another level of success."
Hancock goes on to say, "this team is committed to each other and works hard every day to help make this program be the best it can be. I am very excited about the way our players work and dedicate themselves to our program."
This run that Wyoming is currently on, does not appear to be over. The Cowboys are still the team to beat in Region 16. Winning is embedded in the Wyoming players and that is an intangible you can't put a value on. This team has the foundation to do special things despite not having a marquee name leading it. Look for the Cowboys to thrive on forging their own identity.
Division IV, Region 16
2019 RECORD: 13-1, 7-0 CHL
COACH: Aaron Hancock (85-14 at Wyoming, eight years; 85-14 overall)
HONOR ROLL
Joop Mitchell, Sr, WR/DB – Blossomed last season as a receiver, catching 39 passes for 778 yards and seven touchdowns. That effort earned Mitchell OPSWA Division IV Honorable Mention All-Ohio and First Team All-Southwest District (WR) honors. Mitchell also has 79 total tackles and three interceptions in his career. He has offers from Eastern Illinois and Tiffin.
Brennan Pagan, Sr, QB/DB – The Cowboys "Mr. Do-It-All," will move to quarterback this fall. Pagan was named OPSWA Division IV Second All-Southwest District (DB) after getting in on 61 total tackles and recovering five fumbles as a junior.  He also racked up 935 all-purpose yards, with 39 receptions for 596 yards and seven touchdowns. Pagan has 124 passing yards, one touchdown pass, 1,729 all-purpose yards (585 rush, 687 rec, 457 ret), 42 receptions, 16 touchdowns (seven rush, nine rec), 90 total tackles, six fumble recoveries and two interceptions, at the varsity level.
Beau Thomas, Sr, RB/DL – A relentless force on the defensive line. Thomas could also become a beast out of the backfield this season. He tallied 72 total tackles, had six sacks, and recovered a fumble on his way to being named First Team All-CHL (DL) as a junior. Thomas also ran for 339 yards and three touchdowns. He has offers from Northwood and Kentucky Wesleyan.
Christopher Guest, Sr, OL/DL – A grinder on both sides of the line, Guest was a Second Team All-CHL (OL) selection in 2019. On defense, he recorded 75 total tackles, had three sacks, and recovered a fumble.
Nathan Glisson, Sr, DB – Needs to assert himself as a leader in the secondary this fall. Gilsson was named Honorable Mention All-CHL after getting in 38 total tackles and snaring two interceptions last season.
Coben Wellman, Jr, OL/DL – A returning starter and key cog on the o-line. Wellman was named Honorable Mention All-CHL (OL) in 2019.
Theo Davis, So, OL/DL – One of Wyoming's most pleasant surprises in 2019,. Davis was named Honorable Mention All-CHL (OL) as a freshman.
Jared Hancock, Jr, RB/DB – Has a great motor and nose for the football. Hancock registered 104 total tackles and forced three fumbles to garner Honorable Mention All-CHL acclaim as a sophomore.
OTHER RETURNEES
Bruce Wagers, Jr, OL/DL – A returning starter, Wager tallied 31 total tackles as a sophomore.
AJ Howard, So, OL/DL – Played some valuable minutes as a freshman. Howard will be an asset on both sides of the line.
Max Wilking, Jr, OL/LB – Will see more snaps especially at linebacker. Wilking had 13 total tackles as sophomore.
Yahel Slonim, Sr, WR/DB – Has the chance to make himself a valuable part of the receiving corp. Slonim hade two catches for 11 yards in 2019.
Cole O'Gara, Jr, WR/DB – Will move to receiver this fall. O'Gara can also play quarterback. He has 118 yards and two touchdowns passing in his limited time under center.
Joel Allen, So, OL/DL – Showed great promise as a freshman. Allen had 20 total tackles in his varsity debut.
CJ Hester, So, RB/DB – A  player with a huge upside, this could be a breakout campaign for Hester. He ran for 400 yards, found the end zone three times and had 29 total tackles as a freshman.
PLAYOFF HISTORY
(25 appearances, 27-23) – 2019 (Regional Champion), 2018 (State Champion), 2017, 2016, 2015, 2014, 2013, 2010, 2009 (Regional Champion), 2007, 2006, 2005, 2003, 2002, 2001, 2000, 1999, 1998 (Regional Champion), 1997, 1996, 1994, 1992, 1988, 1977 (State Champion), 1975 (State Runner-up)
2020 SCHEDULE
Fri – 08/28/20 – HARRISON – 7:00 PM
Fri – 09/04/20 – at Taft – 7:00 PM
Fri – 09/11/20 – NORWOOD – 7:00 PM
Th – 09/17/20 – READING – 7:00 PM
Fri – 09/25/20 – MARIEMONT – 7:00 PM
Fri – 10/02/20 – at Madeira – 7:00 PM
Fri – 10/09/20 – at Deer Park – 7:00 PM
Fri – 10/16/20 – FINNEYTOWN – 7:00 PM
Fri – 10/23/20 – at Taylor – 7:00 PM
Fri – 10/30/20 – at Indian Hill – 7:00 PM
2019 TEAM & PROGRAM ACCOLADES
–Regional champions for the second year in a row.
–Reached regional championship game for the fourth consecutive season.
–10-0 undefeated regular season for the fourth consecutive season.
–Finished as the Division IV Ohio AP Poll champion for the second consecutive season.
–Qualified for the OHSAA playoffs for the seventh season in a row.
–Cincinnati Hills League champions for the fourth consecutive season.
–Won sixth CHL title in the last seven years.
–Extended current regular season winning streak to 41 games (tops in the state of Ohio).
–Had a 28-game winning streak snapped in the state semi-final game versus eventual state champion, Clyde.
–Continued to have the #1 all-time winning percentage in OHSAA History.
–Upped program win total to 726 (101 years of football)
–Class of 2020 seniors played in 55 career games going ,52-3, and never lost a regular season contest.
–Evan Prater and Camden O'Gara were Ohio Division IV Offensive and Defensive Players of the Year.
–Evan Prater named Ohio Mr. Football.