2020 Snapshot: Stebbins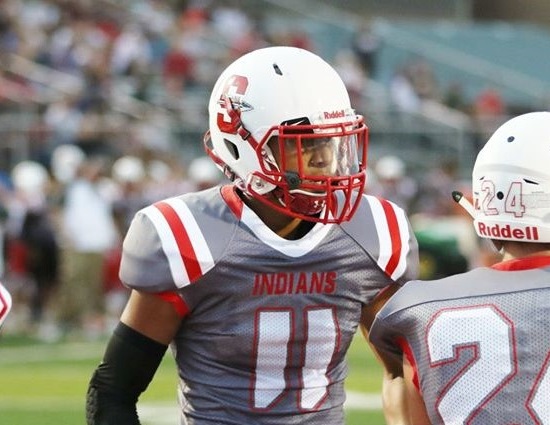 Stebbins DB Jeremy Holloway (photo courtesy of ScoutingOhio.com)
Progress was made last season at Stebbins. The Indians went from zero wins in 2018 to three victories a year ago and they were a much more competitive team. Things are moving in the right direction and this year's squad looks to keep on trucking down the road.
"The culture at Stebbins is changing. Our numbers have gone up every year. We were just a few plays away from being .500 last season. We need to take that next step and win those close games," offensive coordinator Derek Shellabarger states.
Stebbins has 80 players on the roster as of including a senior class with 19 members. Depth should not be a problem. It has plagued the Indians like in years past.
The defense made great strides a year ago. Stebbins allowed 21.2 fewer points per game (24.7), than they did in 2018 (45.9). The Indians return 10 of the top 11 tacklers from that unit.
"On offense, we return all the skills positions player's but we need kids to step up on the offensive line where we lost four starters," Shellabarger laments.
The Valley Division of the MVL is wide open. Stebbins should feel like they have a legitimate shot at winning it. It will come down to execution and with a veteran, experienced squad you have to like the Indians chances for more success in 2020.
Division II, Region 8
2019 RECORD: 3-7, 1-3 MVL Valley; 2-6 MVL
COACH:  Greg Bonifay (4-26 at Stebbins, three years; 39-93 overall, 13 years)
HONOR ROLL
Brayden Pennington, Sr, LB – It was a breakout junior campaign for Pennington. He was named Second Team All-MVL after tallying 82 total tackles with two sacks and two fumble recoveries.
Marvelous Rutledge, Sr, RB – A special athlete, Rutledge, led the Indians with 602 yards and six touchdowns rushing in 2019. He was named Second Team All-MVL for his efforts.
Dan Johnson, Sr, LB – A tackling machine. Johnson was in on 98 total tackles with two sacks and a fumble recovery on his way to Honorable Mention All-MVL accolades as a junior.
Nate Keller, Jr, QB – The future looks bright for Keller. He amassed 1,574 yards of total offense (1,067 pass, 507 rush) and accounted for nine touchdowns (six rush, three pass) as a sophomore. Keller was named Honorable Mention All-MVL for his work.
Damiene Lowery, Sr, DT – The 6-foot-2, 275-pound Lowery was an Honorable Mention All-MVL selection a year ago. He was in on 26 total tackles and forced a fumble.
Andre Snow, Sr, DB – The leader of the secondary. Snow was named Honorable Mention All-MVL in 2019. He has 70 total tackles and had a fumble recovery in his career.
OTHER RETURNEES
Aiden Jones, Sr, WR – Should play an even bigger role in the offense after catching 18 balls for 157 yards as a junior. Jones can also return kicks and play in the secondary.
Tyrece Latimore, Jr, DL – Emerged as a sophomore, getting in on 41 total tackles with two-and-a-half sacks and a fumble recovery.
Julian Ramirez, Sr, OL – A three-year starter, Ramirez is the leader and anchor of the offensive line.
Daniel Bowman, Sr, WR/DB – Has been a very reliable two-way starter for the past two seasons. Bowman has 34 receptions for 430 yards, two touchdown catches, 42 total tackles and six takeaways (four INT, two FRs) at the varsity level.
Emory McKammy, Sr, LB – Another proven commodity for Stebbins at linebacker. McKammy has 73 total tackles, a sack, two forced fumbles and a fumble recovery in an Indians uniform.
Jeremy Holloway, Sr, DB – In his first season as a starter, Holloway recorded 52 total tackles and recovered a fumble as a junior.
Aiden McKammy, Sr, DL – Has been through the wars and will be an asset on the defensive line.
Jerry Jackson, Sr, HB – Will get his share of carries and be a great compliment to Rutledge out of the backfield.
Anthony Uhzha, Sr, DL – The staff is looking for the 5-foot-10, 330-pound lineman to do big things in his senior campaign.

NEWCOMERS
Senior DL Chase McCurry, juniors RB Omar Holloway, ATH Shawn Dozier, DL Race Allison, LB Dalton King along with sophomores OL/DL Clint Alcorn, OL Noah Schenk and ATH Adrian Norton will all get their shots at cracking the starting lineup. Holloway ran for 139 yards and a pair of touchdowns in four games last fall. King and McCurry did not play in 2019 because of injuries.
PLAYOFF HISTORY
(0 appearances, 0-0)
2020 SCHEDULE
Fri – 08/28/20 – SPRINGFIELD NORTHWESTERN – 7:00 PM
Fri – 09/04/20 – at Greenville – 7:00 PM
Fri – 09/11/20  – TROY – 7:00 PM
Fri – 09/18/20 – at Tippecanoe – 7:00 PM
Fri – 09/25/20 – BUTLER – 7:00 PM
Fri – 10/02/20 – FAIRBORN – 7:00 PM
Fri – 10/09/20 – at Xenia – 7:00 PM
Fri – 10/16/20 – SIDNEY – 7:00 PM
Fri – 10/23/20 – at Piqua – 7:00 PM
Fri – 10/30/20 – at West Carrollton – 7:00 PM