2020 Snapshot: Roger Bacon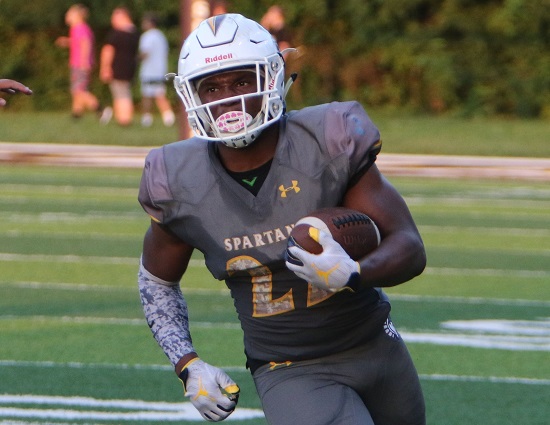 Roger Bacon RB Corey Kiner (photo by Dan Bieneke/TriStateFootball.com)
A change scenery was just what the doctor order for Roger Bacon in 2019. In their first year in the league the Spartans won the Miami Valley Conference Scarlet title. It was just the second conference championship in the last 20 seasons and first since 2005, for the program. Roger Bacon's 10 wins were the most by the school in more than 50 years.

Now the Spartans look to build upon that success while the momentum is on their side. Roger Bacon moves down to Division V after making the Division IV playoffs last fall. As good as that sounds, Region 20 championships have not been kind to Cincinnati-area schools. Only Reading (2000), Madison Senior (2017) and CHCA (2013, 2005) have brought home Division V regional titles since 2000.
"Our strengths will be at the skills potions, our overall team speed and experience at linebacker," states head coach Mike Blaut.
The Spartans are led by arguably the best player in Ohio, running back Corey Kiner. Roger Bacon must replace three linemen and a quarterback from the 2019 postseason squad. Despite the holes, Kiner is more than capable of carrying the offense even with the newcomers.
The schedule sets up nicely for the Spartans with six home games. Their opponents were a combined 50-58 (.463 winning %) in 2019. Only four foes had a winning record and Roger Bacon was 3-1 versus them with an average margin of victory of 14.5 points (that includes a 24-point loss to Badin), a year ago. This should be another prosperous campaign for the boys on Vine Street.
Division V, Region 20
2019 RECORD: 10-2, 4-0 MVC Scarlet
HEAD COACH: Mike Blaut (24-28 at Roger Bacon, five years, 24-28 overall)
HONOR ROLL
Corey Kiner, Sr, RB – One of the best running backs in the entire country. Kiner, who has committed to LSU, is a leading candidate for Ohio Mr. Football in 2020.
The honors and records are building up for Kiner who was named 2019 OPSWA Division IV First Team All-Ohio, Southwest District Co- Offensive Player of the Year, OPSWA First Team All-Southwest District (for a third straight season), MVC Scarlet Offensive Player of the Year, First Team All-TriState Football (RS) and TSF Cincinnati OPOY finalist (for a second straight season).
As a junior, Kiner crushed the school record books with 2,298 yards rushing, a 12.1 yards per carry average, 40 rushing touchdowns, 44 total touchdowns, 278 points scored (14th best in a season in Ohio history) and 2,943 all-purpose yards (300+ yards in each of the last four games of the season). He ran for 200 yards or more seven times in his last eight games including more than 300 against playoff teams CHCA (8-3) and Summit Country Day (8-2).
Kiner goes into 2020 with 5,264 yards rushing, 81 rushing touchdowns (tied for 20th all-time in Ohio), 88 total touchdowns (25th all-time in Ohio), 6,804 all-purpose yards and 548 points scored – all Roger Bacon records.
Nijal Mooney, Sr, LB – The centerpiece of the Roger Bacon defense. Mooney who is getting looks from Division I colleges, tallied 56 total tackles and had a sack to earn OPSWA Division IV Second Team All-Southwest District accolades in 2019.
Daniel Cartuyvelles, Sr, OL/DL – The anchor of the o-line. The 6-foot-1, 240-pound Cartuyvelles was an OPSWA Division IV Second Team All-Southwest District honoree as a junior.
Evan Webb, Sr, RB/TE/LB 5 – A team captain, Webb was named First Team All-MVC Scarlet a year ago. He has 100-plus total tackles, two-and-a-half sacks and three fumble recoveries in a Spartans uniform.
Ryan Hallau, Sr, TE/DE – Is a factor on the edges, on both sides of the football. Hallau had 16 receptions, 229 receiving yards, two touchdown catches and two sacks on his way to Second Team All-MVC Scarlet honors as a junior.
Jah'Mal Hutsell, Sr, RB/DB – A lightning fast runner who compliments Kiner ever so beautifully. Hutsell amassed 700 all-purpose yards (356 rush, 245 rec, 99  ret), averaged 9.9 yards per carry, averaged 20.4 yards on 15 receptions and found the end zone five times (three rush, two rec) on 60 touches as a sophomore. He garnered Second Team All-MVC Scarlet acclaim for his work.

Chris Shipley, Sr, LB – A returning starter, Shipley had a sack and recovered two fumbles as a junior. He was named Honorable Mention All-MVC Scarlet for the effort.
OTHER RETURNEES
Danny Hudepohl, Sr, ATH – A versatile commodity who plays all skills positions on offense and defense. Hudepohl played 19 games at Gallatin County (KY) before transferring to Roger Bacon last fall. He has thrown for more than 1,000 yards with 10 touchdown passes, 800-plus yards rushing, 100-plus total tackles and six interceptions in 31 varsity contests.
Tyler Sunderman, Sr, LB – One of the defensive leaders, Sunderman has all-league potential
Ethan Hausfeld, Sr, OL/DL – Will be counted on to be a leader in the trenches for an untested group up front.
Kyle Guyer, Sr, WR/DB – Should be oozing with confidence after catching a 63-yard touchdown pass in the 2019 Regional semi-final win over Valley View.
George Janzen, Sr, RB/TE/LB – A physical player who should flourish as a senior.
NEWCOMERS
Juniors WR/DB Timyone Andrew, WR/DB Beamer Walker will give the Spartans outstanding depth at the skills positions on both sides of the ball. Junior OL/DL Zack Meister and senior OL/DL Malaki Johnson will get a shot at cracking the starting lineup.
Junior QB Logan Huber will battle Hudepohl for the signal-caller spot. "It is an open competition. Both bring some very good quarterbacking skills to the table," Blaut laments.
PLAYOFF HISTORY
(six appearances, 3-6) – 2019, 2010, 2005, 2001, 1998, 1997
2020 SCHEDULE
Fri – 08/28/20 – DUNBAR – 7:00 PM
Fri – 09/04/20 – at Newport Central Catholic (KY) – 7:00 PM
Fri – 09/11/20 – WOODWARD – 7:00 PM
Fri – 09/18/20 – BADIN – 7:00 PM
Fri – 09/25/20 – at McNicholas – 7:00 PM
Fri – 10/02/20 – PURCELL MARIAN – 7:00 PM
Fri – 10/09/20 – BELMONT – 7:00 PM
Fri – 10/16/20 – at CHCA – 7:00 PM
Fri – 10/23/20 – NORWOOD – 7:00 PM
Fri – 10/30/20 – at Summit Country Day – 7:00 PM