2020 Snapshot: Lloyd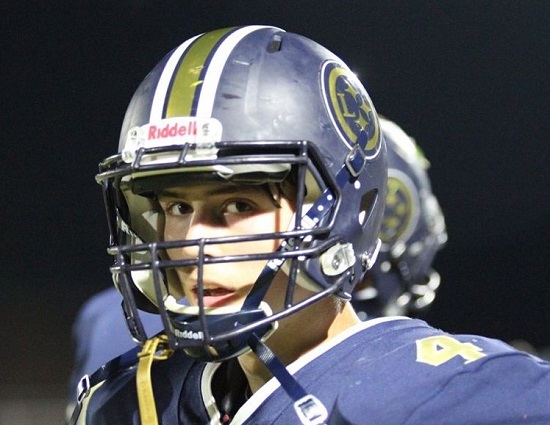 Lloyd QB Jacob Davidson (photo from Facebook: Lloyd Juggernauts Football)
In a District that will see all four of its teams place a better product on the field than they did in 2019, Lloyd needs to bring its "A" game every Friday night. The Juggernauts have many talented pieces, but it is going to take other intangibles to become the best amongst its peers this fall.
"We have a lot of leadership on our team. Our players have the heart and desire for what it takes to play this game. Our depth chart shows that. It also tells us that our players are buying into what we are trying to build for our program," head coach Kyle Niederman laments.
Leadership is a concern for Lloyd. Youngsters must act like they been there before. "We only have eight seniors. We will be looking at our underclassmen to step it up, on the field," Niederman states.
With a schedule that includes five games versus larger schools, the Juggernauts will be battle-tested come playoff time. What Niederman and his staff must guard against is, a deflated confidence from his young team if things get out of hand in any of those contests. A self-assured psyche from the Lloyd players will go along way in the Juggs quest for success.
Class 2A, District 6
2019 RECORD: 6-5, 2-1 Class 2A, District 6
COACH:  Kyle Niederman (6-5 at Lloyd, one year; 6-5 overall)
TOP RETURNEES
Jalen Huntley, Sr, S – A game-changer for the Juggernauts defense. If the ball is on the move, Huntley finds it and shuts it down.
Travon Ramey, Sr, OT/DT – Quick off the ball and stands his ground on offense. On defense if Ramey is not doubled-or-tripled-teamed he is going to create havoc. Ramey has five career sacks.
Jake Davidson, Jr, QB/CB – Fast on his feet and smart with the ball. Davidson is not afraid to get after it and get things done. He amassed 1,858 yards of total offense (1,335 pass, 523 rush) and accounted for 17 touchdowns (10 pass, seven rush) as a sophomore.
Ethan Spaulding, Jr, HB/LB – A go-getter on both sides of the ball. Spaulding is a great blocker on offense. When he gets the chance to carry the pigskin, Spaulding is an excellent north and south runner that hits like a dump truck. On defense, Spaulding is quick to the ball and running into him is like hitting a brick wall.
NEWCOMERS
Caden Tomlinson, Jr, DT/NG – A quiet player but do not let that fool you. Tomlinson has a great feel for the game and can be a dominating factor on defense.
Joe Cooley, Jr, LT – Will be a welcomed addition to the starting lineup. Cooley missed last season because of a medical condition. He will be a key factor for the Lloyd offense. Cooley is quick off the ball and is good with his hands.
2020 SCHEDULE
Fri – 08/21/20 – WALTON-VERONA – 7:30 PM
Fri – 08/28/20 – SCOTT – 7:00 PM
Fri – 09/04/20 – at Boone County – 7:00 PM
Fri – 09/11/20 – CONNER – 7:00 PM
Fri – 09/18/20 – at Mason County – 7:30 PM
Fri – 09/25/20 – BYE
Fri – 10/02/20 – LUDLOW – 7:00 PM
Fri – 10/09/20 – NEWPORT – 7:00 PM
Fri – 10/16/20 – at Beechwood – 7:00 PM
Fri – 10/23/20 – at Holy Cross (Covington) – 7:00 PM
Fri – 10/30/20 – at Elizabethtown – 7:30 PM
WINNING WAYS
Lloyd hasn't had a losing season since 2011. The Juggernauts are a combined 58-35 (.623 winning %) in those eight campaigns. They have lost at least three games in every one of those years.