2020 Preseason All-TSF Team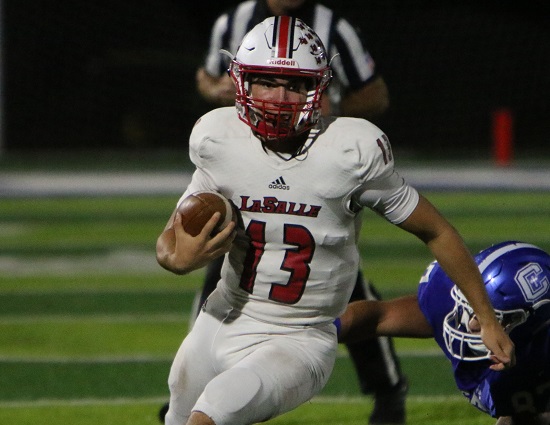 After a few weeks of promotion and voting, we have landed on our official 2020 Preseason All-TSF Team.
There were 397 players nominated from 139 of the 153 schools we cover. Nominees included any player that was a first team all-league, All-District, All-State performers in 2019 and any player that has Division I – FBS offers as well as wild card/at large (players we like) nominations.
Our staff vote accounted for 70 percent of the vote, with the fan vote accounting for the other 30 percent.
Here is the complete 2020 Preseason All-TSF Team:
FIRST TEAM
OFFENSE
QB: Zach Branam (La Salle)
RB: Corey Kiner (Roger Bacon)
RB: Gi'Bran Payne (La Salle)
WR: Markus Allen (Northmont)
WR: Liam Clifford (St. Xavier)
TE: Elijah Brown (Wayne)
OL: Luke Collinsworth (East Central)
OL: Mao Glynn (Walnut Hills)
OL: Paul Rodriguez (Mason)
OL: Kaden Rogers (Ross)
OL: Tegra Tshabola (Lakota West)
ATH: Jayden Mayes (Fairfield)
PK: Trey Gronotte (Covington Catholic)
DEFENSE
DL: Dontay Corleone (Colerain)
DL: Derrick Shepard (Alter)
DL: Andrew "Bam" Booker (Winton Woods)
LB: Cameron Junior (Middletown)
LB: Daylon Long (Winton Woods)
LB: Diego Neri (Northwest)
LB: Hunter Warner (Fairborn)
DB: Jaylen Johnson (La Salle)
DB: Rod Moore (Northmont)
DB: Delian Bradley (Springfield)
DB: Devonta "Tay" Smith (La Salle)
P: Matthew DaPore (Springboro)
RET: Brandon McClendon (Holy Cross)
SECOND TEAM
OFFENSE
QB: Chase Harrison (Centerville)
RB: Kaleb Johnson (Hamilton)
RB: Branden McDonald (Alter)
WR: Brandon Wright (Dunbar)
WR: Drew Ramsey (Elder)
TE: Josh Kattus (Moeller)
OL: Aamil Wagner (Wayne)
OL: Kendrix Goodman (Fairfield)
OL: Brian Parker II (St. Xavier)
OL: Cameron Collins (St. Xavier)
OL: Eric Meeks (Walnut Hills)
ATH: Nick Presley (Walnut Hills)
PK: Taylor Jordan (Bellbrook)
DEFENSE
DL: Nate Pabst (Moeller)
DL: Jokell Brown (Springfield)
DL: Gio Albanese (St. Xavier)
LB: Michael Bess (Colerain)
LB: Daylen Morgan (Trotwood-Madison)
LB: Cam Sanders (Winton Woods)
LB: Deuce Shaw II (Moeller)
DB: CJ Hicks (Alter)
DB: Jyaire Brown (Lakota West)
DB: Alex Afari (Lakota West)
DB: Leroy Bowers (Princeton)
P: Doug Zang (Indian Hill)
RET: Ty Stylski (Kings)
THIRD TEAM
OFFENSE
QB: Caleb Jacob (Covington Catholic)
RB: Josh Bryant (Middletown)
RB: Deondre Bothast-Revalee (Talawanda)
WR: Rodney Harris. Jr (Princeton)
WR: Will Jackson-Linkhart (Centerville)
TE: David Larkins (Elder)
OL: Landon Fickell (Moeller)
OL: Aries Lamb (Mount Healthy)
OL: Drew Beckenhaupt (Elder)
OL: Hank Perry (Walnut Hills)
OL: Ethan Tyla (Fairfield)
ATH: Gage Bullock (West Clermont)
PK: Colin Graman (Beechwood)
DEFENSE
DL: Lance Reaves-Hicks (Piqua)
DL: Jayden Carter (Badin)
DL: Andre Proffitt (Lakota West)
LB: Joey Stemler (Elder)
LB: Xander Kendall (Colerain)
LB: Tyler Carlson (Tippecanoe)
LB: TJ Rotello (Moeller)
DB: Tamarion Crumpley (Winton Woods)
DB: Jaymar Hargrove-Mundy (La Salle)
DB: Caleb Tubbs (Winton Woods)
DB: Jamar Payton Jr. (Dunbar)
P: Drew Peterson (Walnut Hills)
RET: Tay Calloway (Holmes)
HONORABLE MENTIONS
QB: Cameron Fancher (Wayne), Cameron Hergott (Beechwood), Logan Landers (Dixie Heights), Te'Sean Smoot (Springfield), Garrett Yoon (Lawrenceburg); RB: Thomas Boyd (Princeton), Adam Burd (Lawrenceburg), Tyler Dorsey (Wayne), Jake Fike (East Central), Colton Roy (Conner)Keyshawn Stephens (Hamilton); WR: Titan Case (Springboro), Troy Coulter (Valley View), Deanza Duncan (New Miami), Ethan Reardon (Covington Catholic), Cam Smith (Centerville), Reis Stocksdale (Little Miami); TE: Nick Molinari (Mason); OL: Paul Haywood (La Salle), Dawson Hildebrand (Troy), Christian Ochs (Springfield), Ethan Parris (Lawrenceburg), Andrew Vest (CHCA); DL: Jerry Parsons (Deer Park), Nathan Gordon (Little Miami), Brandon Smith (Fairfield); LB: Jon Bruder (Centerville), Matthew Devine (St. Xavier), Nate Griffin (East Central), Will Klekamp (Indian Hill), Phillip Quansah (Northmont), Nate Walker (Simon Kenton); DB: Zach Barker (Reading), Caden Conrad (McNicholas), Iesa Jarmon IV (La Salle), Jacob Tueimeh (Sycamore), Jason Ward II (Chaminade Julienne), Sean Williamson (Colerain); ATH: Jeremiah Lee (Cooper), Brennan Pagan (Wyoming), Vince Ringland (Milford), Cyre Williams (Franklin); PK: Sophie Browndyke (East Central), Trevor McGinness (Clinton-Massie); P: Ben Bausback (Greensburg), Cole Martin (Connersville), Graham Nicholson (Summit Country Day); RET: Braden Kelley (Williamsburg), Jordan Marksberry (Dayton).
MORE ON FAN VOTING
Our fan voting accounted for 30 percent of the final tally that makes up the team. Unfortunately, this year we had several instances where our defined rules were violated. Only one vote per hour, per IP addressed was permitted. However, numerous voters found ways around that on the front end. Our reports on the back end flagged all of these violations and all those votes were deemed invalid in our final tally. Some positions were impacted more drastically than others were.
We've always aimed to find ways to drive engagement and include fans in our process, but protecting the integrity of the process is becoming increasingly difficult. We will continue to work to improve this moving forward.