2020 Snapshot: Fairfield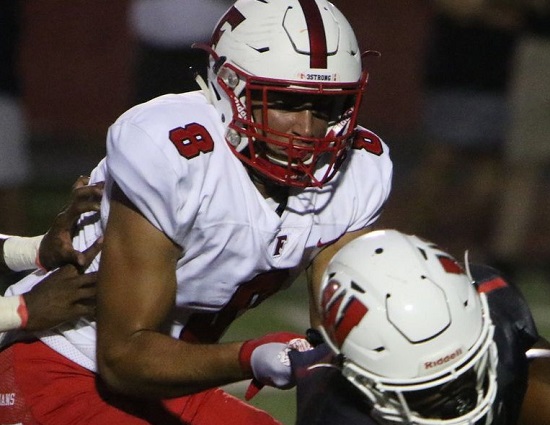 Fairfield LB Omar Shteiwi (photo by Dan Bieneke/TriStateFootball.com)
From 2006 through 2012 Fairfield was a perennial cellar dweller in the Greater Miami Conference. The Indians went a combined 13-56 in those seven years. Six of those victories came in 2009. Since then, the Indians have risen to the occasion with seven straight winning seasons. They have been to the playoffs, a program best, five consecutive years under head coach Jason Krause.
The momentum doesn't appear to be slowing up anytime soon. "We have great senior leadership, especially with two coaches sons on the team," Krause says about his 2020 squad.
"This is probably the best offensive line I have had in my career, but we have young, inexperienced skill players on both sides. Their potential is through the roof, they are just untested," Krause says.
Fairfield held nine opponents 14 points or less, and just 12.1 points per game in 2019. The Indians could easily repeat those numbers this fall, with what they bring back. "We will be very athletic and fast on defense," Krause laments.
The culture has changed and dedication to the program has become second nature. Players and coaches know what is expected and realize that hard work leads to success. Fairfield is at a place that other schools strive to be.
Division I, Region 4
2019 RECORD: 10-2, 7-1 GMC
COACH: Jason Krause (56-41 at Fairfield, nine years; 141-109 overall, 23 years)
TOP RETURNEES
Jaydan Mayes, Sr, WR/DB – An incredible athlete who can do it all. Mayes will be Fairfield's go-to-guy in 2020. He was a First Team All-GMC selection as a junior. Mayes has 1,039 all-purpose yards (417 rush, 269 rec, 358 ret), 20 receptions, 27 total tackles, five interceptions and six touchdowns (three rush, two rec, one IR) in his career. He has offers from Kentucky, Bowling Green, Marshall, Eastern Illinois, Air Force, Army and Navy.
Conner Snively, Sr, OG – A three-year starter that helped pave the way for the Fairfield offense to run for 3,215 yards with 36 rushing touchdowns in 2019. The 6-foot-3, 285-pound Snively was named First Team All-GMC for his efforts.
Ethan Tyla, Sr, OT – The 6-foot-4, 270-pound Tyla was a vital cog for an offense that averaged 370.2 yards per game last season. He was named First Team All-GMC for his work.
Brandon Smith, Sr, DL – Made a seamless transition from offensive line to defensive line in 2019. Smith led the GMC with 10.5 sacks and had 58 total tackles on his way to Second Team All-GMC honors.
Omar Shteiwi, Sr, LB – The leader of the defense, Shteiwi came back strong after missing his sophomore year with an injury. He finished his junior campaign with year with 46 total tackles, five sacks and a fumble recovery.
Kendrix Goodman, Jr, OG – The future is bright for the 6-foot-3, 310-pound Goodman who was named Second Team All-GMC as a sophomore. He has offers from Kentucky and Pitt.
NEWCOMERS
Malik Tate, Sr, WR/DB – A transfer from Woodward, Tate brings varsity experience in all three phases of the game.
Michael Swanson, Jr, DL – The Indians coaching staff believes this will be a breakout season for this d-lineman.
PLAYOFF HISTORY
(11 appearances, 6-10) – 2019, 2018, 2017, 2016, 2015, 2013, 2005, 2000, 1999, 1986 (State Champion), 1985
2020 SCHEDULE
Fri – 08/28/20 – at Centerville – 7:00 PM
Fri – 09/04/20 – SPRINGFIELD – 7:00 PM
Fri – 09/11/20 – at Mason – 7:00 PM
Fri – 09/18/20 – MIDDLETOWN – 7:00 PM
Fri – 09/25/20 – at Hamilton – 7:00 PM
Fri – 10/02/20 – LAKOTA WEST – 7:00 PM
Fri – 10/09/20 – at Lakota East – 7:00 PM
Fri – 10/16/20 – PRINCETON – 7:00 PM
Fri – 10/23/20 – SYCAMORE – 7:00 PM
Fri – 10/30/20 – at Oak Hills – 7:00 PM