2020 Snapshot: Batesville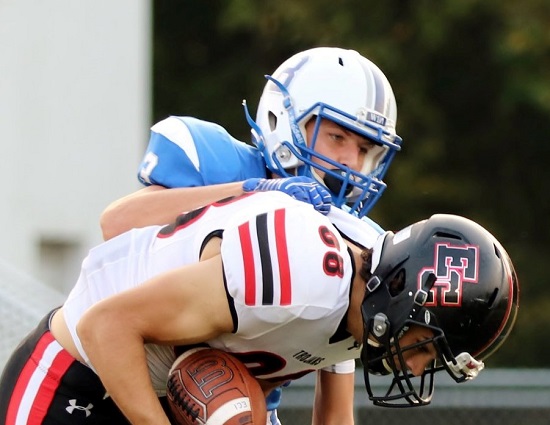 Batesville WR/DB Luke Wilson (photo by: Linda Lyness Maxwell)
Losing campaigns are few and far between at Batesville. A young Bulldogs team suffered through a sub .500 record in 2019. It was the programs first losing season since 2012 and just its third in the last 22 years. With a rock solid core of lettermen returning look for Batesville to get back to its winning ways.
"I am excited for the energy, focus and leadership among our players during this crazy off-season. They have kept their hunger and sights set on bouncing back with a great 2020 season," head coach Evan Ulery states.
The Bulldogs always seemed to be a bit undersized in the trenches but what they lacks in girth up front they more than make for with explosive skills players. This fall will be no different.
"Our run game with Austin Pohlman and Travis Lecher will be the one-two punch that leads the offense. The depth and interchangeability among backs will be our strength, on this side of the ball," Ulery laments. "Depth on the offensive and defensive lines will be our biggest worry heading into 2020.  There are many starters returning with one to two years of varsity experience, but the group will be thin."
Defensively, Batesville is deep at linebacker and in the secondary. To turn things around, the back seven must play flawlessly. They must keep the ball in front of them and avoid getting into shootouts with opponents. The Bulldogs gave up at least 24 points in all seven of their losses a year ago.
Fix that problem to go along with a potent offense and Batesville can raise the bar high. Even when things go astray the veterans must keep the train on the tracks. They do that and the Bulldogs will be in the hunt for a league title and deep playoff run.
Class 3A, Sectional 31
2019 RECORD: 4-7, 1-2 EIAC 3A
COACH: Evan Ulery (25-19 at Batesville, four years; 25-19 overall)
TOP RETURNEES
Austin Pohlman, Sr, RB/LB – Will be the Bulldogs lead back. Despite missing five games, Pohlman still ran for 834 yards and eight touchdowns as a junior. He has 1,324 yards and 12 touchdowns rushing, in his career.
Jeremiah Lemmel, Sr, H-Back/LB – A tough, hard-nose player who is the leader of the defense. Lemmel has made some big physical jumps during the off-season that has him in position to have a big senior year. He has 135 total tackles (98 in 2019) in his career.
Ben Schebler, Sr, LB – The igniter and energy guy for the Bulldogs defense. Schebler, who is back for his third season as a starting linebacker has 91 total tackles at the varsity level.
Jacob Weigel, Sr, H-Back/LB – A hard-hitting and disciplined player who is a leader on both sides of the ball. Weigel will enter his second year as the starter at H-back.
Karson Macke, Sr, OL/DL – The strongest guy on the team and the anchor of the offensive line at center.
Travis Lecher, Jr, QB/DB – Had a breakout sophomore campaign with 1,784 yards of total offense (1,053 pass, 731 rush), 14 total touchdowns (10 pass, four rush) and three interceptions on defense. Lecher looks to take another big leap forward orchestrating the Bulldogs offense this fall.
Chase Hamilton, Jr, OL/LB – Enters his second season as a starter at linebacker. Hamilton is expected to transition to a two-way starter to fill a void on the offensive line. He tallied 84 total tackles as a sophomore.
Kurt Siefert, Sr, WR/DB – The Bulldogs top option at receiver. Siefert had 15 receptions for 213 yards and a score in 2019.
Trey Peters, Sr, WR – A second year starter at receiver who will compliment Siefert well in the passing attack. He had 11 receptions for 166 yards and a touchdown as a junior.
Luke Wilson, Jr, WR/DB – A returning starter in secondary, Wilson will also compete for playing time at receiver. He had 23 total tackles a year ago.
Will Meer, Jr, RB/LB – A promising sophomore season was cut short due to injury. Meer is on schedule to return and help bolster the backfield and linebacker corp.
Alex Siefert, Sr, TE/OLB – Started several games at outside linebacker last year. Siefert will compete for same position as well as for the starting tight end spot.
Colt Swingle, Sr, OL/DL – A long athletic frame makes Swingle a valuable commodity in the trenches on both sides of the ball. He will be a three-year starter on the d-line and a two-year starter on the o-line.
NEWCOMERS
Blake Hon, So, OL/DL – Expected to make a big jump and compete for a starting position on the o-line.
Nick McConnell, So, OL/DL – Plays with a high motor. Like Hon, McConnell is another young sophomore lineman expected to vie for plenty of playing time up front.
Gabe Gunter, Sr, WR/DB – Transitioned from manager to competing on the JV squad last season. Gunter had a great first year of football and is expected to compete for a starting position in the secondary and at receiver.
Vonley Hund, Jr, H-back/LB – was on the fringe of starting last season at H-back and outside linebacker.  He has made a big physical improvement during the off-season and should make an impact on one if not both sides of the ball.
Brady Hornberger, Jr, WR/DB – Continues to make huge strides physically and mentally. Hornberger will be in the hunt to be a primary target for Lecher.
Josh Mobley, Jr, RB/LB – Pound-for-pound, Mobley is one of Batesville's strongest players. He will compete for carries to relieve Pohlman and for a starting inside linebacker position.
PLAYOFF HISTORY (44-36)
Sectional Champion (nine) – 2015, 2009, 2006, 2005, 2004, 2003, 2002, 2001 & 1986.
Regional Champion (one) – 1986.
2020 SCHEDULE
Fri – 08/21/20 – at Indian Creek – 7:30 PM
Fri – 08/28/20 – at Milan – 7:00 PM
Fri – 09/04/20 – SOUTH DEARBORN – 7:00 PM
Fri – 09/11/20 – at Rushville – 7:00 PM
Fri – 09/18/20 – at East Central – 7:00 PM
Fri – 09/25/20 – LAWRENCEBURG – 7:00 PM
Fri – 10/02/20 – GREENSBURG – 7:00 PM
Fri – 10/09/20 – at Franklin County– 7:00 PM
Fri – 10/16/20 – CONNERSVILLE – 7:00 PM
Fri – 10/23/20 – TBD: IHSAA Sectional 31 Playoffs