2020 Snapshot: Turpin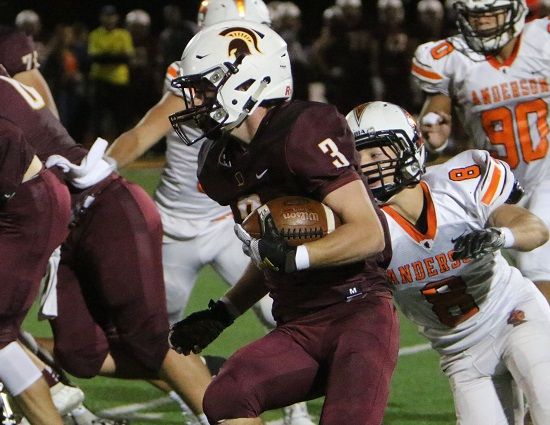 Turpin RB/WR Kaiden Naughton (photo by Dan Bieneke/TriStateFootball.com)
Everyone thought Turpin would be good in 2019 but no one thought they would go undefeated during the regular season. It was a pretty amazing accomplishment considering the Spartans lost their top running back midway through the year. A bittersweet ending saw the team lose in the first round of the playoffs. This squad will be highly motivated in 2020 to rectify that lone loss.
"We have a good nucleus of players coming back from last year's championship team.  Even with graduating 27 seniors, there are 18 returning lettermen ready to step into starting positions in 2020," head coach Kent McCullough states.
With all that Turpin returns, winning back-to-back league titles will not be easy with the additions of Winton Woods, Lebanon and Little Miami to the league. If they aren't ECC champs, the Spartans will be well tested and better prepared for the playoffs because of the competition they will have faced. Coach McCullough and his team would definitely take a deep postseason run as consolation.
Division II, Region 8
2019 RECORD:  10-1, 7-0 ECC
COACH:  Kent McCullough (20-11 at Turpin, three years; 59-37 overall, nine years)
TOP RETURNEES
Gabe Hickman, Sr, OL – The leader of the offensive line. Hickman was an OPSWA Division II Second All-Southwest District selection as a junior.
Kaidan Naughton, Sr, RB/WR – Stepped up big time after star running back, Reece Evans went down last season. Naughton amassed 1,171 all-purpose yards (566 rush, 500 rec, 105 ret), had 32 receptions and found the end zone 16 times (10 rush, six rec) on his way to First Team All-ECC honors.
Will Myres, Sr, DL/P – A valuable commodity for the Spartans on defense and special teams. Myres recorded five-and-a-half sacks, recovered a fumble and averaged 40.1 per punt as a junior. His efforts earned him First Team All-ECC honors.
Logan Hurley, Sr, WR – Was sensational down the stretch for Turpin in 2019. After catching just six passes in the first four games, Hurley finished the year with 56 receptions (including 18 versus Anderson) for 719 yards and seven touchdowns. His performance garnered Second Team All-ECC accolades.
Max Kline, Sr, OL/DL – Will anchor the o-line along with Hickman. Kline was named Honorable Mention All-ECC as a junior.
Max Gundrum, Sr, WR – Had a breakout year, catching at least one pass in all 11 of Turpin's games last fall. Gundrum finished the season with 33 receptions for 413 yards and three touchdowns.

NEWCOMERS
There are big shoes to fill at quarterback with the graduation of 2019 ECC Offensive Player of the Year, Justin Silverstein. Senior Jakob Williams, junior Will Schulock and sophomore Clark Helgason are in competition to fill the void. Schulock threw his first varsity touchdown pass last fall versus Withrow. Williams has seen limited snaps under center the past two seasons.   
PLAYOFF HISTORY
(11 appearances, 11-11) – 2019, 2016, 2015, 2012, 2011, 2010, 2009, 2008, 2007, 2006 (Regional Champions), 1995
2020 SCHEDULE
Fri – 08/28/20 –  LAKOTA EAST – 7:00 PM
Fri – 09/04/20 – NORTHWEST – 7:00 PM
Fri – 09/11/20 – at Loveland – 7:00 PM
Fri – 09/18/20 – MILFORD – 7:00 PM
Fri – 09/25/20 – at Little Miami – 7:00 PM
Fri – 10/02/20 – WALNUT HILLS – 7:00 PM
Fri – 10/09/20 – LEBANON – 7:00 PM
Fri – 10/16/20 – at Winton Woods – 7:00 PM
Fri – 10/23/20 – KINGS – 7:00 PM
Fri – 10/30/20 – at Anderson – 7:00 PM
BUILDING A WINNING TRADITION
Turpin began playing football in 1976. In the first 30 seasons the most wins the Spartans ever had in a year was nine (twice). Since then (from 2006 to now) the program has won at least 10 games seven times in 14 seasons.
IN THE RECORD BOOKS
Several returning Spartans etched their names into the Turpin record books in 2019.
Will Myres set the school record for highest average per punt (40.1) in a season, topping the record he set a year earlier (37.9). Myres upped his sack total to 8.0 in his career which leaves him sitting 7th all-time in school history.
Kaidan Naughton posted the 4th most (256) and 9th most (226-tied) yards rushing in a single game. His 32 receptions tied him for 8th most in a season by a Spartan. Naughton now has 630 yards receiving in his career which puts him 14th on the all-time list. He also had six touchdown receptions in 2019. Which tied him for 6th most in a season. Naughton's eight career touchdown catches is tied for 6th most all-time. He racked up 1,171 all-purpose yards last fall which is 13th best in a single season by a Turpin player.

Logan Hurley caught 56 balls, 3rd most in a season by a Spartan. It also puts him 8th on the all-time list. His 719 yards receiving was 5th most in a season. It puts him 12th on the all-time list for receiving yards. Hurley had seven touchdown receptions in 2019. Which tied him for sixth most in a season and 7th all-time.
Max Gundrum hauled in 33 receptions which were 7th most in a season by a Spartan.