2020 Snapshot: Clinton-Massie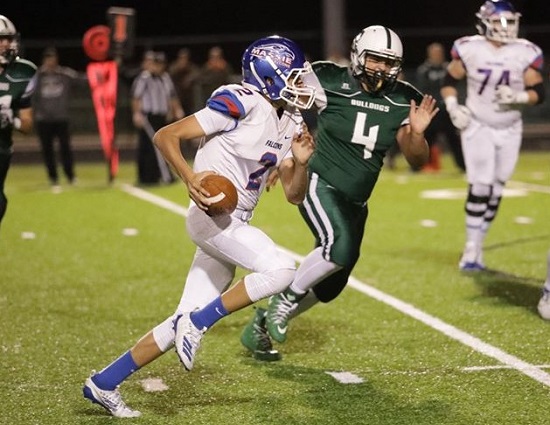 Clinton-Massie QB Kody Zantene (photo courtesy of facebook.com/BHSsportspage)
With 17 returning lettermen including seven starters back on offense and defense (many of them juniors), Clinton-Massie is set up for runs at a state title over the next two years, at least.
Playing in November is a way of life in Clarksville. The Falcons have made the playoffs 18 consecutive seasons. Don't expect that streak to end anytime soon. The Clinton-Massie seniors understand what it takes to be successful in the postseason. They dressed as freshmen in a state championship game loss to Steubenville.
Clinton-Massie is one of the best small school programs in Ohio. The players always seem to emulate the "smash-mouth" persona of their head coach Dan McSurley. Opponents know what the Falcons are going to lineup and do, yet they can never find a way to stop it. This season will be no different. Follow this squad closely, they will be a joy to watch.
Division IV, Region 16
2019 RECORD: 9-2, 5-0 SBAAC American
COACH: Dan McSurley (227-62 at Clinton-Massie, 24 years; 247-82 overall, 28 years)
HONOR ROLL
Brody Mutterspaw, Sr, OL – Paved the way up front for a Clinton-Massie offense that averaged 357.6 yards per game rushing with 54 touchdowns on the ground last season. Mutterspaw was an OPSWA Division IV Second Team All-Southwest District selection for his effort.
Cayden Clutter, Sr, LB – The leader of the Falcons defense. Clutter tallied 54 total tackles, had one-and-a-half sacks, forced three fumbles and intercepted two balls in 2019. That effort earned him OPSWA Division IV Second Team All-Southwest District honors.
Trevor McGinness, Sr, K – An extremely accurate kicker, McGinness connected on all 61 of his extra point attempts and 5/7 field goal tries for 76 points as a junior. He was named OPSWA Division IV Second Team All-Southwest District for his work.
Colton Doyle, Sr, OL – Opened up holes for a Falcons offense that amassed 405.9 yards of total offense and averaged 41.4 points per game in 2019. Doyle was named Second Team All-SBAAC American for his performance.
Joe Baughman, Sr, TE – The 6-foot-4, 220-pound Baughman lines up at tight end but is more of a blocker. He was named Honorable Mention All-SBAAC American as a junior.
OTHER RETURNEES
Carson Vanhoose, Jr, RB – Will be the featured runner in the Clinton-Massie offensive attack this fall. Despite being the Falcons third option out of the backfield, Vanhoose made the most of his opportunities as a sophomore. He ran for 756 yards, averaged 9.3 yards per carry, amassed, 1,045 all-purpose yards and found the end zone seven times (all rushing).
Kody Zantene, Jr, QB – In his first year as a starter, Zantene did a great job of managing the wishbone offense last fall. He threw for 379 yards with four touchdown tosses and had one rushing score.
Charlie Hale, Jr, OL – A returning starter up front. Hale has all-conference potential and then some.
Carter Frank, Jr, DB – One of the leaders in the secondary. Frank had a sack and a fumble recovery in 2019.
Daelin Maple, Jr, DE – With a year under his belt as a starter, Maple should be even more of a force on the Falcons d-line. He finished 2019 with a half-a-sack, one fumble recovery and a 25-yard pick six against Batavia.
Colton Trampler, Jr, DT – Another member of the Falcons Class of 2022 that has a tremendous upside. Trampler had two-and-a-half sacks and forced a fumble as a sophomore.
PLAYOFF HISTORY
(19 appearances, 32-17) – 2019, 2018, 2017 (State Runner-up), 2016, 2015, 2014, 2013 (State Champion), 2012 (State Champion), 2011 (Regional Champion), 2010, 2009, 2008, 2007, 2006, 2005, 2004, 2003, 2002, 1998
2020 SCHEDULE
Fri – 08/28/20 – ALTER – 7:00 PM
Fri – 09/04/20 – GOSHEN – 7:00 PM
Fri – 09/11/20 – at Western Brown – 7:00 PM
Fri – 09/18/20 – at Batavia – 7:00 PM
Fri – 09/25/20 – at New Richmond – 7:00 PM
Fri – 10/02/20 – WILMINGTON – 7:00 PM
*Abbreviated Schedule due to Corona Virus/Covid 19
SBAAC DOMINANCE
Since joining the SBAAC in 2017, Clinton-Massie has been fantastic in league play. They are a combined 14-1. In that span, the Falcons have averaged 48.6 points per contest with an average margin of victory of 40.8 points per game in SBAAC American play.