Dixie Heights heating up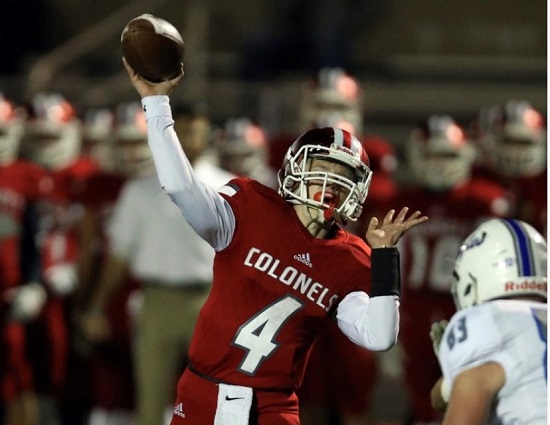 Dixie Heights QB Logan Landers
EDGEWOOD, Kentucky – Three is a magic number for Dixie Heights. On Thursday night, the Colonels beat Simon Kenton for their third straight victory. This is the second three game winning streak in Dixie Heights' last nine games. The Colonels haven't won four games in a row since reeling off 13 straight in their 2014 state runner-up season.
After a scoreless first quarter, Pierce Rohlman got the things started with two short touchdown runs in the second stanza. Dixie Heights went into halftime with a 14-0 lead. Rohlman finished the night with 108 yards on the ground. It is the junior's third consecutive 100-plus yard rushing performance.
Behind a potent rushing attack, Simon Kenton came storming back. Sophomore Chase Crone and Jayden Lawson each had touchdown runs for the Pioneers in the third quarter. The affair was tied at 14-14 heading into the final 12 minutes. Lawson had a career and game-high 184 yards rushing. Crone added the other 64 of the teams 248 yards rushing in the contest. He also threw for 79 yards.
Dixie Heights junior quarterback Logan Landers was clutch leading his squad on two fourth quarter touchdown drives. The first one was an eight-play, 64-yard drive that ended with Landers hitting classmate Devin Holbert on a 27-yard scoring strike.
A Simon Kenton turnover gave the Colonels a short field. Landers made them pay with a short two-yard touchdown run. It was set up by a 49-yard completion from Landers to Holbert. That was the final nail in the coffin for the Pioneers.
Landers was 12-18 for 181 yards passing and had another 55 yards rushing. Holbert caught eight of those balls for 125 yards. It was his third 100-plus yard receiving game.
SCORING BY QUARTERS
Simon Kenton 0-0-14-0-14
Dixie Heights 0-14-0-14-28
SCORING PLAYS
D: Pierce Rohlman 1 run (Jake Silvers kick)
D: Rohlman 2 run (Silvers kick)
S: Chase Crone 7 run (Nick Seger kick)
S: Jayden Lawson 9 run (Seger  kick)
D: Devin Holbert 29 pass from Logan Landers (Silvers kick)
D: Landers 2 run (Silvers kick)
RECORDS: Simon Kenton (2-3, 0-1); Dixie Heights (3-2, 1-0)
UP NEXT: Simon Kenton is at Campbell County (2-2, 0-0); Dixie Heights is at Ryle (1-3, 0-0). Ryle and Campbell County play Friday night (10/09/20)