Freshman Ringer making an impact for EC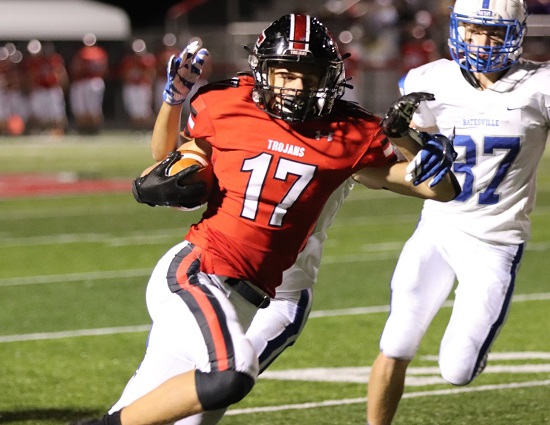 East Central RB Josh Ringer (photo by Linda Lyness Maxwell)
East Central was faced with a major dilemma when stud running back Jake Fike was shelved with a shoulder injury in Week 3. Replacing Fike's productivity would be no easy chore for head coach Jake Meiners and his squad. Fike ran for 1,671 yards and 29 touchdowns as a junior. Someone needed to step up.
Freshman Josh Ringer has answered that the call for the Trojans. Ringer is coming off a 156-yard, three touchdown rushing performance versus Batesville. It was his third straight game with 100-plus yards rushing. He has 437 yards (10.4/carry) and six touchdowns in East Central's last three victories.
"Josh has burst on to the scene for us in the last few weeks. Hunter Sohns and Ringer have carried the load for us (since Fike went down)," Meiners states. Sohns leads the Trojans with 463 yards on the ground and is tied with Ringer for a team best six touchdowns.
The future looks bright for Ringer, one of the first in the Class of 2024 to breakout at the varsity level. Friday night lights have not been to bright for this rising star.