NKY Round-Up: Conner too much for Cooper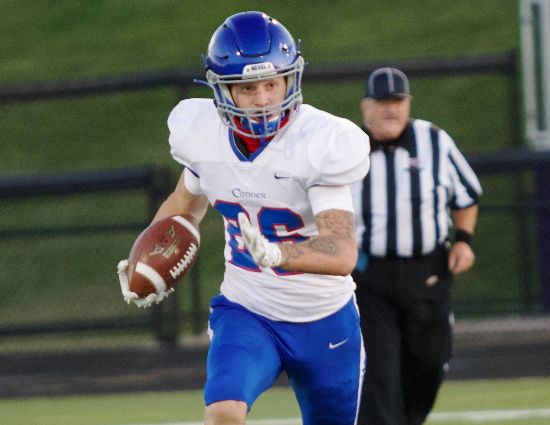 District play opened up in Northern Kentucky this week and that made the stakes as high as we've seen to this point of the season which made it a great Friday night of football in the Bluegrass State.
CONNER 27, COOPER 20
It was a back-and-forth battle between Boone County rivals, but for the third straight time in the series the Cougars prevailed.
It was a game full of fireworks as the two teams combined for 742 total yards of offense. However, it was the two turnovers the Conner defense forced that proved to be the difference. Alijah Thompson came up with two huge interceptions in the victory.
Colton Roy and Alex Castrucci were an unstoppable one-two punch for the Cougars on this night. Roy carried the ball 23 yards for 177 yards and two touchdowns. Castrucci added two more scores and 123 yards on 16 carries.
Quarterback Jeremiah Lee did his best to keep the Jaguars in the contest as he rushed for 206 yards and two touchdowns on 25 carries, but he completed just 10-of-26 passes for 127 yards, a TD, and was picked off twice.
RYLE 21, CAMPBELL COUNTY 7
The Raiders began district play with a convincing home win over the Camels.
Bradyn Lyons connected with his favorite target, Jackson McGinnis, on a pair of first-half TD passes. Lyons later capped off the scoring midway through the third quarter with a 34-yard TD run.
Campbell County got on the scoreboard early on a 5-yard TD pass from Justin Little to Eric Davis, but couldn't dent the scoreboard after that.
The win snaps a three-game losing streak for the Raiders and now both teams sit at 2-3.
BEECHWOOD 48, HOLY CROSS 6
The Tigers turned in their best offensive performance of the season on their way to their third win as they spent most of the second half on a running clock vs. rival Holy Cross.
Quarterback Cameron Hergott completed all 14 of his first-half passes and finished the night with 199 yards and four touchdowns on 17-of-20 passing. Ten different Tigers had a reception in the contest, led by Brady Moore (4/46/1). Avery Courtney led the ground attack with 88 yards and two scores on nine carries.
Beechwood's defense stifled Holy Cross, forcing two turnovers and holding them to just 70 yards of total offense.
NEWPORT CENTRAL CATHOLIC 53, LUDLOW 21
The Thoroughbreds put up 33 first-half points in route to a blowout win over the Panthers to open up Class 1A, District 4 play.
Malaki Herndon had a huge night under center for NewCath, completing 17-of-25 passes for 225 yard and three touchdowns. He added 39 more yards and another score on the ground. Matthew Landrum led all receivers with four catches for 111 yards and a touchdown. Joey Runyon added 13 carries for 110 yards and two more scores in the win.
Ludlow was led by running back Braxton Newborn who rushed for 152 yards and two touchdowns on 18 carries in the loss.
Here are some other scores from Northern Kentucky teams in action:
Dixie Heights 28, No. 19 Simon Kenton 14, (Thursday – RECAP)
No. 22 Highlands 43, Boone County 0
West Jessamine 62, Scott 23
Holmes 26, Boyd County 15
Grant County 62, Scott County 14
Newport 19, Lloyd 13
Walton-Verona 47, Owen County 8
Dayton 22, Bellevue 13
Bishop Brossart 34, Bracken County 6
Check out complete scores on The Underground Sports Shop Scoreboard.
*Stay updated on high school football updates by following @TSFootball on Twitter.