Best Bets: Season hits November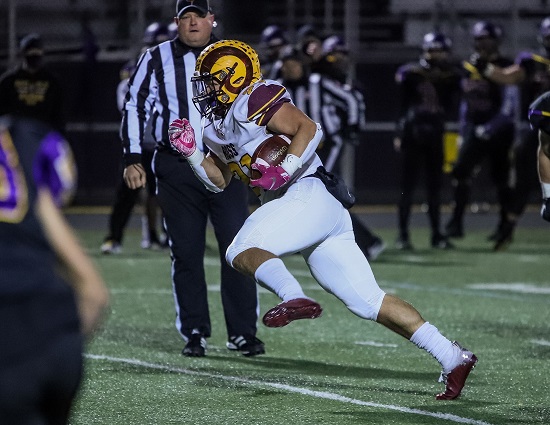 Ross RB Jackson Gifford (photo by Shelby Frieszell/TriStateFootball.com)
We have made it through 10 weeks here in the 2020 football season. Some teams have played all 10 weeks and have an 11th game coming; unfortunately some only played a few games. Regardless, the fact that we've had a season at all should give us reason to rejoice. Last week was full of excellent games, which set up some highly-intriguing matchups with massive postseason implications everywhere. This includes a possible trip to the state title game in Ohio Division I. Here are the showdowns to look forward to in another playoff edition of the 5 Best Bets.
XAVIER VS SPRINGFIELD
The Division I state semifinal looks eerily similar to last year; Springfield vs a GCL South team with a high-powered offense. The Bombers pulled a rabbit out of the hat last week in a 10-7 win vs Lakota West. The offense was averaging over 50 points in the previous four contests, but the Firebirds came in and stifled the Bombers for 47 minutes. The St. Xavier defense led by Gio Albanese and Matt Devine deserve an incredible amount of credit. For the Wildcats, the job Coach Douglass has done cannot be overstated. Back-to-back trips to the state semifinals is a feat not many programs can claim. Springfield has also been carried by their defense in the postseason, allowing only 12 points per game in their three contests. Offensively, junior quarterback Te'Sean Smoot is the engine that makes the Wildcats go. He leads the team in passing and rushing. He will have to be special in order to win this game. This could lead to some mistakes from the talented junior as he's thrown nine interceptions and lost a fumble this season. As good as Springfield's defense is, they don't have the athletes in the back end that Lakota West threw at the Bombers. The turnover battle will be massive in this game, because if you give any of these teams an extra chance, they will make you pay every time. With a trip to state on the line, both of these teams will be locked in and ready to go.
ROSS VS ALTER
The story of the year is undoubtedly the Running Rams. They will play for a sectional championship for the first time in school history, one of many firsts for Kenyon Commins' team. You know what they are going to do, and still can't stop it. In the upset of top-seeded Bellbrook, Ross ran for 453 yards and averaged seven yards per carry. Senior fullback Jackson Gifford shined with 241 yards and two touchdowns. Quarterback C.J. Boze was excellent as well, running for 143 yards and finding the endzone three times. The Ross defense has also stepped up in a big way. They are allowing only 15 points per game in the postseason, which was their biggest question mark heading into the playoffs. This team is highly-experienced everywhere on offense, and in a season like this, it makes all of the difference. For the Alter Knights, they got revenge on a Week 2 loss to Badin, defeating them 20-3 when it mattered most a week ago. After starting the season with two consecutive losses, this team has been on a mission. Winners of seven straight, they stifle people defensively, and run the ball with extreme effectiveness. Superstar athlete C.J. Hicks will likely be playing both sides of the ball in this game. These teams play a similar style, run the ball with very few, if any attempts at passing. Ross averaged 12 passing yards per game during the season while Alter averaged 57. The offensive and defensive lines will decide this game. Whoever can step up and stop the running game and force punts will be at an advantage. This game will be old-school, tough, physical, and won in the trenches.
LAWRENCEBURG VS FRANKLIN COUNTY
The playoffs in Indiana are ramping up as well, and few teams have looked as good as the Tigers. They can beat you in a shootout or win a game where neither team gets to 20 points. That was shown two weeks back when they defeated South Dearborn 15-8, Followed by two consecutive wins with offensive outputs of 33 and 50. Although this team's defense has been consistently dominant all year, allowing 20 points or less in every game since the opening season loss to East Central. Ryan Knigga's Tigers are rolling with a state title on their mind. Franklin County comes into this game with two wins over Batesville in the last three weeks. They also lost an early-season game to East Central. It appears 21 is the magic number for this team. When they score over that mark, their record is 4-0. When they score at or below 21, that record goes to 1-2. Unfortunately, they are facing a buzzsaw that is only getting stronger. Momentum gives Franklin County a shot, but it will take a near flawless game to beat Lawrenceburg on this stage.
WYOMING VS CLINTON-MASSIE
This is a Division IV matchup many have been waiting for. Both teams played close playoff games last week, as Clinton-Massie won 31-28 versus Waverly and Wyoming was victorious in an overtime thriller against Valley View, 34-28. This matchup is strength on strength. The Falcons running game is as potent as any team around. Led by Junior Carson Vanhoose, this team averages well over 400 yards per game on the ground. VanHoose led the conference in rushing with 1,428 yards. Meanwhile, the Wyoming defense has been arguably the most impressive unit in the Tri-State area. They allowed less than 10 points in each of their first six games, and on the season are only allowing an eye-opening three points per game. Against the run you might ask? The Cowboys allow only 56 rushing yards per game. Which team and which unit is going to step up carry them to a regional championship. Both of these teams have recent state championship experience, this showdown has "instant classic" written all over it.
ROGER BACON VS SPRINGFIELD SHAWNEE
The Spartans continue their excellent season with a chance at a regional championship. They played a close game last week for the first time all year, defeating Versailles 31-28. After two weeks of less than 100 rushing yards, Corey Kiner delivered in a big way with 211 rushing yards and two touchdowns. With each game being tougher and tougher, Roger Bacon will continue to give their superstar 20+ touches; this team will go as far as he can take them. Shawnee comes into this game winners of four straight and with a defense playing their best football of the season. They have allowed a combined 20 points over their last five contests. The problem is they have scored under 25 in three straight games. That isn't going to be enough against a high-powered offense like Roger Bacon. If Shawnee wants to win this game, they have to be able to score points consistently. The Spartans' defense has been excellent all season, but the level of competition was also much lower. They looked much more beatable against Versailles, allowing over 300 yards through the air and almost 400 total. Expect this game to be high-scoring and close throughout, one big play on special teams, a turnover, or chunk play could ultimately be the difference.
GAME OF THE WEEK
Make sure to check out the COMPLETE PREVIEW for this week's featured Blitz 5 Game of the Week – La Salle at Winton Woods.
+++
Here are some other games on tap for this week:
Ryle at Conner
Simon Kenton at Bryan Station
Covington Catholic at Lexington Catholic
Highlands at Campbell County
Holmes at Newport Central Catholic
Boone County at Walton-Verona
Spencer County at Grant County
Ludlow at Gallatin County
Bishop Brossart at Dayton
Lloyd at Bellevue
Cooper at Dixie Heights (COVID-19 Cancellation)
Meade County at Beechwood  (COVID-19 Cancellation)
Holy Cross at Scott (COVID-19 Cancellation)