Preview: La Salle at Winton Woods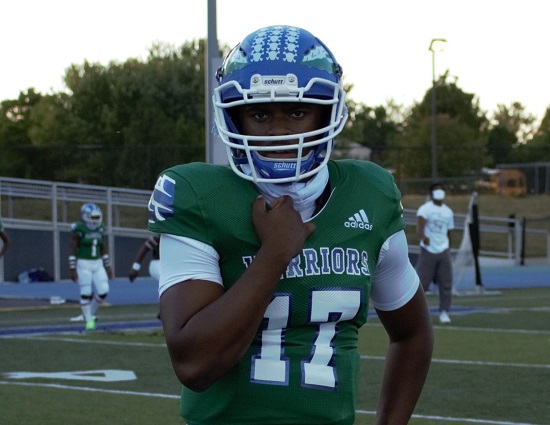 Winton Woods QB MiChale Wingfield (photo by Greg Shoemaker/TriStateFootball.com)
Even before the season started fans were clamoring for La Salle, the reigning state champion, and Winton Woods to meet in the 2020 playoffs and now it has come to fruition. This week's Blitz 5 Game of the Week sees the two teams that have dominated Division II, Region 8 over the past seven seasons go at it for the regional crown and a place in the state's final four.
La Salle is seeking its fifth regional title in the last seven years. The Lancers are 25-1 in the postseason dating back to 2014. Winton Woods will be playing with a chip on its shoulder after missing the playoffs a year ago, despite wins over two eventual state champions (La Salle and Trotwood-Madison). The Warriors are looking for the program's third Region 8 championship in the last four seasons. 
#3 LA SALLE LANCERS (7-2) at #4 WINTON WOODS WARRIORS (9-0)
Kickoff: 7:00 p.m.
Charlie Fredrick Stadium
Follow on Twitter @TSFootball 
PLAYERS TO WATCH: La Salle quarterback Zach Branam plays great in big games. The senior is 8-0 as a starter in the playoffs. Branam has amassed 1,802 yards of total offense (980 rushing, 822 passing) and accounted for 21 touchdowns (11 rushing, 10 passing) in those victories. Classmate Jack Rutz has come on strong having run for more than 100 yards in two of the last three games. Injuries have slowed down star running back Gi'Bran Payne, but he still has eight touchdowns on just 52 offensive touches.
Winton Woods' quarterback MiChale Wingfield may be one of the most underrated players in Cincinnati. He is 27-5 as the Warriors' starting quarterback, including 6-1 in the playoffs. Wingfield has racked up 1,668 yards of total offense (1,093 passing, 575 rushing) and accounted for 18 touchdowns (10 passing, eight rushing). Running back Tyrek Spikes can take it to the house anytime he gets his hands on the ball.  The junior has 13 rushing scores and two kickoff return touchdowns. Spikes' classmates Seven Blue, Quentin Jenkins, Jr. and Jayron Gibson have really emerged to elevate the Winton Woods defense.
TEAM TRENDS: This will be the seventh meeting between the two schools since 2014. La Salle won the first three affairs. Winton Woods has triumphed in the last three contests, including the past two in the playoffs in 2017 and '18.
La Salle averaged 208.7 yards per game in six regular season games. The Lancers have given up just 28.7 yards per contest on the ground in their three playoff wins. They are hitting their stride on offense as well, averaging 48.7 points per game in the postseason. La Salle has scored at least 35 points in all eight of Branam's playoff starts.
Winton Woods has allowed 14 points or less in eight of its nine victories (just 20 points in the other win). The Warriors are giving up just 175.9 yards per game. They allow just 92.0 yards through the air and 83.9 on the ground. No team has gained more than 100 rushing and passing in the same game against the Winton Woods defense.
HEAD COACHES:
Pat McLaughlin (34-12 at La Salle, fourth year; 53-24 overall, seventh year)
Andre Parker (87-34 at Winton Woods, 11th year; 87-34 overall)
PLAYOFF HISTORY:
La Salle  (10th appearance, 25-5) – 2020, 2019 (State Champion), 2017, 2016 (State Champion), 2015 (State Champion), 2014 (State Champion), 2010, 2004, 2002, 1985
Winton Woods (12 appearance, 20-10) – 2020, 2018 (Regional Champion), 2017 (State Runner-up), 2013, 2012, 2010, 2009 (State Champion), 2008, 2007, 2006, 2005, 1998
LA SALLE'S KEYS TO VICTORY: Be stellar on special teams. Winton Woods has 13 punt/kickoff returns of 20 yards or more. Limit the number of big plays in all phases of the game by the Warriors. They are game-changing, ego deflaters but are avoidable with discipline and focus. Make Winton Woods play from behind after intermission. It has only happened once this season. Put them in that unfamiliar position.
WINTON WOODS' KEYS TO VICTORY: Don't make mistakes that put the team in a constant uphill battle. It will take its toll late in a game like this. Remove the run as an option for Branham. Putting him in a position to beat the Warriors' secondary with his arm favors the home team. On offense, put the ground game on display early and often. Long first-half drives will leave the Winton Woods' defense well rested and ready to shine after halftime.
Prediction: La Salle 23, Winton Woods 20