Week 9: AnyWeather Game Balls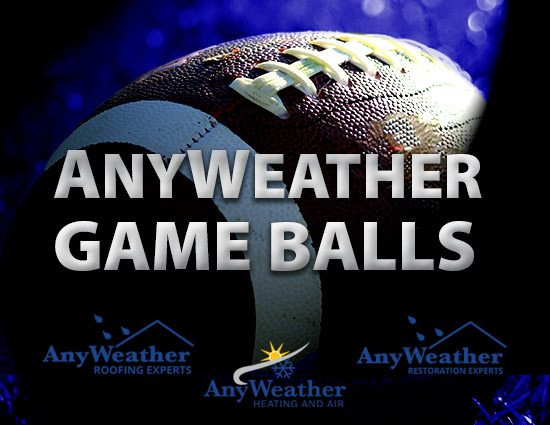 Each week we will be saluting some of the top performances in the Tri-state area with our AnyWeather Game Balls. Go to AnyWeather.com to learn more about the top performer in the market for roofing, HVAC and restoration services.
Here are this week's recipients:
Nick Beckham (MVCA)
3 sacks; 10 total tackles vs. Clark Montessori
Lavarr Jones (Holy Cross)
176 RuYd, 4 RuTD vs. Newport
Mekhi Lynn (Princeton)
337 PaYd, 4 PaTD; 37 RuYd, RuTD vs. Mason
William Ingle (Sycamore)
121 PaYd, 3 PaTD; 194 RuYd, 3 RuTD vs. Hamilton
Aidan Jones (Little Miami)
278 PaYd, 4 PaTD vs. West Clermont
Ben Hambleton (Elder)
438 PaYd, 4 PaTD vs. Football North (ON)
Max Sannella (Kings)
123 RuYd, 2 RuTD vs. Turpin
Mason Young (Harrison)
352 RuYd, 5  RuTD; 86 PaYd vs. Northwest
Excellence is something AnyWeather never takes from granted. See for yourself:

Which player would you like to add to our list. Comment below and add in the player stats for this week. We will pull from our list and your players to come up with our 20 candidates for this week's Mella Window & Carpet Cleaning Player of the Week. That voting opens up Sunday. All nominations should be left below or emailed to staff@tristatefootball.com before 9AM Sunday.